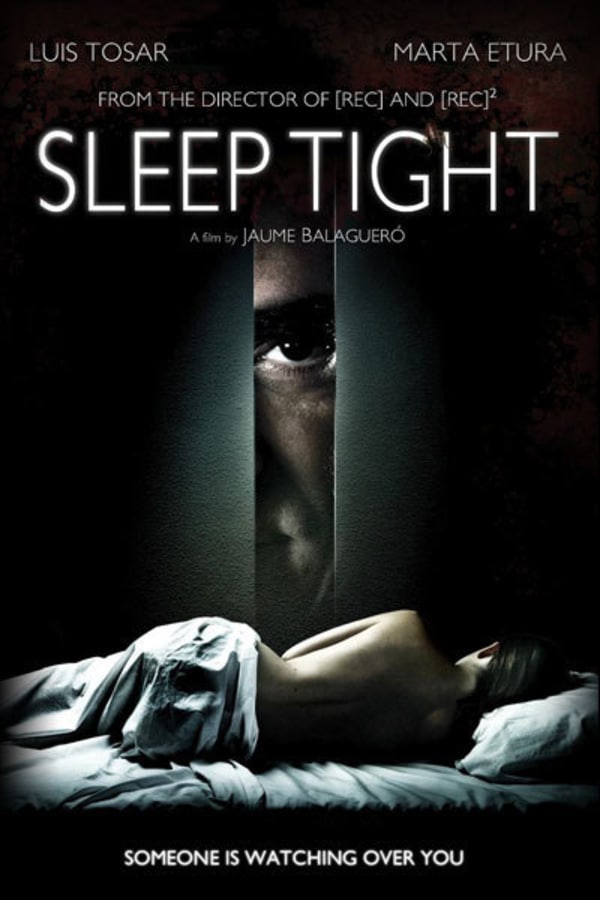 Sleep Tight
Directed by Jaume Balaguero
A deranged doorman becomes obsessed with making a woman's life pure and utter hell. Cesar harbors a dark secret: his sole desire in life is to make others unhappy. When he sets his sights on cheery Clara, his sick need blossoms into a full-fledged obsession, and he becomes determined to ruin her life. But his thirst for inflicting sadness on others soon becomes manically unquenchable. Acclaimed director Jaume Balagueró (the REC series) delivers an unnerving tale of obsession and torment that delivers nonstop thrills right up to its shocking conclusion. Contains strong language, sexual scenes, violence and gore.
A deranged doorman becomes obsessed with making a woman's life hell.
Cast: Luis Tosar, Marta Etura, Alberto San Juan
Member Reviews
Genuinely unsettling, well acted and expertly crafted. No detail is missed or left unchecked. Extremely strange and almost whimsical and I loved every twisted minute of it.
I really did not think I was going to like this stepping in. I was initially disappointed by the fact that the page says this film is in English, but it is really in Spanish (please fix this Shudder). I saw this oversite as ominous but kept watching. WHen that blackmailing little girl spit milk on Cesar's desk a few minutes in I started laughing and knew this was a film for me. I initially thought that this was going to be a concept I've seen several times in the past like with 1989's Hider In The House starring Gary Busey. I thought Cesar was infatuated with his target, but when he finds out about her fear of bugs and puts enough cockroaches in her apartment to remind you of the final story in Creepshow it becomes apparent that he is out to psychologically torture someone simply because they were happy. The story took some interesting twists as you saw how Cesar navigated certain obstacles in his quest to spread misery.
Very entertaining. Great acting, good pace, well shot, excellent script/story with the perfect ending. You will not be disappointed.
Cannot recommend enough, such a great and original concept. Ive never felt so "enge of the seat" scared for the bad guy in a movie. they manage to make it sich a sympathetic role its fantastic!
Impressive psychological study of sadism. Not perfect, but damned good, and anyone with a taste for movies that aim to horrify you with a portrait of how horrible human beings really are will want to see this movie.