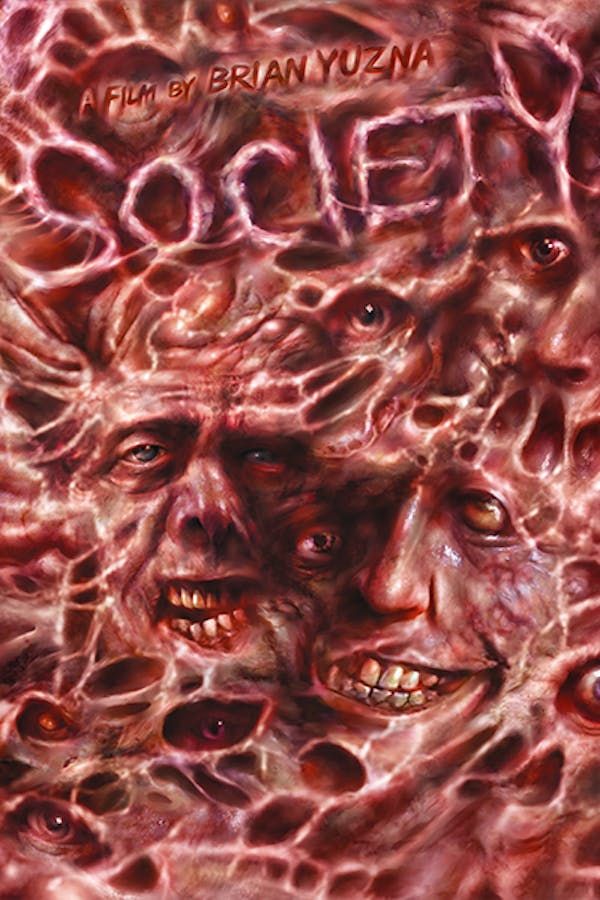 Society
Directed by Brian Yuzna
A teenager suspects his family are part of a cabal of monstrous socialites who literally prey on the lower classes. Bill's enjoying life's privileges when he hears a recording of a family party that suggests it was actually a murderous, incestuous orgy. But that couldn't be so, could it? Though SOCIETY was released in 1992, it was only recently that its reputation as a masterpiece began to swell like a fleshy blob of aroused aliens. The Cronenbergian final act - filled with outrageously disturbing and blackly comic FX - never loses its power to shock. Essential viewing. Contains strong language, sexual scenes, violence and gore.
A teen suspects his wealthy family are part of a cabal of monstrous socialites.
Cast: Billy Warlock, Devin DeVasquez, Charles Lucia, Patrice Jennings
Member Reviews
such a great film im so glad iv finally been able to see it after being told about it since a kid and seeing little snippets of it on youtube. its sad how poignant this movie still is. Practical effects like this sadly i dont think we will see the likes of ever again with the studios these days more willing to spend money on CGI monstrosities then giving genious craftsmen and woman like that of which they used in this film to quote another review "you wont see practical effects this wet ever again"
now thats horror. time to throw up
I regret everything now. 10/10
Great movie, practical effects were so wet. Like, sure they're not super prominent until the ending but I cannot stress how wet these practical effects were. Creepy? Yes. But the wetness, hoo boy. You're gonna love the wetness of these weird fleshy guys. 10/10 movie and 11/10 dampness.