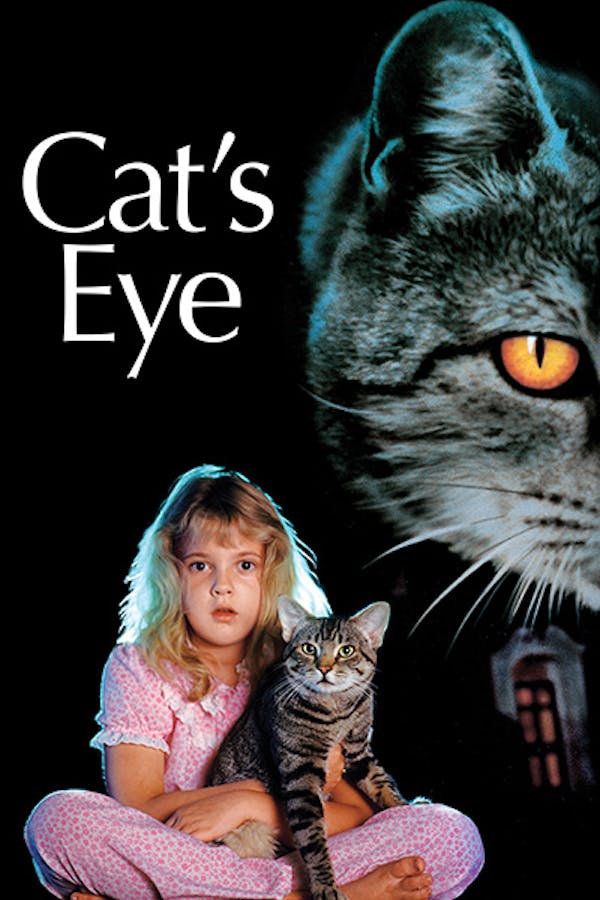 Stephen King's Cat's Eye
Directed by Lewis Teague
Drew Barrymore, James Woods, Alan King, and Robert Hays star in this three-part anthology of Stephen King short stories connected by a stray cat who wanders through each tale. Chain smoker Morrison (Woods) joins a stop-smoking group run by sadistic Dr. Monatti (Alan King). A gambler named Cressner (Kenneth McMillan) makes a bet with his wife's lover. And a young girl (Barrymore) is terrorized by a tiny troll.
A stray cat guides us through each tale in this Stephen King-based anthology favorite.
Cast: Drew Barrymore, James Woods, Alan King
Member Reviews
First let me say I love anthology horror and if you do too, then Cat's Eye is for you! Now this flick isn't as fantastic and glamours as Creepshow but still this flick has a rocking soundtrack and had me on the edge of my seat. Staring James Wood (Hades in Disney's Hercules) in the first story "Quitters, Inc." and Robert Hays (Ted Stricker from Airplane!) in the second "The Ledge" you are in no shortage of talent. The cat being the connective tissue between these stories was a really neat way to tie these King tales together. The 3rd and last story stars... well really the cat and little itty bitty Drew Barrymore! The last story wasn't my favourite but I mean the cat saves the damn day.... how can you go wrong! I like to think that little Troll is from All-World. It makes it a hell of a lot better and I mean with Mr.Kings crazy universe being so interconnected, there's no doubt he probably is! 4 Stars Check it out!
Ugh General was put through the ringer. The poor babe.
Good Way of showing the short stories.
Love this movie. All stories are very entertaining. Recommend watching