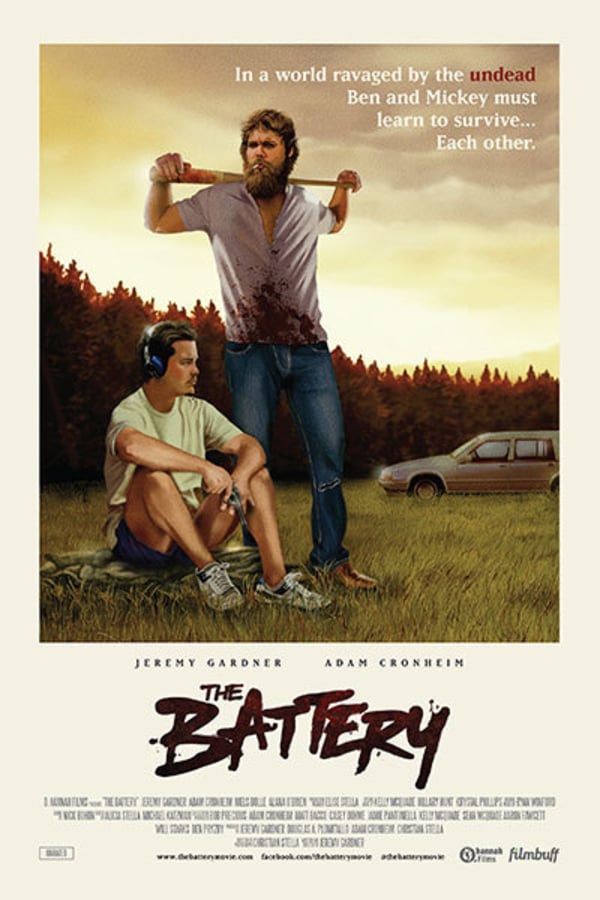 The Battery
Directed by Jeremy Gardner
Two baseball players struggle to get along with each other after a zombie apocalypse in this inventive film which Fangoria called "the most reinvigorating take on this overworn subgenre I've seen in ages." Friends Ben and Mickey are in this together, but that doesn't mean they're happy about it. Ben has fully embraced their situation, and loves killing zombies. Mickey on the other hand, just wishes everything would go back to normal. When their travels lead them into scary territory, the pair have to rely on each other if they want to survive another day. Contains strong language, sexual scenes, violence and gore.
In this indie zombie film, two men struggle to adapt after an apocalypse.
Cast: Jeremy Gardner, Adam Cronheim, Niels Bolle, Larry Fessenden
Member Reviews
I watched this quite a while ago ( shudder was still having problems with buffering ) But that didn't make the experience any less enjoyable. It's a pretty deep exploration into how friendships would work if if it was just the two of you in a dire situation , Having to work together to solve problems , but how long would it be before you got on each others nerves . I was kind of hoping for a happier ending , but let's face it, there are no happy endings in a zombie apocalypse.
The Battery is a film with a lot of potential. The first twenty minutes, and the last half hour are great. Sadly there is a giant lull in the middle of the film which I found boring. About halfway through the film a way more interesting idea is brought up, and instead of exploring this idea they just forget about it. The visuals and writing are very well done, with the exception of one scene which ruins the tone of the film. The acting is also all over the place, Jeremy Gardner is ok and Adam Cronheim is bad most of the time. The soundtrack is also pretty good, I was surprised to hear some of my favourite bands in there. In my opinion not all of the music was great, and I would've liked it to be switched with score instead. 4/10
It's slow in an intimate way, and weaves realism into the genre better than anything I've seen. One of the best zombie films ever made in my opinion.
not bad for a low budget film
I absolutely loved this movie. Shows the human side of a zombie apocalypse unlike I've ran across before. Jeremy is a gem. If you haven't seen it yet also look into his film Tex Montana Will Survive. It's free on YouTube and available for download from them directly also for free.