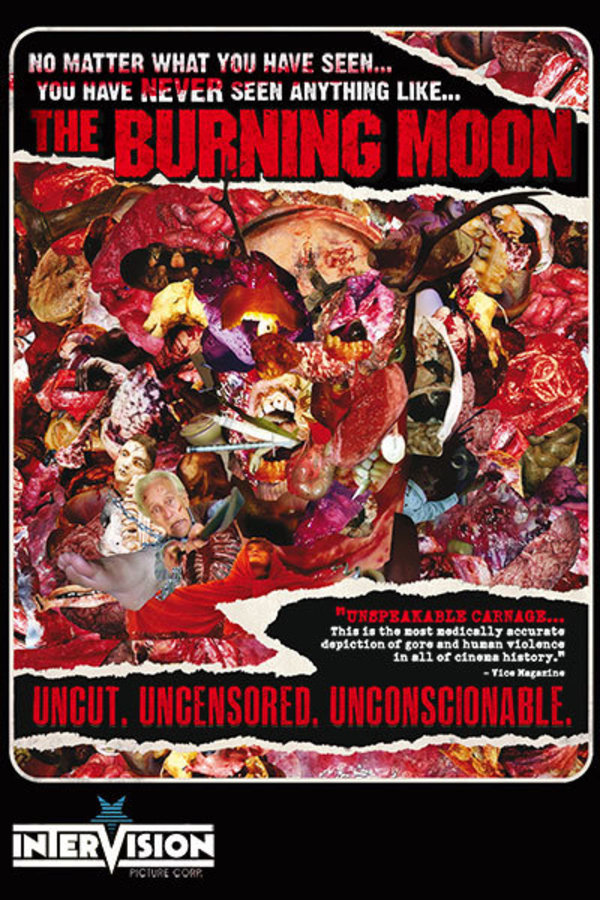 The Burning Moon
Directed by Olaf Ittenbach
In 1992, writer/director/special effects master Olaf Ittenbach changed the face of video horror, force-fed its ripped-out eyeballs to screaming audiences, then used a drill, machete and shotgun on its still-twitching torso: Ittenbach himself stars as a degenerate junkie who babysits his young sister with two bedtime stories of the damned. First, an escaped serial killer turns date night into a graphic family massacre. Then a country priest on a rape and murder spree leads to a disturbingly explicit descent into Hell. It became the VHS that shocked America. It has been banned in its Motherland for nearly 20 years. And it remains perhaps the most violent and depraved shot-on-video saga in history. This is THE BURNING MOON.
A degenerate babysits his young sister with two bedtime stories of the damned.
Cast: Beate Neumeyer, Bernd Muggenthaler, Ellen Fischer
Member Reviews
An all time favorite. the absolute pinnacle of SOV gore from 90s Germany.
Awesome over the top gore and horror.
WORST LOW BUDGET MOVIE I HAVE EVER SEEN!! Acting-awful, special effects-awful! I shut it off after 10 minutes-don't waster your time
Better acting from a middle school play. Two smaller turds inside of a larger, smellier turd.
Really wanted to give it a try but couldn't make it past 15 minutes. Skipped to the end that made it so controversial...SICK! Not bad effects, for a shot-on-video and little to no budget.