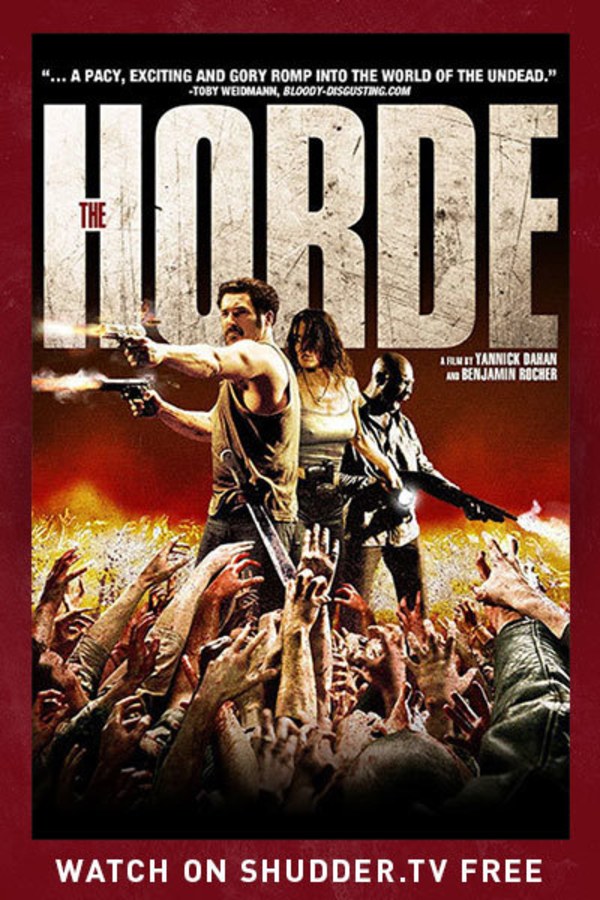 The Horde
Directed by Benjamin Rocher, Yannick Dahan
A zombie outbreak occurs while four cops are raiding a criminal hideout, forcing everyone to band together against the horde outside the building. But can they put aside their differences long enough to escape? Don't bet on it. One of the best zombie films that followed in the wake of 28 DAYS LATER - and yes these zombies are of the fast-moving variety - THE HORDE's got well-drawn characters, killer action sequences and a Romero-style commentary on the palpable animosity that still exists between the French and immigrants. Zombie lovers, don't miss this. Contains violence and gore.
A zombie outbreak occurs while four cops are raiding a criminal hideout.
Cast: Claude Perron, Jean-Pierre Martins, Eriq Ebouaney
Member Reviews
A belter of a raw, dirty, violent French film! I love it!
Why is language listed as English when it is actually French.
great film love my wombie films
i loved it . maybe we might see a sequel
The actual film was spot on. A great watch. The differences between the characters, the choices they must make etc. Very entertaining, mostly high action too. My only issue is not with the movie itself, but rather its subtitles. About half way through the film, the subtitle to speaking ratio is wayyyy off and the words are appearing on the screen way before the person who said the line actually says it! So when they're having a fast conversation, you have no clue who is for the conversation, who is against it, you haven't a clue what's going on! Come on Shudder, you should have sorted all your streaming issues by now!