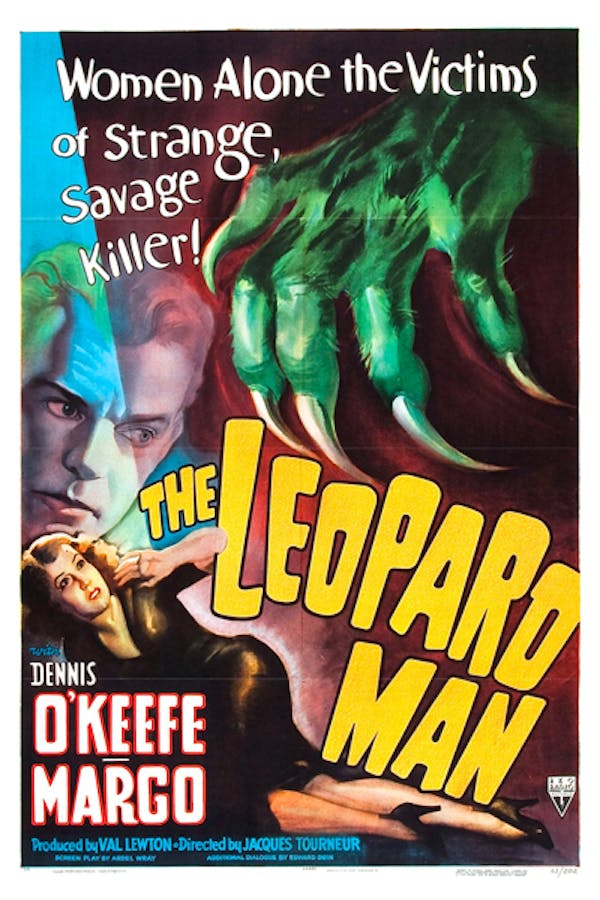 The Leopard Man
Directed by Jacques Tourneur
When nightclub entertainer KiKi Walker's agent gives her a black leopard as a publicity stunt, Kiki plans to use the animal to disrupt her rival Clo-Clo's act, but the leopard gets spooked inside the nightclub and escapes. Now as mutilated bodies are found, a posse forms to hunt down the wild cat--even as suspicion mounts that a serial killer may be using the leopard as a ruse to cover his murderous trail in this classic psychological thriller.
Death stalks a small Southwestern resort when beautiful women are horribly mauled. But is the killer man or beast.
Cast: Dennis O'Keefe, Margo, Jean Brooks
Member Reviews
A rich & sprawling narrative of a town and its' people trying to live their lives in the growing shadow of a mysterious menace.
There are worse ways to spend an hour! Enjoyable slow burn thriller, short but sweet.
Everybody else that reviewed this movie is a dork, this movie is trash
While it can be a little dry and dull at times (a fatal flaw for other movies around only 60 minutes in length!) the atmosphere in several scenes of this film is incredible. Combine with its more prominent than anticipated compassion for its working poor subjects, this proto serial killer thriller is a real gem. A good example of balancing darkness with genuine care.
Great flick. This has to be the first movie to use the serial killer motif, even before anyone knew what that term meant