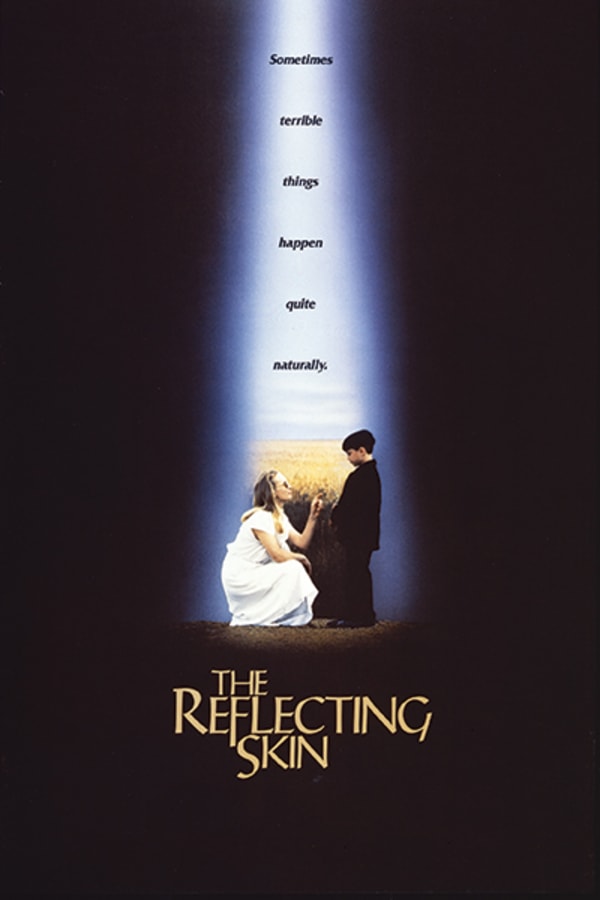 The Reflecting Skin
Directed by Philip Ridley
Seth is a mischievous eight-year-old growing up in the harsh realities of 1950s rural Idaho. But his whole world changes the day he decides the widowed neighbor woman, Dolphin Blue, is a vampire. Inspired by his father's stories, Seth begins to believe she is responsible for the terrible events happening around him. His obsession continues to grow when Cameron comes home…and falls head over heels for his worst enemy.
A mischievous boy finds out his neighbor is a vampire in this dreamy gem.
Cast: Codie Lucas Wilbee, Viggo Mortensen, Jeremy Cooper, Jeff Walker, Duncan Fraser
Member Reviews
Centering more on the relationship between the boy and the wonderfully 'eccentric' Dolphin Blue. She's as mad as a bucket of frogs and brilliantly portrayed by Lindsay Duncan, who makes this film for me.
Wow... what a film.! This was a struggle to watch not due to any violence or graphic scenes it's just so boring. It tries so hard to be deep and meaningful but it comes across as pretentious. There are so many metaphors and hidden meanings the story gets lost it's most certainly not a horror film in the normal sense but some of the acting is a horror to watch. They should of gone for an actor who has a little more experience to play Seth, some of the dialogue and the scenes to work need someone with more skill this was too much for him. This is the for much of the supporting cast you could tell they were acting and reading from a script, there wasn't much natural flow when they said their lines. The cinematography was beautiful and some of the scenes were amazing to look at but the script however wasn't amazing to watch. ita tedious film that tried to hard.
it's funny to see people complaining about films that actually were a smash on the fantastic and horror film festivals (Sitges!), as if the horizons of horror films now are way narrower than in the times of Fangoria. This one is one of my formative films, a beautiful poetic horrifying story where you have to tie the knots.
What was the point of this movie? I'm dammed if I know. I think the movie was supposed to be about vampires but as far as I can tell the bad guys were the fellas in the car. The kid didn't react when his friend was kidnapped which made no dammed sense. I give it one skull for Viggo (man is gorgeous) otherwise I am sure this movie sounded much better on paper than it did on the reel.