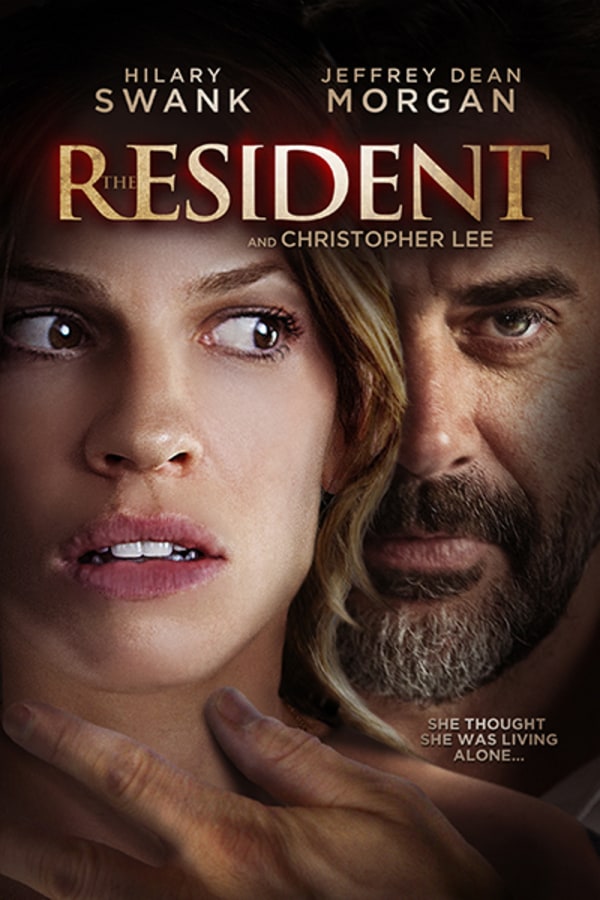 The Resident
Directed by Antti Jokinen
Dr. Juliet Devereau (Academy Award-winner Hilary Swank) is going through a rough patch after separating from her husband. Luckily, her new apartment seems perfect, not to mention the handsome landlord (Jeffrey Dean Morgan, "The Walking Dead"). But as the days go by, something doesn't seem quite right. Juliet keeps waking up groggy, and starts to suspect someone is watching her every move. Who is stalking her? And will Juliet be able to stop them before they do their worst? This unnerving Hitchcockian thriller from the revived Hammer Studios co-stars legendary horror icon Christopher Lee.
A surgeon (Hilary Swank) begins to suspect someone is spying on her in her new apartment.
Cast: Hilary Swank, Jeffrey Dean Morgan, Christopher Lee, Lee Pace
Member Reviews
I gave it three stars because the actors did good for the material they were presented with, and the suspense of the chase scenes kept you on the edge of your seat. However, not a 5 star movie because I thought the main character could have been developed more. This is nothing but a cookie-cutter obsessed stalker movie plot that has been done to death, but the main character should have been developed to have more vulnerabilities and heroic qualities. Instead they make her a tease that would have led this guy on had he not have turned out to be a psychotic murderer. They also have her install a survelliance system which she never checks until it is too late. I'm not saying any woman would deserve what this guy did to her, but they should have made the villain more assertive and not had her make the first move on the guy. There needed to be more things about the heroine that garnered sympathy from the audience so that when the kick-ass ending comes it packs more of a punch. I don't know, but movies like this tend to be better when there is a protagonist that the audience can relate to and sympathize with.
You can see where it is going from a mile away, but it can still give the heebie jeebies.
Strikes the fears of all women who have lives alone in a creepy place. It's predictable but still has that chill factor. I thought the cast was great!
Very predictable but entertaining...