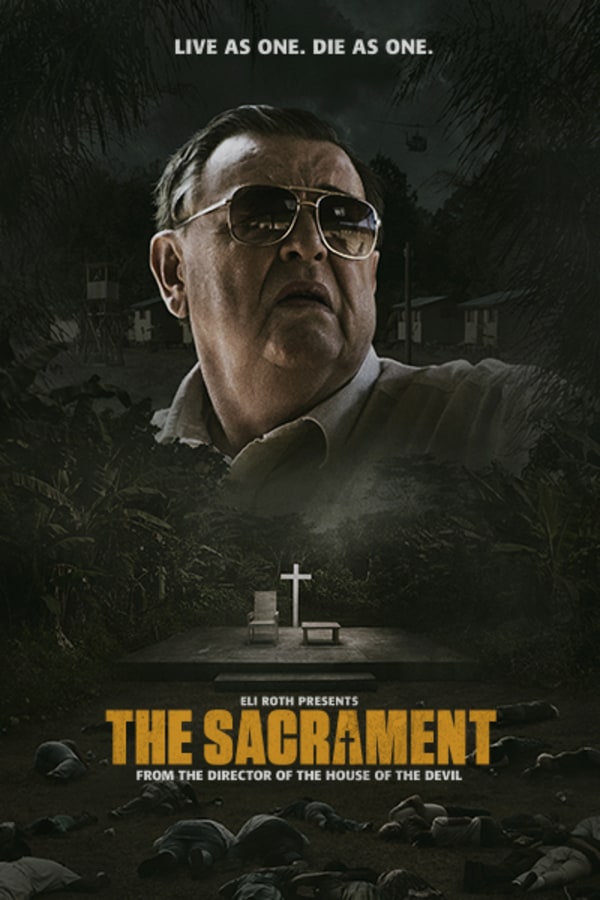 The Sacrament
Directed by Ti West
Two journalists set out to document their friend's journey to reunite with his estranged sister. They track her to an undisclosed location where they are welcomed into the remote world of "Eden Parish," a self-sustained rural utopia composed of nearly two hundred members and overseen by a mysterious leader known only as "Father." It quickly becomes evident to the newcomers that this paradise may not be as it seems. Eden Parish harbors a twisted secret. What started as just another documentary shoot soon becomes a fight for survival. 
Two journalists track a friend's sister to the remote world of "Eden Parish," a rural paradise that may not be as it seems.
Cast: Joe Swanberg, Aj Bowen, Kentucker Audley, Amy Seimetz, Gene Jones
Member Reviews
Good stuff with high stakes despite the obviously forgone conclusion to those with knowledge of the source events.
What if Vice covered Jonestown should be better than this
I'm guessing the people leaving negative reviews probably don't like found footage in general. This is legit one of the most haunting found footage films you'll ever see. It gives us a look inside to the events we don't really know occurred in Jonestown. The final hours of that actual tragedy aren't complete, but this gave us an insider's look at what it may have - and likely was - really like. Stellar performance from all actors. At no point did I not think this film was the real deal.
amazing movie, truly depicts all aspects of cults, including religious aspects, manipulation, brainwashing, and how the people within them react and respond to this. I think its a good retelling of the jamestown events in a modern day atmosphere. ONE BIG ISSUE (CONTAINS MILD SPOILERS): where did the footage from patrick's camera come from at the end of the movie? no one picked it up before leaving and the building it was in was on fire. i wish it was specified how the footage was retained in true documentary style
amazing film if you know the true story previous this has been watered down but knowing the story will magnify how u feel about this film.