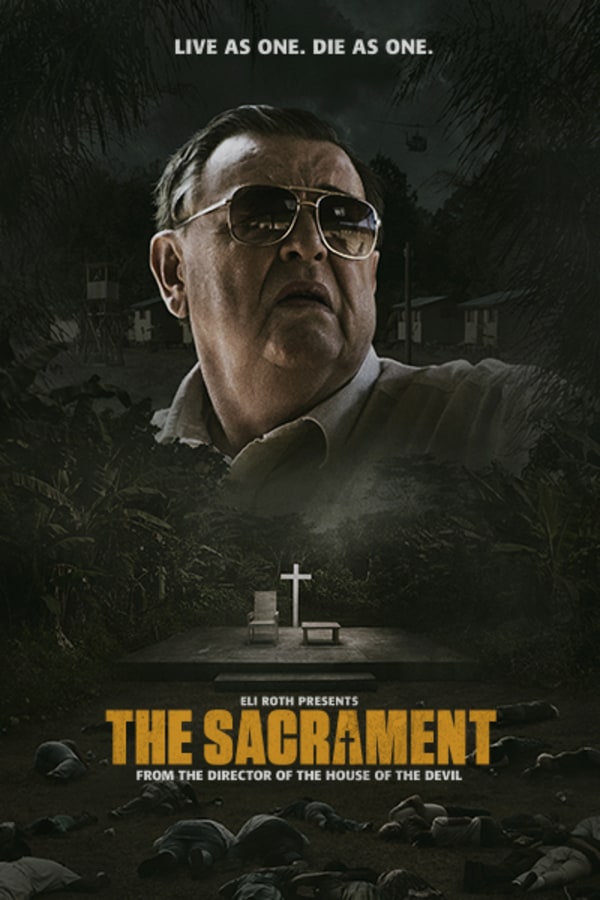 The Sacrament
Directed by Ti West
Two journalists set out to document their friend's journey to reunite with his estranged sister. They track her to an undisclosed location where they are welcomed into the remote world of "Eden Parish," a self-sustained rural utopia composed of nearly two hundred members and overseen by a mysterious leader known only as "Father." It quickly becomes evident to the newcomers that this paradise may not be as it seems. Eden Parish harbors a twisted secret. What started as just another documentary shoot soon becomes a fight for survival. 
Two journalists track a friend's sister to the remote world of "Eden Parish," a rural paradise that may not be as it seems.
Cast: Joe Swanberg, Aj Bowen, Kentucker Audley, Amy Seimetz, Gene Jones
Member Reviews
This is, as others say, basically a remake of the remaining footage of the Jonestown Massacre documentary, so what you see here is what happened in 1978, bit by bit, but yes, the real thing was even worse, sad and bizarre. Ti West knows how to build the tension, and Ti West does not know how to resolve it (it needed better character developent to properly shock), but it is a good film.
Agree with other reviews, a slow one, felt a bit longer than it actually was but well worth watching. Directed well and Gene Jones as Father was excellent.
As a horror film connoisseur, I've seen my fair share of deaths. The Sacrament is one of the few that actually made me feel sick to my stomach in its depiction, but not because of any gory special effects. It's a tense, eerie slow burn with an absolutely harrowing third act, and the main antagonist gives an incredible, charismatic performance. A horrifying film, but not in the usual sense. This is something that has happened and will continue to happen, and that's the scariest thing of all.
right up there. worth my time.
Slow burn, but genuinely creepy at times. You get what you expect from a found footage religious cult film, however its filmed in a way that gives you a steady increase of "Nope!" feelings. A sad, and I imagine close to accurate depiction of a 'cult' situation. Worth a watch!