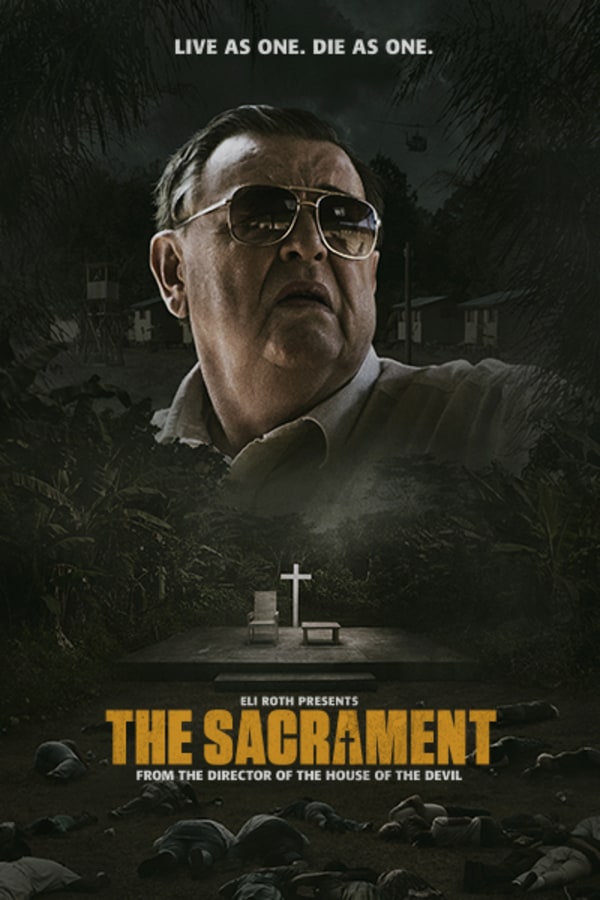 The Sacrament
Directed by Ti West
Two journalists set out to document their friend's journey to reunite with his estranged sister. They track her to an undisclosed location where they are welcomed into the remote world of "Eden Parish," a self-sustained rural utopia composed of nearly two hundred members and overseen by a mysterious leader known only as "Father." It quickly becomes evident to the newcomers that this paradise may not be as it seems. Eden Parish harbors a twisted secret. What started as just another documentary shoot soon becomes a fight for survival. 
Two journalists track a friend's sister to the remote world of "Eden Parish," a rural paradise that may not be as it seems.
Cast: Joe Swanberg, Aj Bowen, Kentucker Audley, Amy Seimetz, Gene Jones
Member Reviews
It's not, like, poorly-made...but it's not nearly as weird, interesting, or scary as what actually happened at Jonestown.
Good, but somehow less horrifying than the actual story it's based on -- a weird decision for an R-rated horror film.
While a little thin on characterization and backstory, this thinly-veiled update/retelling of the Jonestown Massacre incident loses very little of that event's jolting, sickening power - an event that's riveted us, horrified and fascinated, for going on 40 years now. BONUS: those wanting to look into the incident a little further would do well to check out Tim Reiterman & John Jacobs' "Raven: the Untold Story of the Rev. Jim Jones and His People."
The scene where they do the interview on stage in front of the commune was so full of tension and dread. Its one of my favorite thriller scenes to date. I really enjoyed the movie overall and have watched it several times.
Semi-true story obviously based on the Jonestown Massacre. Good watch, predictable if you know what happened there. Fantastic acting. Hell, I was almost on board with the father during his first speech