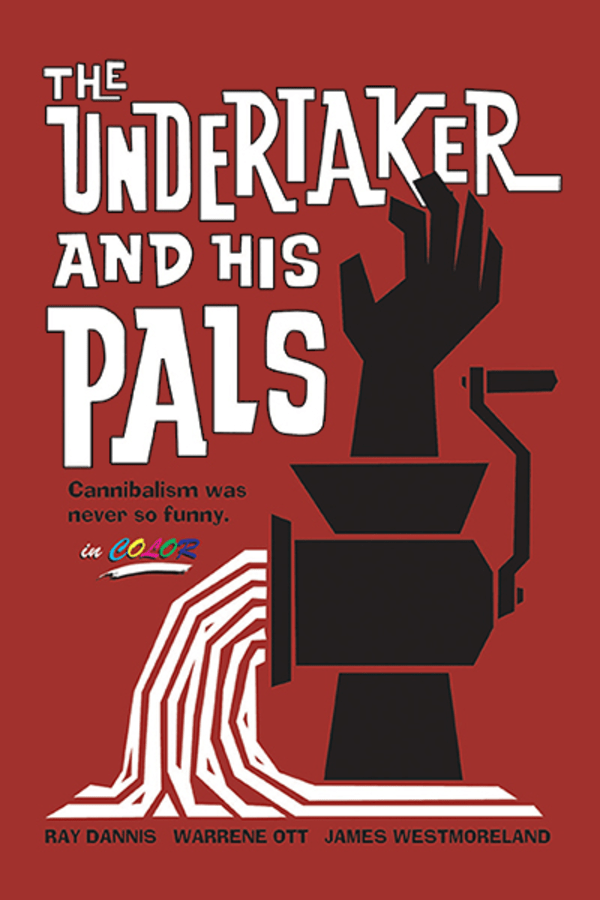 The Undertaker and His Pals
Directed by T.L.P. Swicegood
A struggling undertaker and two deranged cooks drum up business by going out at night and murdering innocent people. The undertaker then offers his pricey services to the recently departed's family, while the cannibal chefs serve their latest kill as the catch of the day at their diner. T.L.P. Swicegood's campy take on the "Sweeney Todd" story is a gristle-filled mix of gore, questionable acting, and groan-inducing jokes ("I'll have a B.M."). But the combination of those elements produced a cult classic every bit as fun and freaky as H.G. Lewis' iconic BLOOD FEAST.
An undertaker and two deranged cooks drum up business by murdering innocent people.
Cast: Warrene Ott, James Westmoreland, Ray Dannis
Member Reviews
I'd have rated this at one skull, for the low-quality Public Domain 16mm-to-videotape transfer, and for the low-energy performances and amateurish direction...Bumped-up from one skull, just because it's such an affectionate homage to Herschell Gordon Lewis. Most amusing aspect (for me) was that they guy playing the short-order cook appeared to be doing an impression of Shemp Howard. Otherwise, the jokes didn't make me smile, and the violence wasn't extravagant enough to be memorable. I have a suspicion that this started out as an action-suspense film, but the first sequences that were filmed and cut together, were the "motorcycle guys stalking their victims" scenes...which failed to be impressive, so the production ws redirected into a comedy. Until somebody does a careful restoration of the film, and some expert provides a definitive commentary track, this will have to remain a hypothesis.
Some fiLms are just so bad they're good.
Typical 60s flick, with all of its quirks and oddities.
The picture quality is so bad, I can't believe some members have actually sat through it!?
sorry, just not for me...watched a good 20 minutes and had to shut it off....not saying, someone else might really enjoy the film.. Cheese Flicks = Moldy Cheddar on the shelf too long