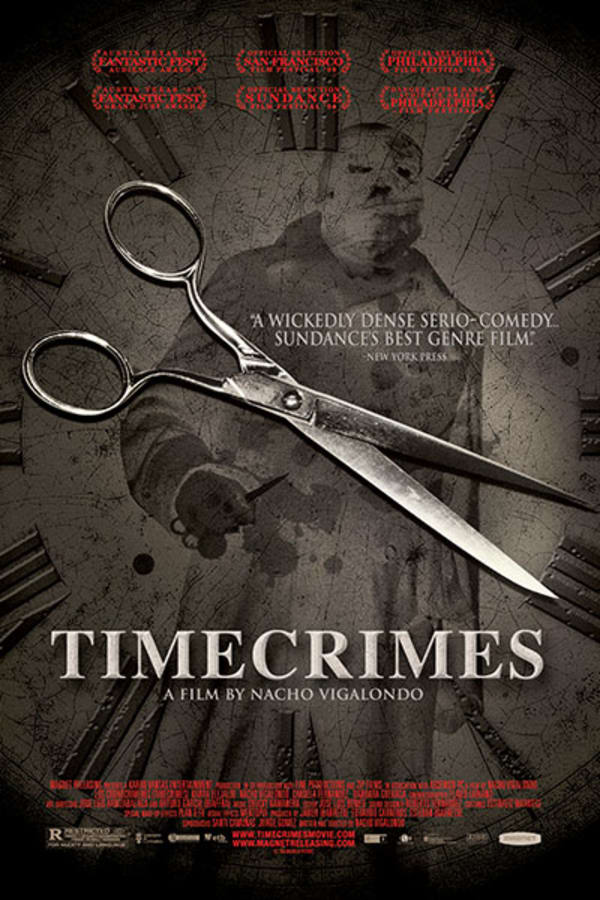 Timecrimes
Directed by Nacho Vigalondo
A man finds himself stuck in a terrifying time loop after witnessing a murder in director Nacho Vigalondo's (V/H/S VIRAL) critically-acclaimed trip to the Twilight Zone. Hiking up to investigate a nude woman in the woods, Hector is attacked by a sinister figure. Terrified, he takes refuge in a nearby laboratory, where a lone attendant puts him in a peculiar contraption. He emerges what seems to be moments later, only to find that he has traveled back hours in time, setting in motion a brain-twisting, horrifying chain of events when he runs into himself. (In Spanish with English Subtitles)
A man finds himself stuck in a terrifying time loop after witnessing a murder.
Cast: Karra Elejalde, Candela Fernandez, Nacho Vigalondo
Member Reviews
Catch it before it's gone. Very enjoyable if a bit perplexing at the finish. Definitely required a little sit and think after it finished to piece it all together. Very little build up, starts out quickly and keeps your attention the entire run time. 4.5 skulls, could end up at 5 after a rewatch or two to really get it.
Really different. I wouldnt say this film is horror. Interesting concept. I enjoyed it.
Unlike any time travel movie out there. Really Good Shit!
After his 2003 Oscar-nominated short film 7:35 de la Mañana, Spanish filmmaker Nacho Vigalondo (who would go on to make 2016's savvy genre mashup Colossal) made a startlingly impressive feature length debut with Timecrimes. A thriller with steady surprises and subversion at every step, this is a time travel yarn that jumps genres with alacrity and very dark humor. Timecrimes hits the ground running as Héctor (Karra Elajalde) spies on his disrobing neighbor in the woods outside his home, and soon finds himself running from a stab-happy assailant swathed in bandages. While trying to escape Héctor runs into a scientist who convinces him to hide in his experimental time machine. It is here that our browbeaten hero is thrust back in time an hour to observe himself and the chaotic encounter that sent him running. Vigalondo reaps maximum effect from a minimalist of means but never does the film's low budget slow down the creativity and the momentum at the crux of this fun, wonderfully confused, and circuitous Möbius strip. If you're a fan of time loops, paradoxes, causality complications you can't afford to miss this mini-masterpiece.
Good suspense/thriller. This movie would have benefited from a richer story with more plot points. It's a very simple story that those not interested in investing too much brain power will enjoy. Great acting.