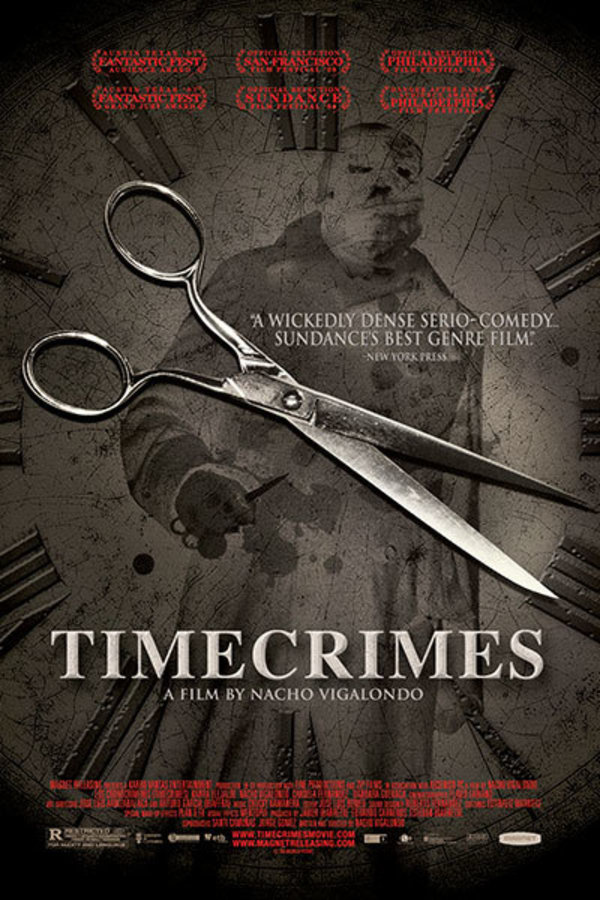 Timecrimes
Directed by Nacho Vigalondo
A man finds himself stuck in a terrifying time loop after witnessing a murder in director Nacho Vigalondo's (V/H/S VIRAL) critically-acclaimed trip to the Twilight Zone. Hiking up to investigate a nude woman in the woods, Hector is attacked by a sinister figure. Terrified, he takes refuge in a nearby laboratory, where a lone attendant puts him in a peculiar contraption. He emerges what seems to be moments later, only to find that he has traveled back hours in time, setting in motion a brain-twisting, horrifying chain of events when he runs into himself. (In Spanish with English Subtitles)
A man finds himself stuck in a terrifying time loop after witnessing a murder.
Cast: Karra Elejalde, Candela Fernandez, Nacho Vigalondo
Member Reviews
why was my original review removed ?
entertaining , cleveriSh , but also sort of silly and predictable . like watching mr. bean having to get himself out of a time traveling scrape - albeit with more blood and violence .. oh -and there just HAPPENS to be a working time machine next door that is never explained. i liked it but definitely do not need to see this again .
A clever and satisfying movie. The first act is self aware enough so that that it doesn't play the second act 'twist' as a twist, allowing the third act to unfold in an unexpected (And logical!) direction.
interesting movie. more thriller than horror but still great. one of those 'little detail' movies.
I cared more about Héctor than almost any other main character out there. Brilliant film.