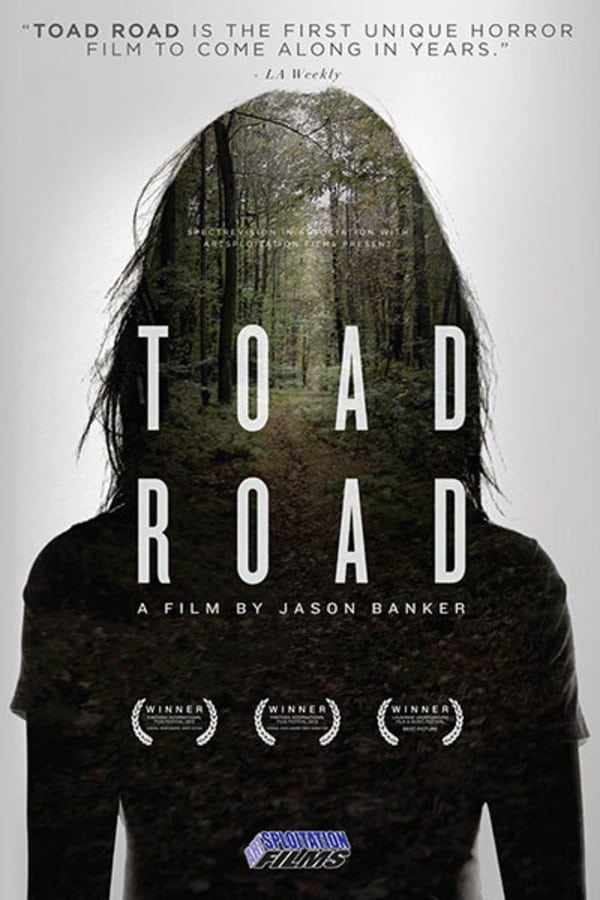 Toad Road
Directed by Jason Banker
A drug-loving couple visit a sinister local spot in this trippy tale of terror that's like a freakish mash-up of SPRING BREAKERS and THE BLAIR WITCH PROJECT. James is tired of the excessive drug use he and his friends engage in. But when he meets Sara, who wants to delve even deeper, they decide to visit a local spot called Toad Road that's supposed to be the entrance to the Seven Gates of Hell. Writer-director Jason Banker's debut is a unique fusion of documentary-like realism and otherworldly, haunting rural terror - and unlike anything you've ever seen.
A drug-loving couple visit a sinister local spot in this trippy tale of terror.
Cast: James Davidson, Sara Anne Jones, Whitleigh Higuera
Member Reviews
Stop! The scariest part of this film is the moment you push play.
This is probably the worst movie I've watched on Shudder. I do not want to be offensive, but the comparisons to Spring Breakers and The Blair With Project are pretentious and arbitrary. The end-credits were the only thing close to a slight homage or tribute, and the acting was that of a B-roll film or stage production. If 'Sara' really went missing and died, us audience members are most definitely not sympathetic nor empathetic; and the excessive use of drugs might be the only reason they dubbed the film 'much like SPRING BREAKERS'. There are no special effects, unless you consider ten seconds of datamoshed doors and faces. Frankly, the movie feels like a promise undelivered: what was all supposed to be a myth is all just a metaphor for the downward spiral of substance abuse. If Sara's really gone, or dead, it is all James' fault. I hope for more by this director, because I do see potential—but this film did not fare well with me, and apparently, many others here.
Do youself a favor, and do not waste your time on this pos!
The most horrifying scenes involved watching a bunch of skanky kids living in squalor and getting messed up.