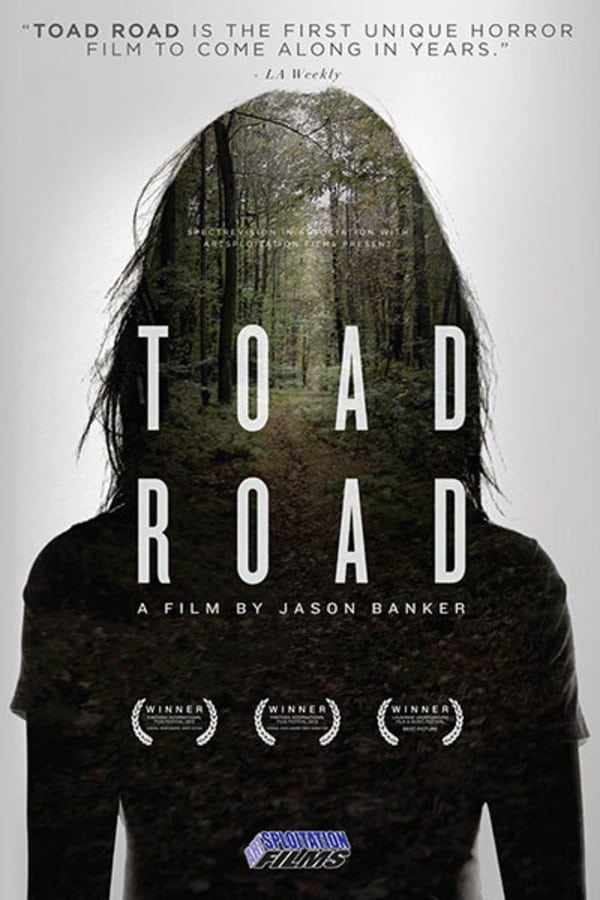 Toad Road
Directed by Jason Banker
A drug-loving couple visit a sinister local spot in this trippy tale of terror that's like a freakish mash-up of SPRING BREAKERS and THE BLAIR WITCH PROJECT. James is tired of the excessive drug use he and his friends engage in. But when he meets Sara, who wants to delve even deeper, they decide to visit a local spot called Toad Road that's supposed to be the entrance to the Seven Gates of Hell. Writer-director Jason Banker's debut is a unique fusion of documentary-like realism and otherworldly, haunting rural terror - and unlike anything you've ever seen.
A drug-loving couple visit a sinister local spot in this trippy tale of terror.
Cast: James Davidson, Sara Anne Jones, Whitleigh Higuera
Member Reviews
Not horror and definitely suited for viewers with an interest in "film-school" type stuff. I think this movie has an internal consistency which is uncommon for indie debuts. The subject matter may be kids experimenting with all sorts of drugs, but the "content' is abstract, emotional, and surprisingly mature. One thing I love about horror movies is their ability to make us revisit and rethink the darkness within ourselves - this movie does the same thing. Again, I wouldn't call this a horror movie, but it definitely belongs on Shudder for that reason. I'm going to be thinking about this one for a while.
What was the point of this garbage? Half the film's wasted on drug use. The second half was vague and went nowhere. I get that she made it beyond the 5th gate as she didn't return. I find her real life overdose sad it makes me wonder just how deeply she went into her character. I'm guessing he made it to the 4th gate as he lost time (time passes faster where he went) He comes back a mess who has lost everything. I didn't care about these characters and the film was poorly executed. Based on her death alone 2 skulls total waste of time.
Freaking loved it! Not sure what most of you were looking for(besides the two said movies that this was suppose to be like..I get the closeness to a point) but this movie was exactly like I was hoping it be!! I love mind trip movies ..aka fu*ked up and just makes you think(at least me lol) Loved Sarah & the main actor too(Thought all actors did well)..Sad though,I did not know the girl that played Sarah, died 2 days before this movie opened..Heroine over dosed..so sad
Poorly executed film school garbage... drugs and idiots with cameras... the 7 gates of Hell are constantly spoke on in order to more or less make you THINK it's a horror film, however I seen nothing of the genre here! Don't waste your time and I'm actually scratching my head as to why Shudder even streams this!
Just no. Literally nothing in the description of this movie happens other than people getting rehab level wasted. I really don't know why it exists.