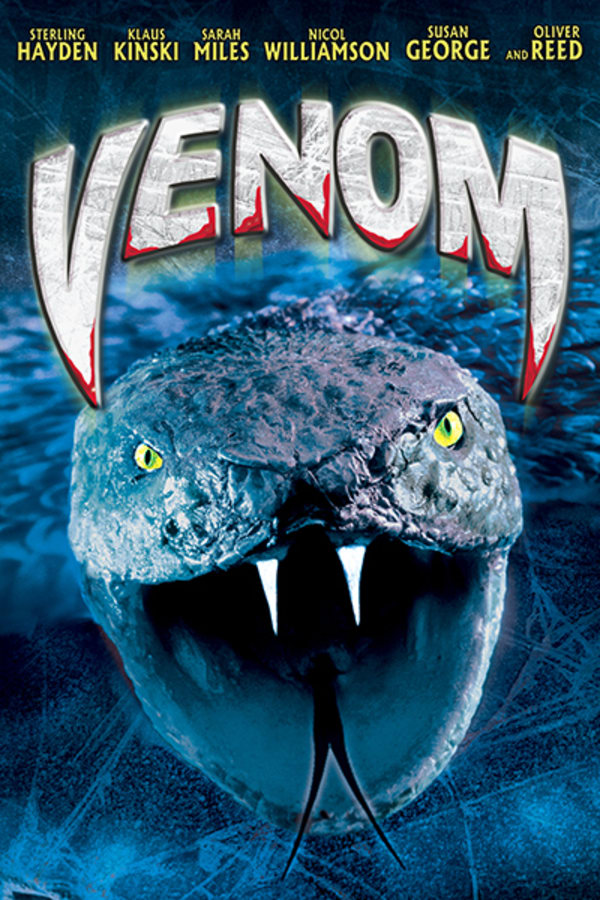 Venom
Directed by Piers Haggard
Three kidnappers find out crime really doesn't pay when their young victim accidentally becomes owner of a furious Black Mamba, the deadliest snake on Earth! Now the clueless criminals (Euro-cult cinema legends Klaus Kinski, Oliver Reed and Susan George) are trapped in a house surrounded by police, while on the inside, the slithering serpent is plotting where to sink its poisonous fangs. VENOM was intended to be Tobe Hooper's follow-up to EATEN ALIVE. But when he was suddenly fired, Piers Haggard (BLOOD ON SATAN'S CLAW) stepped in to see the scary story through.
Klaus Kinski, Oliver Reed and Susan George face off against a vicious snake in this cult favorite.
Cast: Klaus Kinski, Oliver Reed, Nicol Williamson, Susan George
Member Reviews
I found this suspenseful 1982 thriller under the "Crime and Mystery" section, but it's at least as much of a "Creature Feature," because the Black Mamba snake figures very heavily into the thrills and chills! It's a bit slow at first, but once the tension starts, it doesn't really let up until the very end. The great Oliver Reed and Klaus Kinksi play two of the most loathsome criminals that I've ever seen in any movie. They do such a good job with their roles that they had me seriously rooting for the snake (to get them, that is)! What happens to them? Watch the movie and see! Four out of five skulls!
Great thriller here with a ton of excellent actors and performances with the exception of the mother .. was rooting for the Black Mamba to bite her. Could seriously watch anything with Nichol Williamson. He was great as Merlin and he is great here. Really keeps the tension high throughout and just really well done .
I highly enjoyed the crime aspect of this movie. It really made some intense moments in the movie.
A decent movie though it does not get campy enough and utilize Kinski and Reed to their fullest extent.