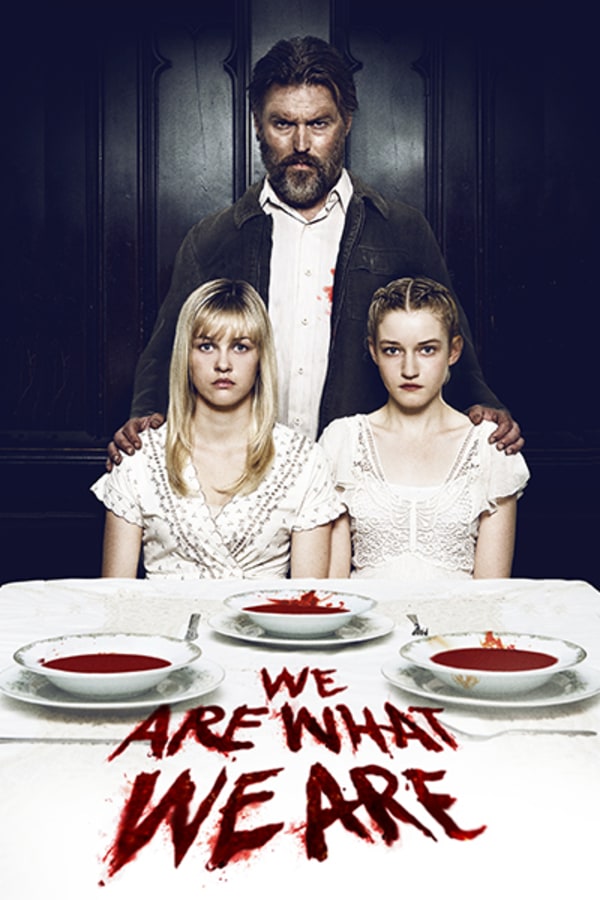 We Are What We Are
Directed by Jim Mickle
The Parkers are a seemingly wholesome family but patriarch Frank rules over them with a rigorous fervour. When tragedy strikes and his daughters Iris and Rose are forced to assume terrifying responsibilities that extend beyond those of a typical family, the local authorities begin to uncover clues to a horrible truth that the Parkers have hidden for so many years. Directed by Jim Mickle (Stakeland ) and starring Michael Parks (Red State, Kill Bill ), Kelly McGillis (The Innkeepers, Top Gun ) and Julia Garner (Martha Marcy May Marlene ), WE ARE WHAT WE ARE, is a chilling tale of a family with a dark, dark secret. Contains strong language, sexual scenes, violence and gore.
The Parker sisters struggle with their mother's death and their family's annual cannibalistic tradition.
Cast: Bill Sage, Ambyr Childers, Julia Garner, Wyatt Russell, Nick Damici, Kelly McGillis, Michael Parks
Member Reviews
WOW WOW WOW , LMFAO, What a DUCKED UP MOVIE , I dont care how hungrey i get i'm not staying for supper at there house LOL ,, but overall not a bad movie to watch i must say ,,,
This kept me riveted till the end- excellent movie!
Not sure why it cut off my review after only a few words, but here it goes again! I was pleasantly surprised with this movie and I don't usually like cannibal films. Don't worry, that's not a spoiler. It's quite clear that's what they are. But this was a different take on the genre for me. Think Ravenous but without the dark humour.