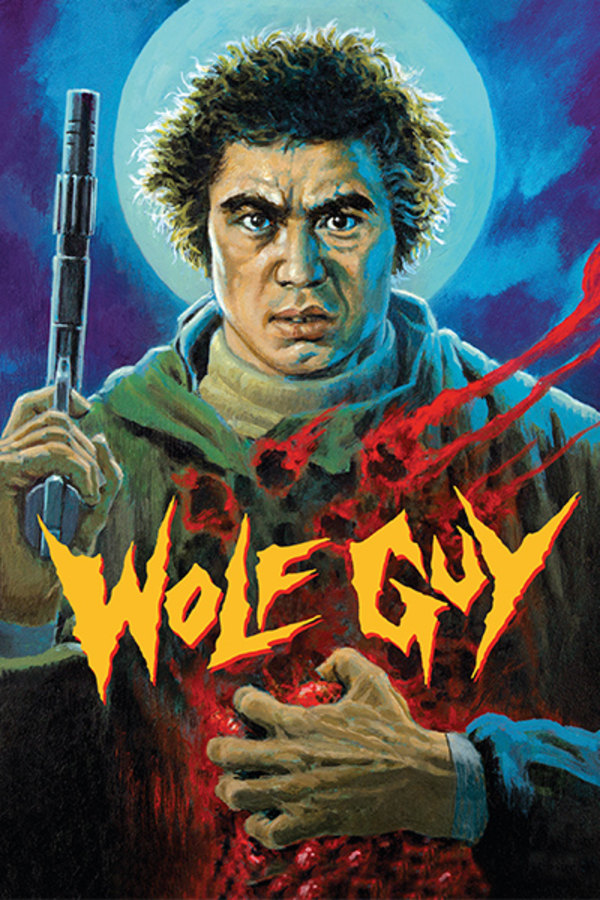 Wolfguy: Enraged Lycanthrope
Directed by Kazuhiko Yamaguchi
Sonny Chiba stars as Akira Inugami, the only survivor of a clan of ancient werewolves who relies on his supernatural powers to solve mysterious crimes. After a series of bloody killings perpetrated by an unseen force, Inugami uncovers a conspiracy involving a murdered cabaret singer, corrupt politicians, and a plot by the J-CIA to harvest his blood in order to steal his lycanthropic powers! At the same time, Inugami also discovers the truth behind his family heritage, and that he may not be the last of his kind.
"Sonny" Chiba is WOLFGUY, the only survivor of a clan of werewolves who relies on his feral, full-moon-activated superpowers to solve mysterious crimes.
Cast: Shin'ichi Chiba, Kyôsuke Machida, Yuriko Azuma
Member Reviews
So glad I stumbled upon this Gem, I loved every minute
This has got to be one of the oddest films I've experienced. In less than 90 minutes it seems to run a dozen plot lines, and somehow manages to crawl through all of them. Usually an overpacked movie seems to move too quickly, but I think I aged a couple of months while this ran. Still, Sonny Chiba is WOLGUY, and that is worth some skulls.
SONNY CHIBA IS A WEREWOLF! What else do you need? This one is where it's at!
Watched this film during Joe-Bobs double feature and I really dug it. Check it out.
I gotta agree with some of the other reviews on here. You could say it tells in 90 minutes what it takes other movies a trilogy to tell, but you could also say that it has about five different plots running throughout all the while not really being that interesting. This movie sure is groovy, baby. It is very '70s with the music, hairy sex scenes, sequins, leather, hairstyles, and an apparent Giallo influence. None of these are bad. It's pretty ridiculous. I've seen a few of these kinds of grindhouse 1970s throwaway movies. They're usually about some guy who has to evade the authorities, whether they be the police or the mafia, and they have a very easy time of finding women to have sec with or who will devote their undying love to them, only to be killed ten minutes later this giving out protagonist an excuse to go find the next woman in this dangerous urban landscape that he occupies alongside junkies, goons, prostitutes, corrupt cops, and all other manner of despicable societal elements. The plot definitely went places that I didn't expect. And the last twenty minutes felt like a completely different movie from the one at the beginning. If Giallo and other '70s B movies kind of bore you, then you can skip this one, but if you love those, then you'll probably find this one to be a fun and wild ride.