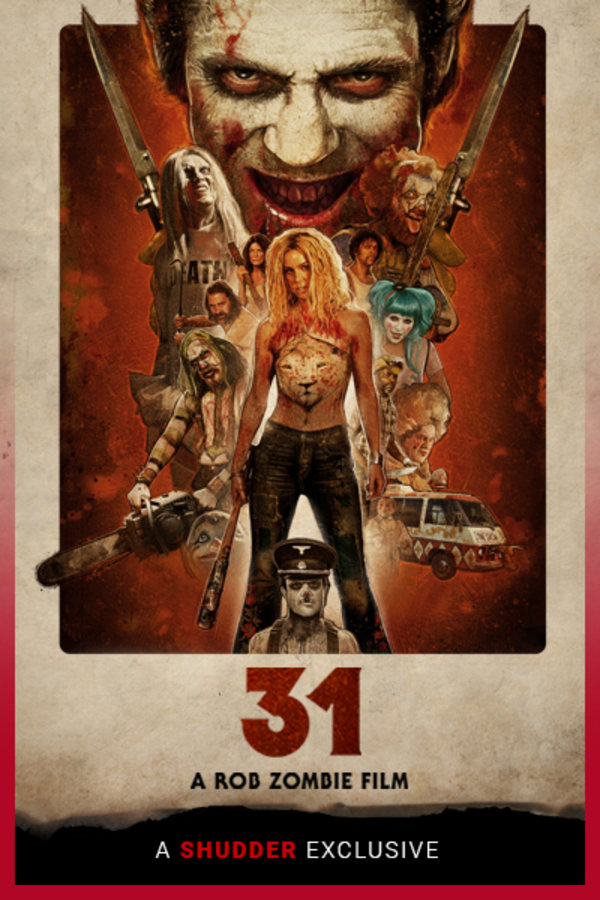 31
Directed by Rob Zombie
Driving through the Southwest on Halloween night, Charly (Sheri Moon Zombie) and her carny crew are attacked and brought to a factory where evil aristocrat Malcolm McDowell announces they'll be hunted by a series of killer clowns, including the unstoppable Doom-Head (brilliant bad guy Richard Brake, aka the Night King on "Game of Thrones"). The deathmatch set-up has been a horror-fantasy staple from 1932's THE MOST DANGEROUS GAME to THE HUNGER GAMES, but in Rob Zombie's blood-soaked hands, the subgenre naturally receives its most unrelentingly gruesome interpretation. A SHUDDER EXCLUSIVE. Contains strong language, sexual scenes, violence and gore.
A tough band of carnies are forced to play a gruesome game of kill-or-be-killed on Halloween night.
Cast: Sheri Moon Zombie, Meg Foster, Richard Brake, Lew Temple, Malcolm McDowell
Member Reviews
I actually think this is one of Rob Zombie's best. awesome to finally see it. Doomhead is absolutely fantastic
Kick ass, as is all Rob Zombie movies are. i loved it!!!
I love this movie this is a classic horror movie that's a lot of fun to watch. All the people that are trying to compare this movie to house of 1000 corpses & the devils rejects make no sense there nowhere near the same so just stop doing that all 3 movies are great in there own. I'm a big rob zombie fan in my opinion what he's been able to do for the horror genre in general has been fantastic. Studios are willing to spend big $ on horror movies again & not go straight to dvd/Blu-ray release. This movie is a lot of fun to watch & Richard Brake is awesome.
Definitely nowhere near as good as House of 1000 Corpses or The Devils Rejects but I still like this movie more than The Lords of Salem it Super El Beasto or whatever the drunk that cartoon was called... Lots of blood, F%#+ BOMBS, disgusting jokes and pussy talk, like most Rob Zombie movies, and good chainsaw scenes also but not enough story in this movie but that's all this movie was.... VIOLENCE, DEATH, KILLER MIDGET CLOWNS...... what else would we expect??? ;)