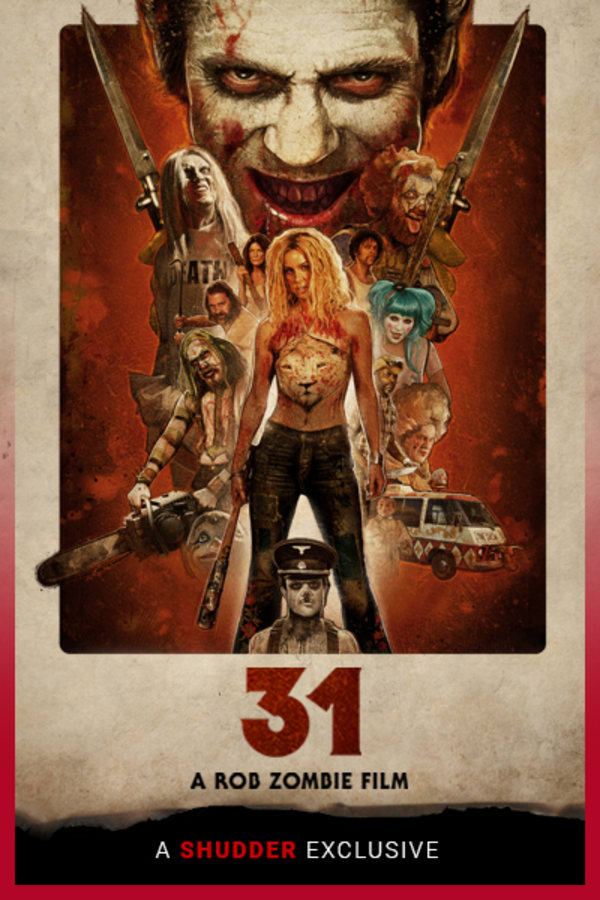 31
Directed by Rob Zombie
Driving through the Southwest on Halloween night, Charly (Sheri Moon Zombie) and her carny crew are attacked and brought to a factory where evil aristocrat Malcolm McDowell announces they'll be hunted by a series of killer clowns, including the unstoppable Doom-Head (brilliant bad guy Richard Brake, aka the Night King on "Game of Thrones"). The deathmatch set-up has been a horror-fantasy staple from 1932's THE MOST DANGEROUS GAME to THE HUNGER GAMES, but in Rob Zombie's blood-soaked hands, the subgenre naturally receives its most unrelentingly gruesome interpretation. A SHUDDER EXCLUSIVE. Contains strong language, sexual scenes, violence and gore.
A tough band of carnies are forced to play a gruesome game of kill-or-be-killed on Halloween night.
Cast: Sheri Moon Zombie, Meg Foster, Lew Temple, Malcolm McDowell, Richard Brake
Member Reviews
Not Rob Zombie's best, but still entertaining and bloody.
If you're into violent, bloody horror. This is it. Anyone who doesn't like this just picks little issues that no one truly cares about
Rob zombie is hit or miss with me. This one falls in the middle. It is meh. the acting is cool and the movie has cool characters and looks great! Great set peices, but man that ending fucking sucked. It worth a watch and has some really cool monents but man the ending is a let down. Hard to believe or remember that Rob Zombie is the man that gave us that wonderful and memorable ending in Devils rejects. Bummer
As a fan of Rob Zombie's earlier work and as a lover of exploitation and low-budget horror I have to say I was disappointed with this film. It sums up to a cheap drunken re-telling of The Running Man (and not in a good way). It feels like a poor man's version of a Rob Zombie film. The story isn't engaging, the characters are dry, and the dialogue is truly awful, I mean really bad, it's not even something you can laugh at. It's bad in bad way. The writing just felt extremely lazy. There were a few moments of that signature editing style that I like in Rob Zombie films but it was mostly insignificant. The scenes with Malcolm MacDowell were enjoyable. Some decent gore but overall they barely showed anything (the opening kill was somewhat of a let down). I can't really say I would recommend Rob Zombie's "31". It's barely worth a watch. Just smoke a joint and go for the Running Man instead. P.S. Major strobe-light warning near the third act.