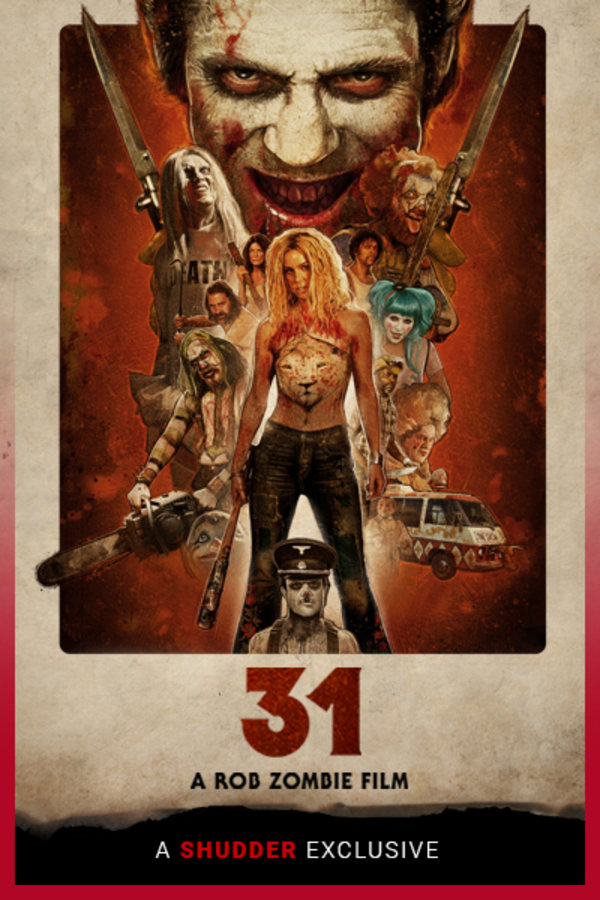 31
Directed by Rob Zombie
Driving through the Southwest on Halloween night, Charly (Sheri Moon Zombie) and her carny crew are attacked and brought to a factory where evil aristocrat Malcolm McDowell announces they'll be hunted by a series of killer clowns, including the unstoppable Doom-Head (brilliant bad guy Richard Brake, aka the Night King on "Game of Thrones"). The deathmatch set-up has been a horror-fantasy staple from 1932's THE MOST DANGEROUS GAME to THE HUNGER GAMES, but in Rob Zombie's blood-soaked hands, the subgenre naturally receives its most unrelentingly gruesome interpretation. A SHUDDER EXCLUSIVE. Contains strong language, sexual scenes, violence and gore.
A tough band of carnies are forced to play a gruesome game of kill-or-be-killed on Halloween night.
Cast: Sheri Moon Zombie, Meg Foster, Richard Brake, Lew Temple, Malcolm McDowell
Member Reviews
Much better than the reviews make you think. Not sure why this movie has so much hate. It was plenty o' fun. The Spanish Impersonating hitler Midget clown was hilarious. Not as painful and "intense" as people make it out to be. Was pretty funny actually.
sick sets and shots . clowns were cool but nazi midget should get ripped in half ass first. im aware its called 31 as in the 31st of october, but i must admit i am disappointed that it didnt mean that they were dropped into an arena with 31 clowns and all fought to the death at once. nice work rob. i liked your fortnite clown battle royale torture porn.
I really like it.Wasn't sure with the midget part. But passed that, it's a great movie. I give it 5 skulls.
I watched... Dumb dumb dumb moments like, if a door suddenly closes on you, don't sit there yanking the knob whilst a killer walks up behind (Rob, you dragged that one out wayyyyy to long) , or when luckily freed into the day light, why stand there yelling. Run B***** RUN!!! Too many moments like this ruined a cool flick.
I love all of Rob Zombie's work, from his music to his films. This one was no exception. I hope he continues to make more and more films for us to enjoy.