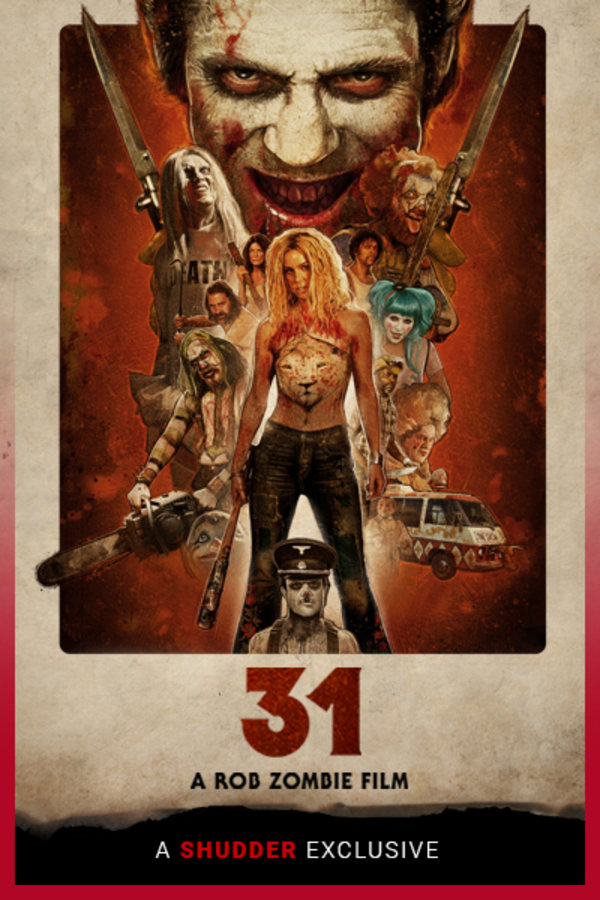 31
Directed by Rob Zombie
Driving through the Southwest on Halloween night, Charly (Sheri Moon Zombie) and her carny crew are attacked and brought to a factory where evil aristocrat Malcolm McDowell announces they'll be hunted by a series of killer clowns, including the unstoppable Doom-Head (brilliant bad guy Richard Brake, aka the Night King on "Game of Thrones"). The deathmatch set-up has been a horror-fantasy staple from 1932's THE MOST DANGEROUS GAME to THE HUNGER GAMES, but in Rob Zombie's blood-soaked hands, the subgenre naturally receives its most unrelentingly gruesome interpretation. A SHUDDER EXCLUSIVE. Contains strong language, sexual scenes, violence and gore.
A tough band of carnies are forced to play a gruesome game of kill-or-be-killed on Halloween night.
Cast: Sheri Moon Zombie, Meg Foster, Richard Brake, Lew Temple, Malcolm McDowell
Member Reviews
Rob Zombie needs to stop. Please stop.
This movie has a very Purge like feel to it, with 12 hours on the clock and a buzzer that is adhered to with silent agreement between killer and victim. Very Rob Zombie feel to it though with lots of really twisted kill scenes although the beginning i have to admit i skipped because the little persons acting was pretty lame. They could have done much more as far as scenery goes, they keep it in tight spaces with pipes everywhere that is reminiscent of Freddy Kruger territory. The main actor is very talented as a paycho and the rest of the actors are not as bad as a B movie but leaves a little to be desired. Overall, it's a decent flick to get a little more Rob Zombie experience under your belt!
I really can't get over Zombi wife bad acting .its cringy to watch and beyond words how she ended up with the lead basically .the movie itself is decent enough but yeah prob could had done better with a different female leading off
After enjoying his first few films, Rob Zombie's latest movies have left me feeling like I need a long shower and to rinse my eyes out for 15 minutes with lukewarm water. That being said, the gore and gags are really well done.
Such bullshit writing. God damn cliches that try to appear edgy. Terrible move.