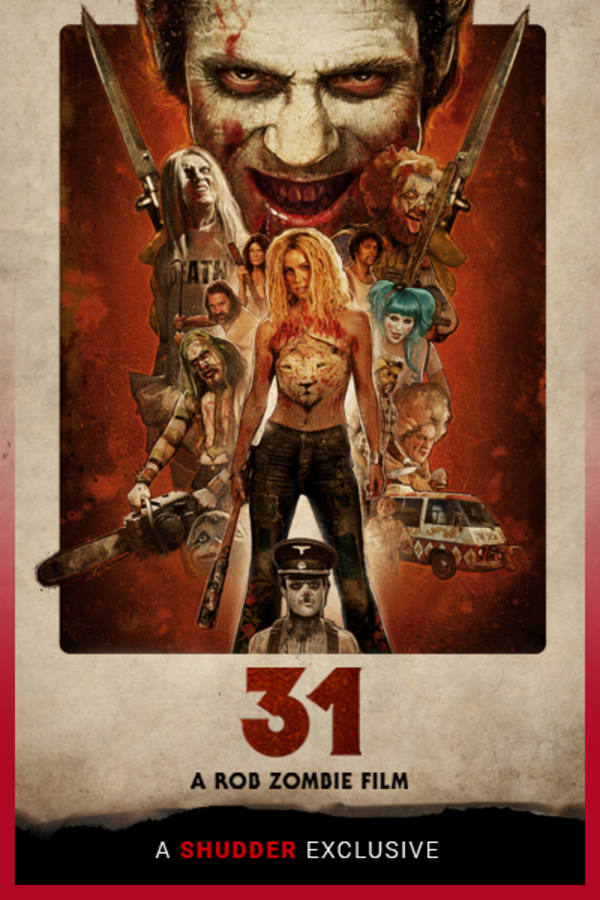 31
Directed by Rob Zombie
Driving through the Southwest on Halloween night, Charly (Sheri Moon Zombie) and her carny crew are attacked and brought to a factory where evil aristocrat Malcolm McDowell announces they'll be hunted by a series of killer clowns, including the unstoppable Doom-Head (brilliant bad guy Richard Brake, aka the Night King on "Game of Thrones"). The deathmatch set-up has been a horror-fantasy staple from 1932's THE MOST DANGEROUS GAME to THE HUNGER GAMES, but in Rob Zombie's blood-soaked hands, the subgenre naturally receives its most unrelentingly gruesome interpretation. A SHUDDER EXCLUSIVE. Contains strong language, sexual scenes, violence and gore.
A tough band of carnies are forced to play a gruesome game of kill-or-be-killed on Halloween night.
Cast: Sheri Moon Zombie, Meg Foster, Richard Brake, Lew Temple, Malcolm McDowell
Member Reviews
Rob Zombie nailed it AGAIN!!!
The real talent is knowing when to stop, something Rob Zombie should have done with Halloween. It makes me kinda sad to watch the old washed up Dottie try to squeeze out another talentless line just so Rob can collect change in a coffee cup.. It reminds me of this old man who had a monkey act at the Myrtle Beach Pavilion :'(
another thrill to watch from rob zombie! loved the wrap up!
Could of been a bit better, but I did kind of enjoy it for the most part.
So-so. Not Rob Zombie's best film, but still worth a watch if you are a fan.