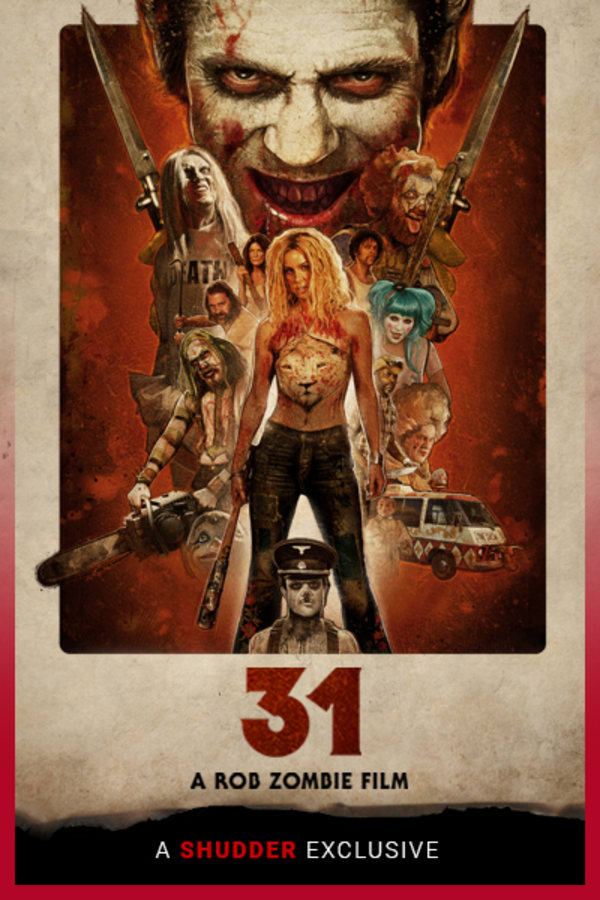 31
Directed by Rob Zombie
Driving through the Southwest on Halloween night, Charly (Sheri Moon Zombie) and her carny crew are attacked and brought to a factory where evil aristocrat Malcolm McDowell announces they'll be hunted by a series of killer clowns, including the unstoppable Doom-Head (brilliant bad guy Richard Brake, aka the Night King on "Game of Thrones"). The deathmatch set-up has been a horror-fantasy staple from 1932's THE MOST DANGEROUS GAME to THE HUNGER GAMES, but in Rob Zombie's blood-soaked hands, the subgenre naturally receives its most unrelentingly gruesome interpretation. A SHUDDER EXCLUSIVE. Contains strong language, sexual scenes, violence and gore.
A tough band of carnies are forced to play a gruesome game of kill-or-be-killed on Halloween night.
Cast: Sheri Moon Zombie, Meg Foster, Lew Temple, Malcolm McDowell, Richard Brake
Member Reviews
Decent to watch if you want a movie with a lot of violence but not much of a plot.
Rob Zombie made some great movies this is probably one of the scariest but one of the worst is in best movie he made was the Halloween movie but still big props does Rob Zombie worth watching
LORDS OF SALEM WAS BETTER
After Rob Zombie's ending to "Halloween 2" and his homage to the 70's witch films, "Lords of Salem", I was begining to wonder if he would ever be able to bring me the enjoyment I got out of his first 3 films. Along comes "31". Zombie really rolled back the clock on us by bringing us cartoon villains like you would see in "The Warriors" or "Death Race 2000". Yes, there is a lot of Sherri Moon, but Zombie said somewhere around 2005 that she is involved in everything he does, whether it's movies, albums, or music videos. You should know this going in. If you have a problem with it, don't watch his stuff or buy his records. Also, the plot is paper thin and there is no character development, but this came after years of people saying that "The Devil's Rejects" and "Halloween" were bogged down with plot. The point of "31" is not plot or character development. The point is cheesey cartoonish villains and gore, which he delivers.
Standard Rob Zombie fare only meant to spotlight how hot he thinks his wife is. Little plot and characterization, and the few threads of interesting writing sprinkled throughout the movie are ripped straight from better movies.