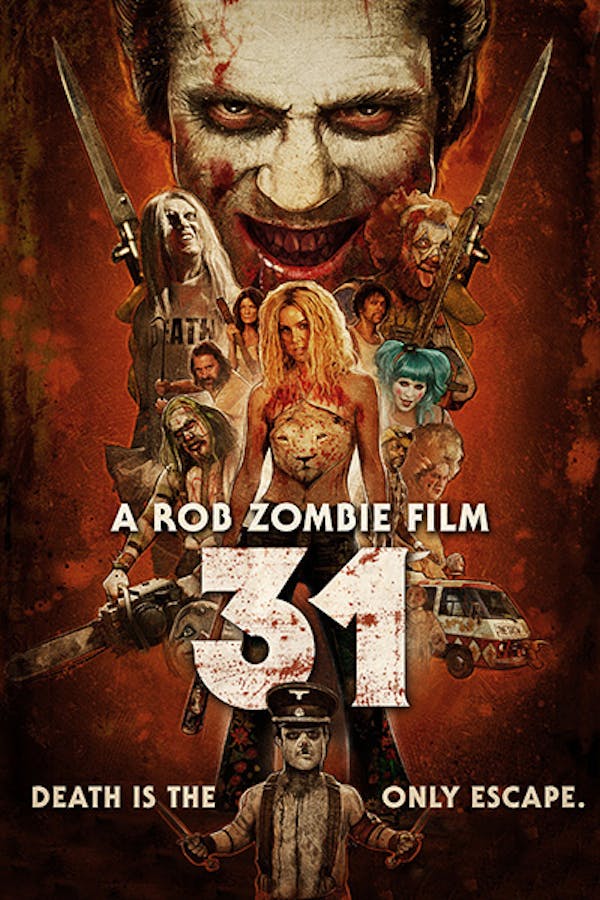 31
Directed by Rob Zombie
Driving through the Southwest on Halloween night, Charly (Sheri Moon Zombie) and her carny crew are attacked and brought to a factory where evil aristocrat Malcolm McDowell announces they'll be hunted by a series of killer clowns, including the unstoppable Doom-Head (brilliant bad guy Richard Brake, aka the Night King on "Game of Thrones"). The deathmatch set-up has been a horror-fantasy staple from 1932's THE MOST DANGEROUS GAME to THE HUNGER GAMES, but in Rob Zombie's blood-soaked hands, the subgenre naturally receives its most unrelentingly gruesome interpretation. Contains strong language, sexual scenes, violence and gore.
A tough band of carnies are forced to play a gruesome game of kill-or-be-killed on Halloween night.
Cast: Sheri Moon Zombie, Meg Foster, Richard Brake, Lew Temple, Malcolm McDowell
Member Reviews
not bqd, good for a watch. shaky cam rubbish really annoying. and stobe light scene was plain awful. Bad guys were very very chatty.
It's definitely one of Rob Zombies weaker movies, but check out if ur a Rob Zombie fan though
It didn't captivate me and the characters and plot were so predictable. I was able to mod and code a game and only pay half attention to it and still know what was going on and how the characters were going to react. Good drinking for drinking games though.
YES TYPICAL ROB ZOMBIE..IS WHY I HVE A SQUIZ👍🏼..CHERRY MOON IS GETN ON ABIT THO🥴🥱..jus sayn👵🏼HOPEFULLY ROB CHANGES ER UP SOON..2SUMFIN "FRESH"🤩
Love Zombie's films? Watch it. Hate his films? Don't. This film feel like a homage to himself and his back catalogue. This isn't a bad thing, it just borrows a lot from his previous films and the result is a very Zombie-esque outing. The usual dumb horror tropes are here which is frustrating, but I figure it is acknowledging them from the slasher classics. This film won't change your opinion on Zombie as a filmmaker, whichever way you lean. However, he has created a truly iconic villain in Doom-Head which was masterfully portrayed by Richard Brake.