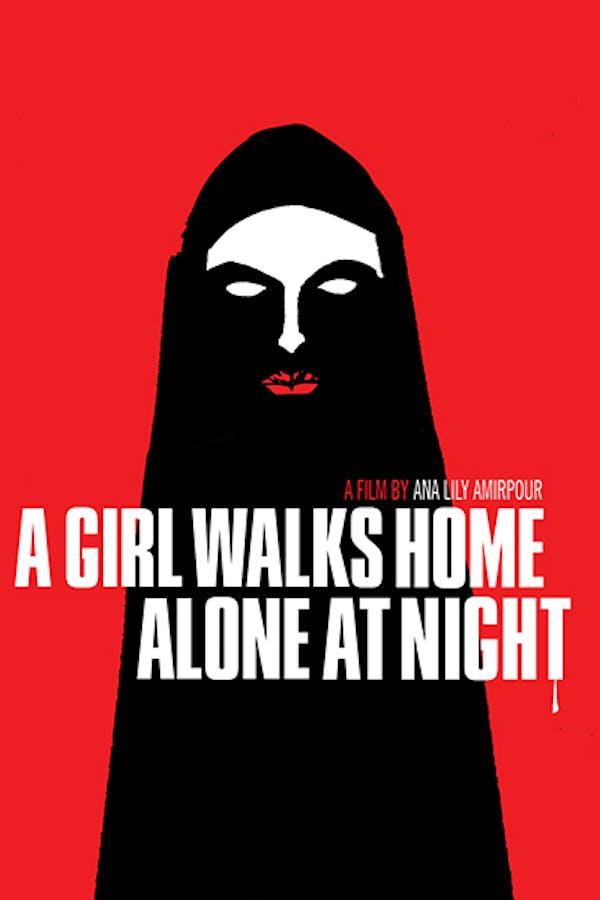 A Girl Walks Home Alone At Night
Directed by Ana Lily Amirpour
The first Iranian Vampire Western, Ana Lily Amirpour's debut feature basks in the sheer pleasure of pulp. A joyful mash-up of genre, archetype and iconography, its prolific influences span spaghetti westerns, graphic novels, horror films, and the Iranian New Wave. Amped by a mix of Iranian rock, techno and Morricone-inspired riffs, its airy, anamorphic, black-and-white aesthetic and artfully drawn-out scenes combine the simmering tension of Sergio Leone with the surrealism of David Lynch.
Strange things are afoot in Bad City, where a lonely vampire is stalking the towns' most unsavory inhabitants.
Cast: Sheila Vand, Arash Marandi, Mozhan Marno, Marshall Manesh, Dominic Rains
Member Reviews
Vignettes of a few folks' lives, all interconnected by a vampire and a super cute cat. Very atmospheric, not much dialogue, sort of slow, and not at all scary (except the Reagan mask and how poorly it treated folks with addiction problems). If that's not your jam, don't go for this one. But, honestly, it was pretty a-okay.
I get it, but was still pretty bored. Persian Beatnick Rockabilly soundtrack was worth an extra star. Did I say I was pretty bored?
This was so beautiful. It's stylish, haunting, and hypnotic, and I don't know how it kept my attention, but it did. I don't know what genre this even is, and it really doesn't matter. Great film. If you need a lot of action and are looking for pure horror, this isn't it. This is more arthouse, done in an unusual way. Great soundtrack!
Visually stunning, excellent soundtrack
My favorite black and white Iranian vampire western.