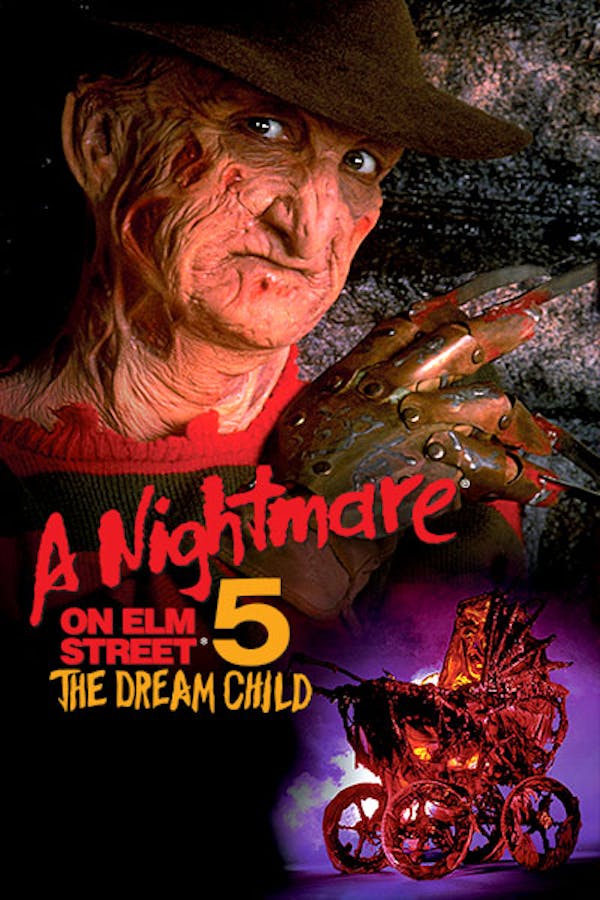 A Nightmare on Elm Street 5: The Dream Child
Directed by Stephen Hopkins
Did you ever see a dream stalking...? The kids on Elm Street have. For five years, a walking nightmare named Freddy Krueger has haunted their sleep--seeking revenge for the horribly disfiguring death he suffered at the hands of the children's parents. Now, through the dreams of an unborn child, Freddy has resurrected himself ... and he's looking for new victims.
Through the dreams of an unborn child, walking nightmare Freddy Krueger has resurrected himself ... and he's looking for new victims.
Cast: Robert Englund, Lisa Wilcox, Danny Hassel, Whitby Hertford, Kelly Minter
Member Reviews
A genuinely tired affair. Weakest entry in the series.
The first installment where I felt genuinely embarrassed for Robert Englund.
Part 5's have a hard time in the 80s mainstream slasher series. I'm giving this one three skulls, but that's only because I can't give it two and a half. Some cool visuals, and likeable cast, the fx are cool. But at this point, Freddy has gotten far from his effective, frightening original persona.
It was all right. Marginally better than 2, not as great as 3 (which I realize might be the metalhead in me talking). My main gripe, however, is that the site's blurb summary spoils the key plot element.
Not a very good one. Felt nothing for the characters and didn't feel much tension when they were stalked by Freddy. The plot line concerning the baby was rather clever, but the lore was stretched to its limit to accommodate it.