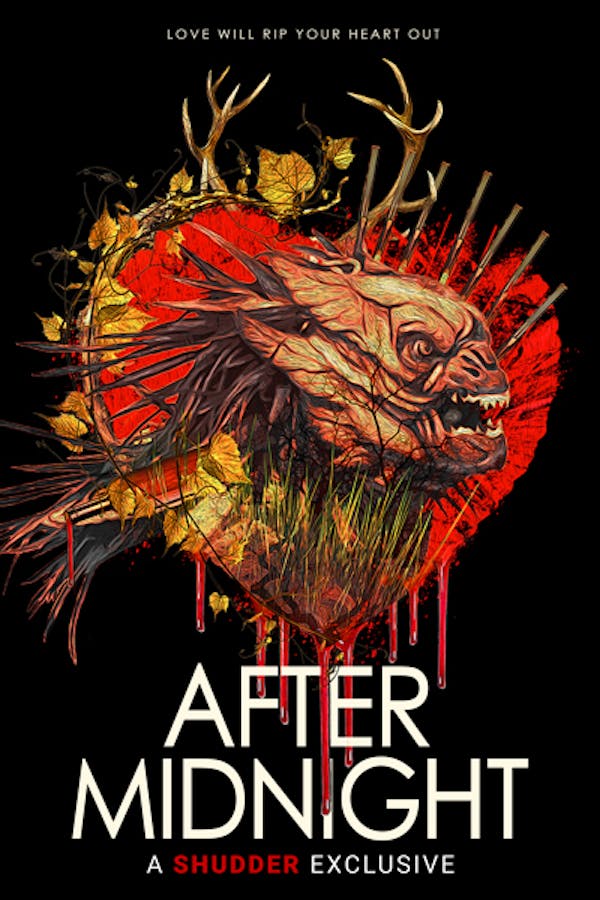 After Midnight
Directed by Jeremy Gardner, Christian Stella
Ten years into his small-town, storybook romance with Abby, Hank suddenly wakes up to an empty home. With nothing but a cryptic note to explain why she left, Hank's charmed life begins to fall apart. To make matters worse, Abby's disappearance seems to trigger the arrival of a ferocious creature that crawls out of the old grove on the edge of his property. A SHUDDER EXCLUSIVE.
When Abby leaves Hank, it seems to trigger the arrival of a ferocious creature.
Cast: Jeremy Gardner, Brea Grant, Henry Zebrowski, Justin Benson
Member Reviews
slow to get there and not much action but that ending was gold. had us all like awe and then WHOA! would liked to have seen more of the critter but Hank's sudden "hell no, not in my house" after his song was so rudely interrupted made me happy. good show.
This is such a slow burn the monster shows up 45 seconds before the end of the movie. And I think the deer antlers as weapons has been done before, a lot better.
definitely a slow burn maybe not for those who like slasher jump scare style movies but i love the ending and the lead up and the pay off of coming to the realization of what it all means (arron moorhead and justin benson star in this movie so if you enjoyed the endless, spring, sychronic, or resolution, you might find this to be up your ally) would give this four and a half stars if allowed definitely a "thinker" style movie not so much the "shock and awe" style
LOVED IT watch before u read reviews
Don't be fooled by the undereducated reviewers, this film is very close to a 4.3 rating out of 5 skulls, I gave 5 to make up for some of the ignorant reviewers. After midnight is Very enjoyable, if you do not lack the patience and focus to complete all 83 minutes of this movie and see the little details and how each one comes together for completion towards the end of the movie. The films pace is slow and is followed by moments of fast pace shock and awe. The story lines cover romance, Friendships, folklore, sleep deprivation and mental health perspectives. My main advice is to watch the movie to completion with out distractions, if you can do so you will understand my rating of 4.3 The lead actor is amazing in portraying all of his scenes and story lines in this film and deserves a better overall review. Beatrixkidd 1 skull review "dis movie is terruble' Don't be this person…. Please try not to rate or write about the film if you don't watch it to completion. [BEWARE] Spoilers in the comments below!