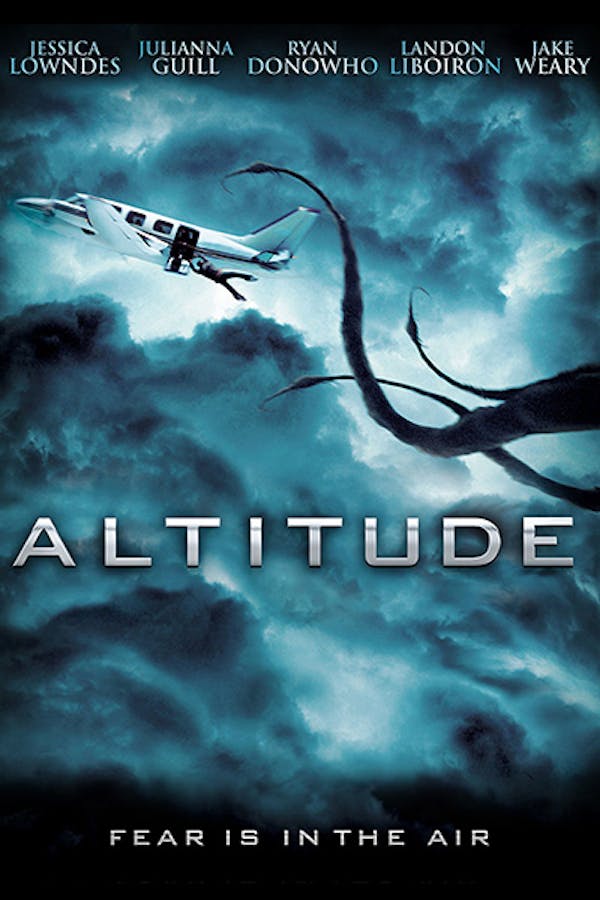 Altitude
Directed by Kaare Andrews
Five teenage friends – including rookie pilot Sara (Jessica Lowndes of TV's 90210) – rent a small plane for a weekend getaway. But shortly into the flight, something suddenly goes wrong. The instruments begin to malfunction. The plane won't stop climbing. A storm is closing in and fuel is running out. But for everyone on board the true horror has just begun: A mysterious force wants them all to die... and only one of them has the power to stop it.
A rookie pilot and her four teenage friends fight to survive as they find themselves trapped in a deadly showdown with an unknown force.
Cast: Jake Weary, Jessica Lowndes, Julianna Guill, Landon Liboiron, Ryan Donowho
Member Reviews
Yeah, it's one of those movies that feels like it tacked in the horror/supernatural part just to give it something more. It took 2/3rds of the movie just to get to it. And what it ends up being is rather weak. On the other hand, the action-adventure part of it was kind of fun. Still, the only horror of this movie is sitting through it. You can skip it and not lose anything.
Cheesy teen movie dialogue, but entertaining enough for night in. Decent Lovecraftian nod and, while not entirely original, a semi unpredictable ending. I'm guessing this was a made-for-tv film...and a decently well made one at that.
the jerk does die but not until an hour and nine minutes in which is an hour longer than he should have lasted.
Not too bad! Decent acting, good effects, and pretty cool story. The ending left me wanting more information.
Cthulhu barely appeared. Sal was a bully. Sara was a b$#*h, Mel didn't OD enough, Bruce wasn't a shark and Cory wasn't a short chubby black kid from the house.