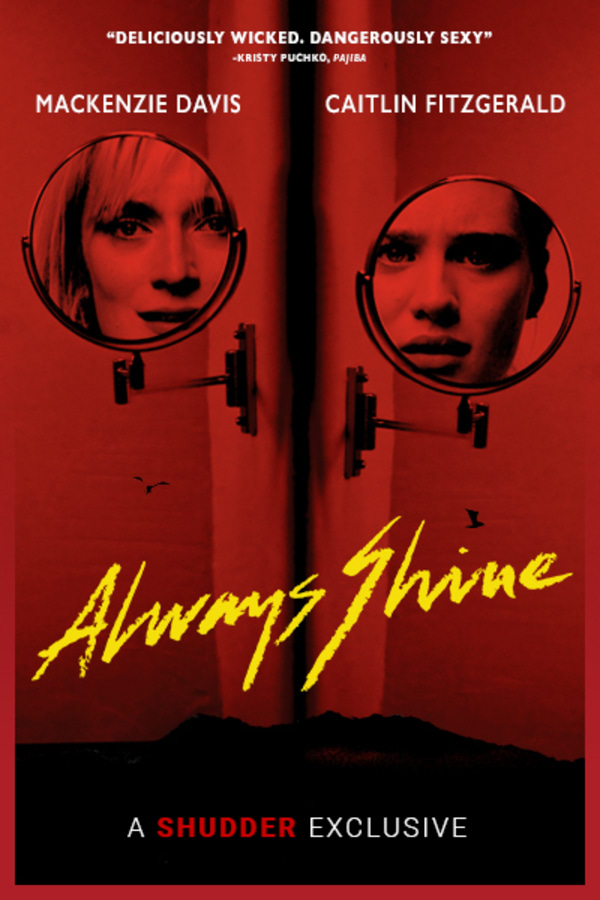 Always Shine
Directed by Sophia Takal
Two longtime friends, Beth, an indie actress whose star is on the rise, and Anna, who is still struggling, head off to a secluded cabin for a weekend vacation. But as secrets come out into the open that cause jealousy and resentment, the pair find both their friendship and their sanity decaying. As tensions ramp up, the two women seem to switch personalities and things start to get very, very twisted. Sophia Takal's acclaimed thriller offers a gripping update of the female friend psychosis subgenre typified by films like PERSONA, 3 WOMEN and MULHOLLAND DRIVE.
The relationship between two actress friends turns twisted when they head off on a weekend retreat.
Cast: Mackenzie Davis, Caitlin Fitzgerald, Lawrence Michael Levine, Alexander Koch, Jane Adams
Member Reviews
This is a truly great, near-perfect psychological thriller. The tension begins in the very first moments, and it never really lets up-- though, for the most part, it's a quietly seething, coiled tension which threatens, at any moment, to explode. The acting from the two leads here simply could not be better. The sharp-edged points that the film makes about the movie-making world, and what tends to gain success there (and what does not) hit home painfully well. The only reason that I'm not giving this instant classic (for me at least) an even higher rating is the third-act playing around with questions of identity, which diluted some of the power of the film. Still, this is a powerful, memorable movie which I will certainly watch again (and again!) and which I will likely buy. A very enthusiastic four and a half out of five skulls!
can't believe more people haven't seen this
Good movie - kept me interested.