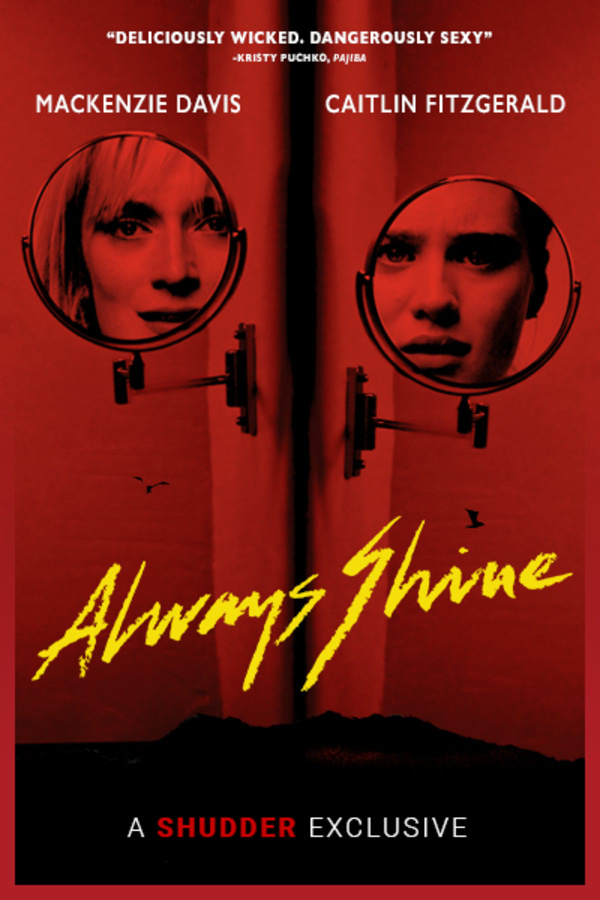 Always Shine
Directed by Sophia Takal
Two longtime friends, Beth, an indie actress whose star is on the rise, and Anna, who is still struggling, head off to a secluded cabin for a weekend vacation. But as secrets come out into the open that cause jealousy and resentment, the pair find both their friendship and their sanity decaying. As tensions ramp up, the two women seem to switch personalities and things start to get very, very twisted. Sophia Takal's acclaimed thriller offers a gripping update of the female friend psychosis subgenre typified by films like PERSONA, 3 WOMEN and MULHOLLAND DRIVE.
The relationship between two actress friends turns twisted when they head off on a weekend retreat.
Cast: Mackenzie Davis, Caitlin Fitzgerald, Lawrence Michael Levine, Alexander Koch, Jane Adams
Member Reviews
At first I wasn't quite sure what this was doing on Shudder, but I'm glad I saw it. Some scenes are incredibly tense, if a bit overwrought. At just under 90 minutes, this is worth a watch if you're looking for something different
Really interesting, appreciated the diversion from formula, performances were great. A little slow at some parts and experimentally indulgent, but still good and worth the watch
Well acted, shot, and directed. Some of the awful treatment of women in the film industry is really well done, and has stuck with me for a while. I didn't really care for the last act that much, but that's just me. I would have preferred a more solid resolution.
Did nothing for me but the acting was good and the girls are hot.
This film is for intelligent genre fans only. People with spelling and grammar problems are going to hate it. I'm somewhere in between. 3.5