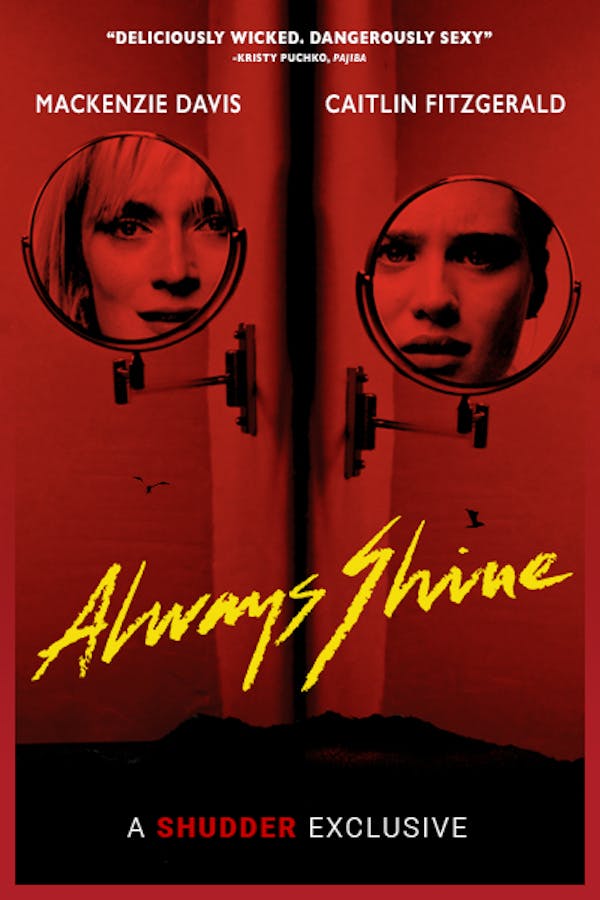 Always Shine
Directed by Sophia Takal
Two longtime friends, Beth, an indie actress whose star is on the rise, and Anna, who is still struggling, head off to a secluded cabin for a weekend vacation. But as secrets come out into the open that cause jealousy and resentment, the pair find both their friendship and their sanity decaying. As tensions ramp up, the two women seem to switch personalities and things start to get very, very twisted. Sophia Takal's acclaimed thriller offers a gripping update of the female friend psychosis subgenre typified by films like PERSONA, 3 WOMEN and MULHOLLAND DRIVE.
The relationship between two actress friends turns twisted when they head off on a weekend retreat.
Cast: Mackenzie Davis, Caitlin FitzGerald, Lawrence Michael Levine, Alexander Koch, Jane Adams
Member Reviews
Wow that surprised me, go in blind this is really trippy and sexy. If you love Lynch films or just any type of surrealistic film than stop holding it off and watch.
Went in blind and was stunned by how good this film is. I highly recommend.
What happens when you take surrealism, amnesia, and the hottest sex scene ever filmed out of "Mulholland Drive" and make it about 2 people who hate each other? The characters were unbelievably too emotionally high strung, but every time they would talk about how emotionally high strung they were they would say it was the fault of the men who called them emotionally high strung. It was evident to anyone that the two characters were full of resentment towards each other from the beginning and the idea of them taking a vacation together was completely unrealistic. This all culminated to the most lackluster anti-climatic, ending put on film. Though this movie was well acted and directed, the script should have ended up in a shredder and a better idea should have been produced with these resources.
Ok i guess. Very predictable but decent acting.