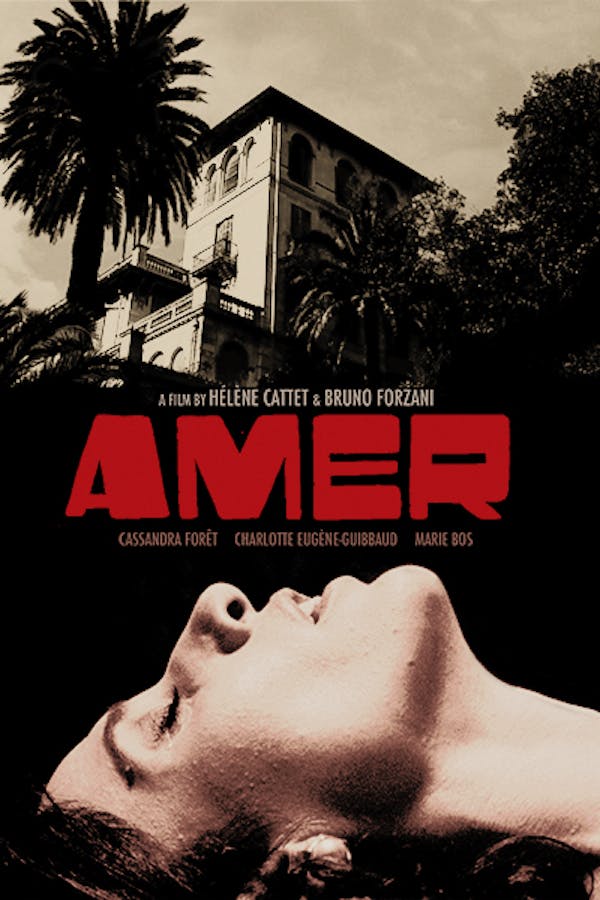 Amer
Directed by Hélène Cattet, Bruno Forzani
Three key moments, all of them sensual, define Ana's life. Her carnal search sways between reality and coloured fantasie's becoming more and more oppressive. A black laced hand prevents her from screaming. The wind lifts her dress and caresses her thighs. A razor blade brushes her skin, where will this chaotic and carnivorous journey leave her?
As a young girl Ana was a rebellious child. She was also tormented by images of death and a shadowy, ominous figure in black. Now an adult, she is once again tormented by shadowy, other-worldly forms.
Cast: Cassandra Forêt, Charlotte Eugène Guibeaud, Marie Bos, Bianca Maria D'Amato
Member Reviews
I watched this without knowing anything about it. At first, I thought it might be a ponderous exercise in experimental filmmaking. Then I realised that it's based on WE HAVE ALWAYS LIVED IN THE CASTLE by Shirley Jackson. Well, I don't know for a fact that the writer credits Jackson as his inspiration...but this film is quite clearly based on Jackson's book. With that in mind, it made complete sense to me. I loved it and the last 30 minutes were superb.
Not one to try and make sense of. Let The Corpses Tan is my favourite from this duo, but it's still worth checking out.
I really wanted to love this film. The first 20 minutes I thought I was watching a masterful come back to the giallo genre. So stylish and such a beautiful cinematography. Soon this style and beauty become something else, something excruciating and annoying. I swear if I see another close up of eyes I scream. It's a self indulgent exercise, it would have worked incredibly well as a short film.
Unlike anything I've ever seen before. I can't stop thinking about it.
Very enjoyable visual and audio treat for those who don't need a simplistic step by step narrative to follow and who can enjoy a movie for its aesthetics and ambiance. Beautifully shot and well acted with minimal dialogue, I enjoyed it immensely. Not for everyone is not the same as not for anyone.