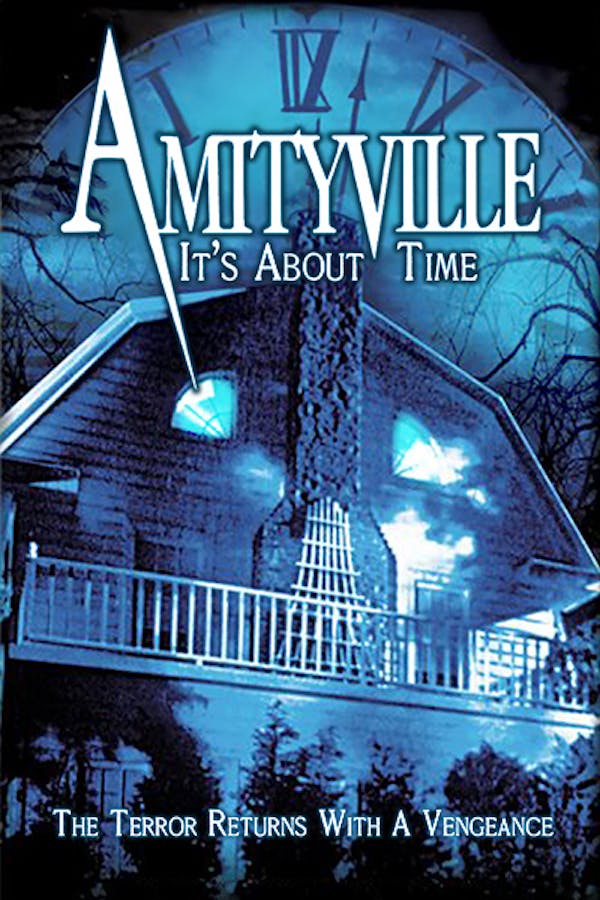 Amityville 1992: It's About Time
Directed by Tony Randel
Widower Jacob brings an old mantle clock back from a business trip to Amityville, N.Y. However, he and his family are unaware of the clock's dark history. It's not long before Jake; his girlfriend, Andrea; and his children, Lisa and Rusty, are faced with horrifying visions, animal attacks and the bending of time. The family must fight the clock's evil power before they become possessed completely.
An antique clock brought back from New York brings supernatural terror to a California neighborhood.
Cast: Stephen Macht, Shawn Weatherly, Megan Ward, Damon Martin
Member Reviews
I usually have to endure rather than enjoy anything to do with the modern paranormal demon scene, by that I mean Amityville Horror, The Conjuring, anything to do with Ed and Loraine Warren, Sinister, Oculus, ect. ect. they all seem a bit up their own asses about the existence of demons, and take them way too seriously. So that was my expectation going into this movie. The experience I got however, was more like a 90s pseudo-rendition of Hellraiser (the ridiculous pun title 'It's About Time' already gives you a clue that there is some levity at work here); with over-the-top plot devices, zanny practical-effects, and at times cringing body/gore horror, this isn't your typical spend 5 minutes staring into a dark corner waiting for a cheap jump-startle kind of movie. I'll admit, the actors in this movie are painfully 90s in their style and antics, the hipster alternative spike-haired metalhead kid is the perfect example; but what I like about this movie is how they go all in on making the characters themselves into the villains. Besides the clock, there is no malevolent overseeing entity pulling the strings of the situation. Sure the characters are 'possessed' per se, but they are still acting on their own volitions, their own inherent desires, thus exhibiting the demonic nature that resides within all of us. Yet despite the serious underlying emotional tones of guilt, obsession, lust, avarice, it never once forfeits its levity. This is not a determined, sober venture into the dark and terrifying aspects of the supernatural, this is a spoopy spectacle about a cuckoo-clock of doom; and for that I give it 4 skulls...
just awful with bad acting..