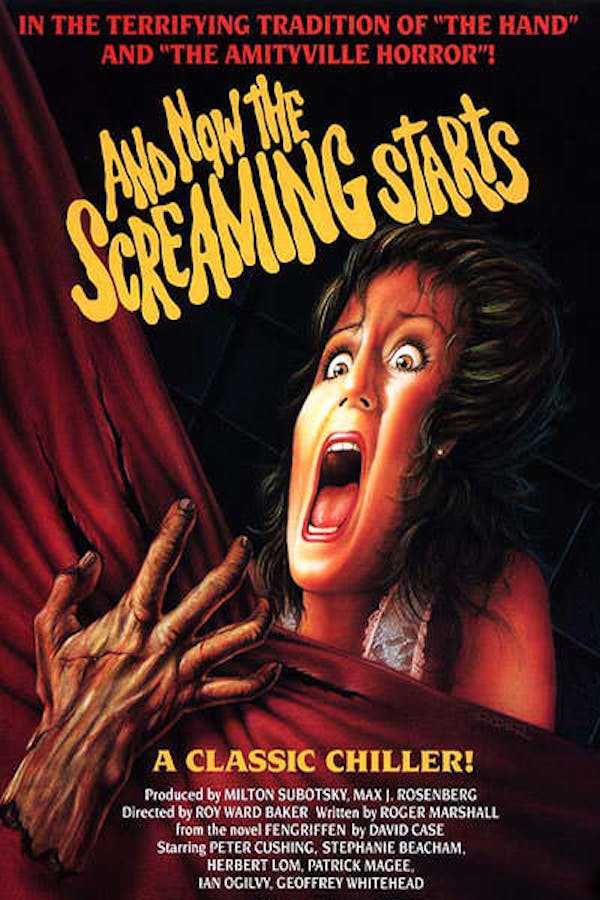 And Now The Screaming Starts
Directed by Roy Ward Baker
A couple fall prey to an old servant's curse after moving into a family castle in this gothic horror film from director Roy Ward Baker (ASYLUM). At the end of the 1700's, Catherine (Stephanie Beacham) and Charles' (Ian Ogilvy)' honeymoon is thrown into chaos when Catherine is raped and impregnated by a ghost. Before long they've got to contend with a murderous severed hand, a skeptical psychiatrist (the great Peter Cushing), and other creepy circumstances. One of Amicus Studios' few non-anthology films, ANTSS remains a superb slice of 70's British brutality.
A couple fall prey to an old curse after moving into a family castle.
Cast: Peter Cushing, Herbert Lom, Patrick Magee
Member Reviews
If you are a fan of gothic horror romance a' la Dark Shadows then you will most likely enjoy this film. The sets are beautiful as are the costumes. I thoroughly enjoyed this. Especially the classic duhn-duhn-duuuhhhnnn! music.
I LOVE these psychological horror movies especially with Peter Cushing (we have the same birthday).
Another Peter Cushing goody. I love these movies and wish Shudder had more of them.
Slow and dull. This should have been an hour long made for TV movie. The ending is unsatisfying, and not in a good way. Asylum by the same director is leagues better.