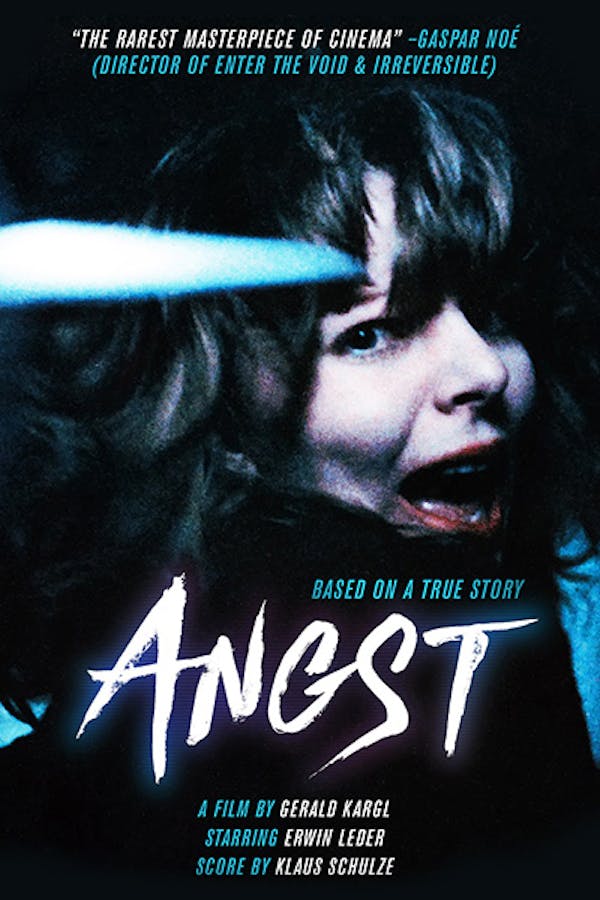 Angst
Directed by Gerald Kargl
When a psychopath is released from prison, he hunts for fresh victims to torture and kill. When he enters a secluded house where an elderly woman lives with her two adult children, his evil work begins. Ahead-of-his-time-director Gerald Kargl's little-known study of a sadist at work is unrelenting in its depiction of depravity, anticipating HENRY: PORTRAIT OF A SERIAL KILLER, MAN BITES DOG and - thanks to Zbigniew Rybczyński's disorienting camerawork - Gaspar Noe's twisted films. Newly restored, this masterpiece of murder and sadism is ripe for rediscovery.
When a psychopath is released from prison, he hunts for fresh victims.
Cast: Erwin Leder, Robert Hunger-Buhler, Silvia Rabenreither
Member Reviews
Watching this last year was a highlight! It was the movie I hope to watch each year! This film doesn't fit into any tropes and offers a unique view of the grotesque, which is amplified by the first person narrative. Absolutely loved it and would recommend to any true film and horror lovers. Probably the film I would put at #1 on the site.
Horrible movie. Incredibly painful to watch, bad soundtrack, bad acting, bad story. Just no.
Really good movie, a walk through the acts of a psychopath and a look at how psychotic he actually is, all backed by a great soundtrack
A movie, filled with manic energy, about a disorganized sleazoid overcome by his own stunning incompetence. Disgusting. Oh, the boot of that Mercedes is quite impressive. 3/5
A top tier elite film. A lot of you take for granted that this is not only available but also in such amazing quality. The only way to get this flick in the past was through underground film catalogs and it was in terrible quality with barely visible subs. You also seem to forget that it was made in the 80s when slasher films like Freddy and Jason and Michael Myers were popular so one might expect the same type of villain but this film was meant to be almost like a documentary/snuff film that was more realistic than anything produced in the states. He is clumsy because killers are typically sloppy and don't know what they're are doing. If you'd see this in the 80s you might have thought it was real. Also you thought Requiem for a Dream was the first time you saw that style of shot and you were wrong. They were doing that in Germany in the 80's. Agreed one of the best films on the site.