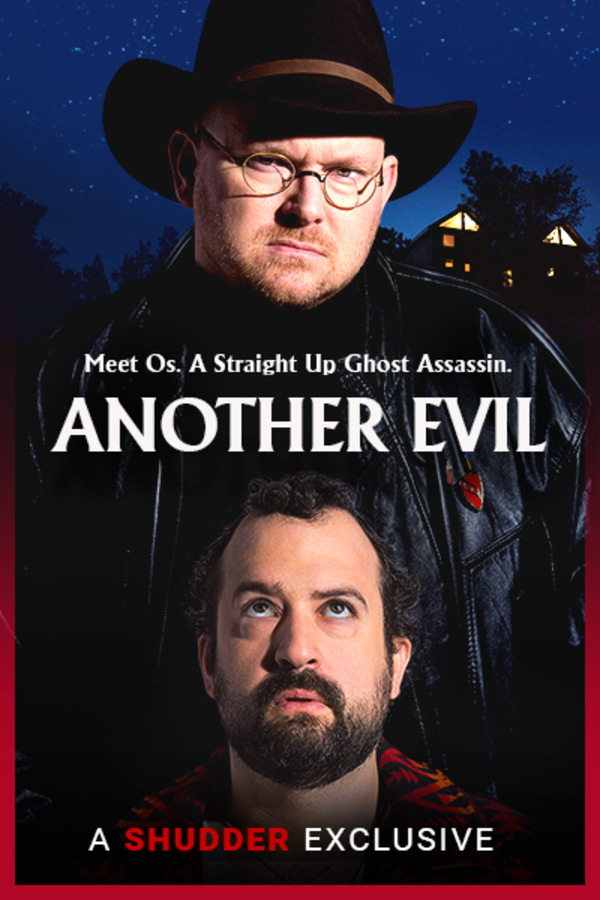 Another Evil
Directed by Carson D. Mell
After glimpsing a ghost in his family's vacation home, Dan seeks out an exorcist to evict the supernatural squatters. His first hire (Dan Bakkedahl, "Veep") suggests a BEETLEJUICE-style co-habitation, but Dan wants the ghosts gone for good. When he meets industrial-grade exorcist Os, who promises to do the job right, it seems like a match made in heaven. But Dan soon realizes that ridding the home of evil – or his odd new ghost hunter friend – won't be as simple as it seems. Carson Mell's clever horror comedy combines WHAT ABOUT BOB? and THE EXORCIST with hilarious results. A SHUDDER EXCLUSIVE
In this haunted horror-comedy, a man hires a very odd ghost hunter to rid his home of spirits.
Cast: Dan Bakkedahl, Beck DeRobertis, Dax Flame, Jennifer Irwin
Member Reviews
"Annihilate the spectres," spits Os Bijourn (Mark Proksch) in all seriousness, to a frazzled Dan Papadakis (Steve Zissis) in writer-director Carson Mell's debut feature, the gut-busting horror-comedy Another Evil. This eccentric, original, and nimble film, shot by Mell on a micro-budget, wickedly unravels like a mumblecore Ghostbusters. Another Evil works best as a low-key comedy and its premise is comic cubic zirconia. After encountering a pair of icky ghosts in their family's cottage, a couple, Dan and Mary (Jennifer Irwin) along with their teenage son, Jazz (Dax Flame) take action the only way they can. Another Evil presents awkward laughs, a few creepy kicks, and a surprising amount of droll subtlety. If you like cringe in your comedy, Another Evil is for you. Recommended.
That is one hour and thirty minutes would rather have been taking an electric sander to my boys. Just interesting enough that didn't know what nothing was to come. Nothing ever happens a lot of almost something then nothing much like my penis these days. I been using the pills the Dr gave me but still nothing. Could be the illuminati are sending rays into my penis just because they can. Illuminati dicks still better than this movie.
wow just awful! tried to give less than one skull
Really enjoyed this; plenty of weird and plenty of fun.
Well made and fun/awkward in the way Creep is, but I drop a star because the main plot point never got solved.. and thats some bs.