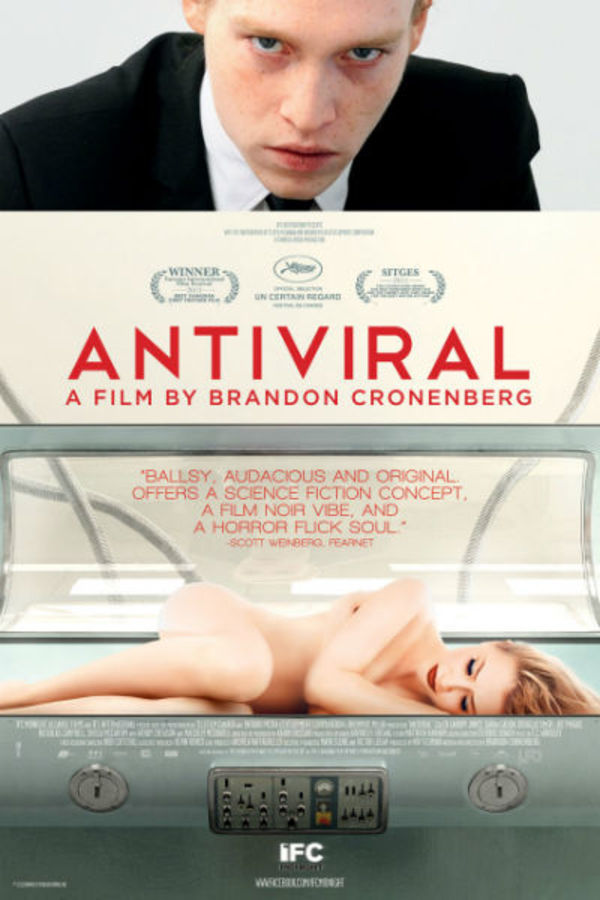 Antiviral
Directed by Brandon Cronenberg
Syd March is an employee at a clinic that sells injections of live viruses harvested from sick celebrities to obsessed fans. Syd also supplies illegal samples of these viruses to piracy groups, smuggling them from the clinic in his own body. When he becomes infected with the disease that kills super sensation Hannah Geist, Syd becomes a target for collectors and rabid fans. He must unravel the mystery surrounding her death before he suffers the same fate.
A clinic employee sells live viruses harvested from sick celebrities to obsessed fans. When he accidentally infects himself with a deadly disease that killed off a pop-star, he must fight off rabid fans and his own immune system.
Cast: Caleb Landry Jones, Sarah Gadon, Lisa Berry
Member Reviews
Extremely creepy with a really well-journeyed and realistic celebrity-obsessed world and a great sense of atmosphere. The main character was very engaging for the flat way of speaking he had and while you would be right to expect some gore and mild body horror from a mpvie with this description there is nothing too stomach-churning for a regular horror fan.
Really loved this. Had instant Black Mirror vibes instantly. Really interesting idea for a film. Would definitely recommend!
Crazy and all kinds of messed up! Definitely not a horror movie but a horrific take on what celebrity worship and fame. It's a slow paced movie and very well acted. But lacking a little punch.