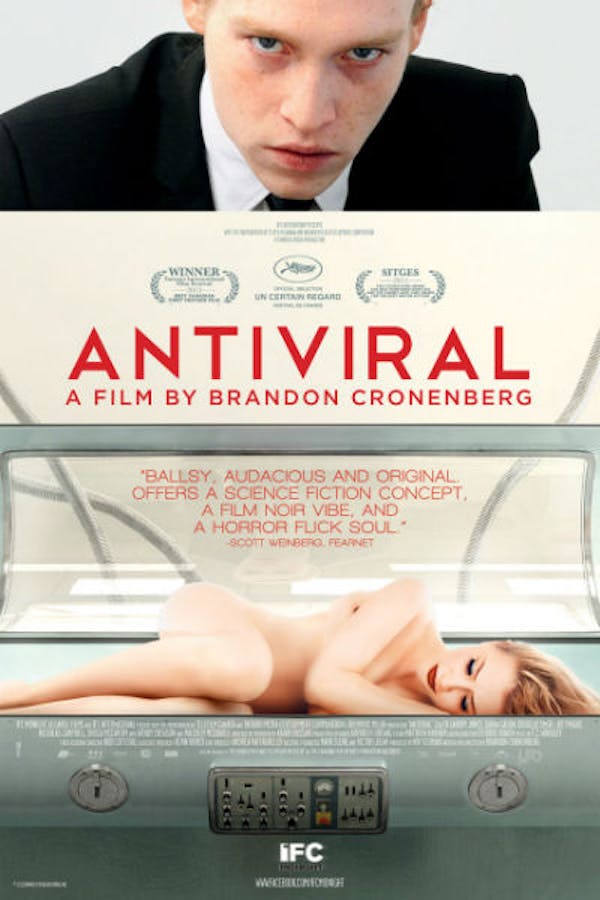 Antiviral
Directed by Brandon Cronenberg
Syd March is an employee at a clinic that sells injections of live viruses harvested from sick celebrities to obsessed fans. Syd also supplies illegal samples of these viruses to piracy groups, smuggling them from the clinic in his own body. When he becomes infected with the disease that kills super sensation Hannah Geist, Syd becomes a target for collectors and rabid fans. He must unravel the mystery surrounding her death before he suffers the same fate.
A clinic employee sells live viruses harvested from sick celebrities to obsessed fans. When he accidentally infects himself with a deadly disease that killed off a pop-star, he must fight off rabid fans and his own immune system.
Cast: Caleb Landry Jones, Sarah Gadon, Lisa Berry
Member Reviews
It's weird as hell but I really enjoyed this film.
Good acting all through. Loved the concept of celebrity obsession gone too far. Felt as though I had some kind of virus while watching but couldn't stop watching because I needed to know how it ended.
a unique premis with a cool french-student-art-project feel. the directing and cinematography was amazing. the movie is a bit slow pace with a twist that is not as thrilling as it could have been. i wish i liked the movie more but i can't help but to feel underwhelmed wit the whole thing. nevertheless a good watch
It's slow-burning and weird-as-hell. Love it. Lead is fantastic. Watching is like having a miserable head cold, all stuffed up and sick in the head, but you feel really cozy and just slightly, pleasantly incoherent because of the cold medicine you've taken.
I really loved the subtlety in this film. The lead actor was great. The whole world set up was masterfully done without over explanation. It was very beautiful, artful and a bit thought provoking.