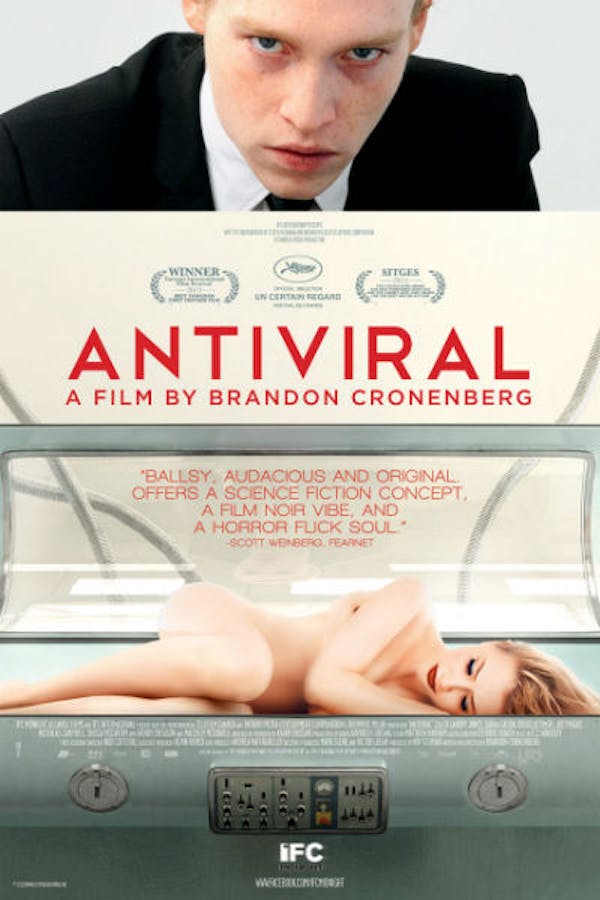 Antiviral
Directed by Brandon Cronenberg
Syd March is an employee at a clinic that sells injections of live viruses harvested from sick celebrities to obsessed fans. Syd also supplies illegal samples of these viruses to piracy groups, smuggling them from the clinic in his own body. When he becomes infected with the disease that kills super sensation Hannah Geist, Syd becomes a target for collectors and rabid fans. He must unravel the mystery surrounding her death before he suffers the same fate.
A clinic employee sells live viruses harvested from sick celebrities to obsessed fans. When he accidentally infects himself with a deadly disease that killed off a pop-star, he must fight off rabid fans and his own immune system.
Cast: Caleb Landry Jones, Sarah Gadon, Lisa Berry
Member Reviews
Some obvious influence from his father's work here but Brandon Cronenberg took the body horror genre and made it his own. Great performance by Caleb Landry Jones.
Not bad for Brandon's first feature
I didn't think I'd enjoy this as much as I did. Some really off the wall concepts which scarily don't seem that unlikely in today's celebrity obsessed world, and brilliantly acted by Caleb Landry Jones. Mark Kemode did a great review in this if you're interested. It's a real attack on the senses, creepy without being disgusting (just the right amount of body-horror for a Cronenberg fan). The ending has really stuck with me!
Not that great, a very misleading film synopsis. Definitely wasn't worth the time I wasted in watching this film.