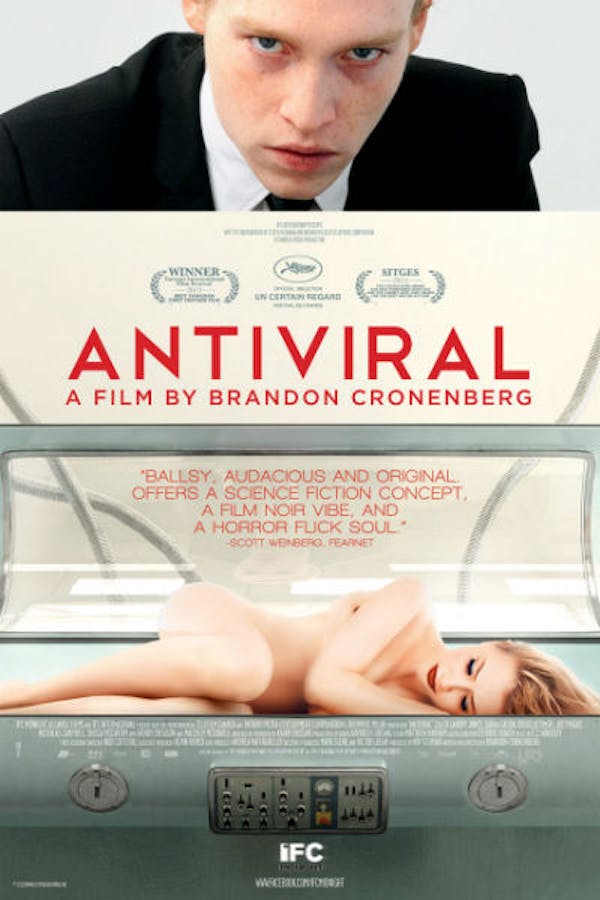 Antiviral
Directed by Brandon Cronenberg
Syd March is an employee at a clinic that sells injections of live viruses harvested from sick celebrities to obsessed fans. Syd also supplies illegal samples of these viruses to piracy groups, smuggling them from the clinic in his own body. When he becomes infected with the disease that kills super sensation Hannah Geist, Syd becomes a target for collectors and rabid fans. He must unravel the mystery surrounding her death before he suffers the same fate.
A clinic employee sells live viruses harvested from sick celebrities to obsessed fans. When he accidentally infects himself with a deadly disease that killed off a pop-star, he must fight off rabid fans and his own immune system.
Cast: Caleb Landry Jones, Sarah Gadon, Lisa Berry
Member Reviews
Interesting ideas but certain aspects were too much of a reach and not believable enough. Couldn't finish it because it got silly, such a shame. Good acting from the lead but couldn't take the story seriously.
Weird, Strange, Hopefully not part of me future EyeM involved with, Virus's R to be feared not sold nn glorified, EYE FEEL SiCK HAVEING WATCHED THAT, yuk!!! !!! Viewer Beware "Only Watch if You Have a Strong Stomache". ACiD 666
An interesting exercise that ends up becoming confusing, non-sensical and gimmicky. Brandon Cronenberg´s second film "Possesor" is so much better than his debut.
That was different hahaha!!!
A dystopian body horror sci-fi. Well written, beautifully acted, and gorgeously shot. Really unique. Definitely worth a watch.