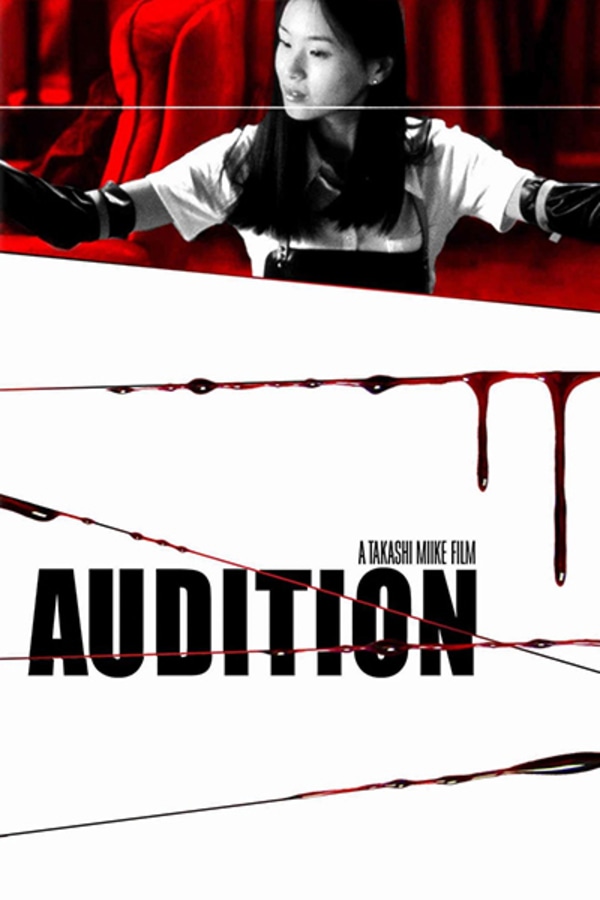 Audition
Directed by Takashi Miike
A man begins a relationship with a very deadly female killer in Takashi Miike's ultra-gory masterpiece. Widower Aoyama falls for the radiant and mysterious Asami. But as he delves into her past, he learns her former acquaintances have either gone missing - or have missing limbs. Will he be next? Thanks to its heart-stopping final act, Miike's chilling tale put him in the pantheon of great horror directors, and led to the J-Horror genre becoming a worldwide phenomenon. If you haven't seen it, be warned: when the needles come out, there's no turning back.... (In Japanese with English Subtitles)
A man begins a relationship with a very deadly female killer.
Cast: Ryo Ishibashi, Eihi Shiina
Member Reviews
I'm just going no where no how
Audition is a film that gets labeled in the "torture porn" genre of films, like Saw and Hostile, but only features one torture scene at the end of the film. The rest of the film is slowly pulling tension on a piano wire until it finally snaps. This is probably Takashi Miike's masterpiece, showing his mastery of switching between genre conventions to create a truly unique experience. He switches from a melodramatic romance film to mystery noir and finally to straight horror with specks of pitch-dark humor scattered throughout. Much of this is also due to the screenplay written by Daisuke Tengan, based on the novel by Ryu Murakami. Tengan and Miike take their time building the tension before this brutal climax and without, it would not have the lasting impact that it does. They play with the viewer's expectations throughout the film as well, where one scene could start with you on the edge of seat fist clenched and end with laughter. Another important collaborator on the film is actress Eihi Shiina who plays the mysterious Asami Yamazaki who goes from a calm-submissive girl to psychotic dominatrix through her body language alone. Audition is a film that also improves with repeated viewings and I would highly recommend diving head first into the horror.
I have seen this movie years ago I forgot how decent it was I always think foreign films are so much better than American horror ..
i wish this was English Dubbed