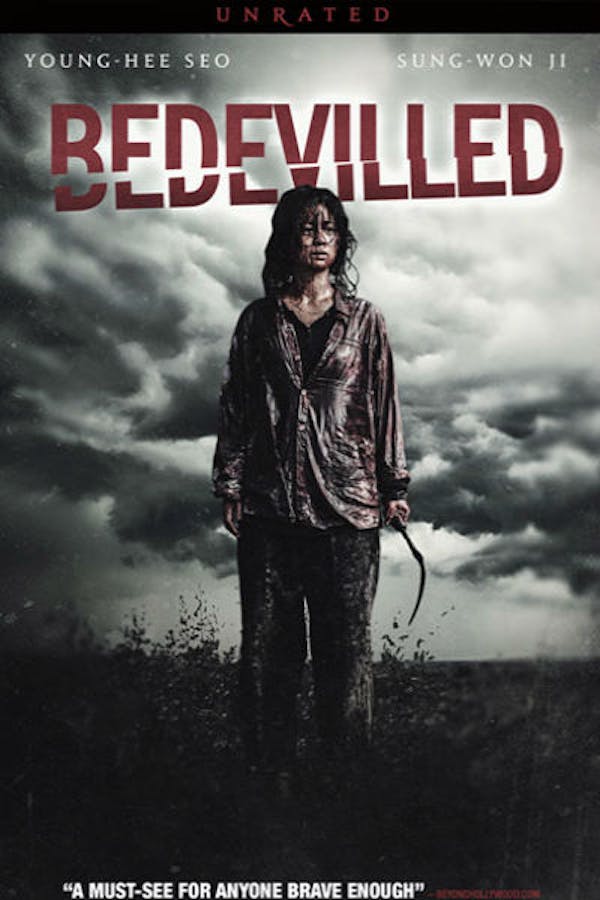 Bedevilled
Directed by Jang Cheol-soo
In this South Korean revenge thriller, an abused island woman named Bok-nam seeks an end to the brutal torment she's subjected to every day, and invites her childhood friend Hae-won to visit her. Hae-won's seeking an escape from the stress of her own life. But her woes are nothing compared to Bok-nam's, and when her friend picks up a sickle and begins to get even with all her oppressors, no one is safe – including Hae-won, who ignored Bok-nam's earlier pleas for help. Despite the intense subject matter, BEDEVILLED became a critical and popular hit in South Korea.
A woman subject to mental, physical, and sexual abuse on a remote island seeks a way out.
Cast: Seo Yeong-hie, Ji Seong-won
Member Reviews
Saw this movie several years ago. Had no idea what to expect (horror -- supernatural, maybe). 45 minutes into it, I thought I was watching a character study (a surprisingly decent one, too). Then briefly, I worried it was turning into some sort of "progressive" (by Korean film standards) love story. And then things went south. The descent into madness. Intense violence. While it's not exactly buckets of blood, there were some pretty gruesome bits, so it's not for the squeamish. There were some long-ish slow stretches, but the action leading up to the climax in the last 20 minutes kept me on the edge of my seat. Overall, it was a worthwhile watch.
Overall unsettling rating: 5/5 ..... Contains aspects of: extreme, revenge, madness, body horror, slasher, psychopath, isolation, torture, backwoods
A tale of friendship,betrayals,revenge, and redemption. Bedevilled packs both an emotional and visceral punch with strong characters. Highly recommended film on many levels.
30min too long but still worth 5 Skulls!!!! This movie was amazing!!!!