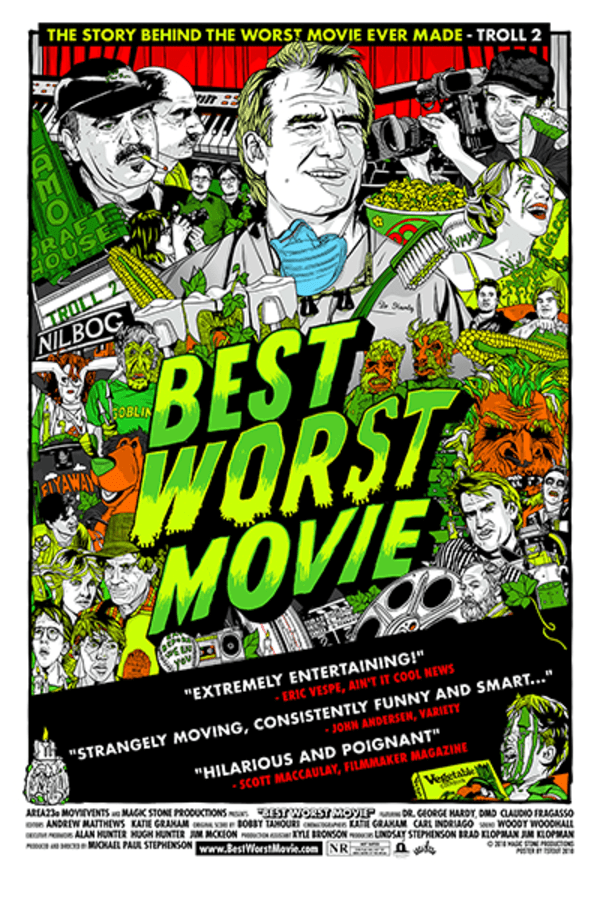 Best Worst Movie
Directed by Michael Stephenson
The 1989 low-budget horror film TROLL 2 tells the story of a boy whose family takes him to a town filled with goblins in disguise. Despite a scary premise, stinko performances and a lame script soon landed the film a cult following who called it "the best bad movie of all time." In this hilarious documentary perfect for superfans and newbies alike, director Michael Stephenson (aka the child star of TROLL 2) gives us all the inside goop on Nilbog from his co-stars and Italian director Claudio Fragasso, who still thinks his film is good! What's it like to be in the worst movie ever made? Watch and find out.
This doc tells the story of TROLL 2 and how it became "the best bad movie of all time."
Cast: George Hardy, Michael Stephenson, Darren Ewing, Jason Steadman
Member Reviews
This documentary is something I love. I rented Troll 2 as a 12 or 13 year old from a Hastings Entertainment store in the 90's, watched it that night with a friend, and we both came away with this idea that it was the best worst thing we had ever seen. Throughout the course of my life I've shown it to anyone I've ever met who liked cheesy b-grade monster movies. Watching this doc a few times, though, has given me a lot of perspective on the film, its cast, and most importantly, the director. I never expected I'd ever really dig so deep into a film like this one day, aside from considerations - nearly bottomless - over what precisely made it feel so lovably awful. When you really ponder it, though, you find there is something very genuine and heartfelt about it. The film really does have a deeper side and a message. Lately, I think a lot about trying to track down other works by this director, just to really get more familiar with his oeuvre, to know if Troll 2 speaks better within a context. Anyway, both the documentary and the film are both mandatory viewing in my opinion! Five skulls!
This has something for every fan of "bad movies," and especially Troll 2, unquestionably one of the best. It raises questions about the nature of art and whether a movie that's loved by so many can really be called "bad."
About as painful and awkward to watch as the movie itself.