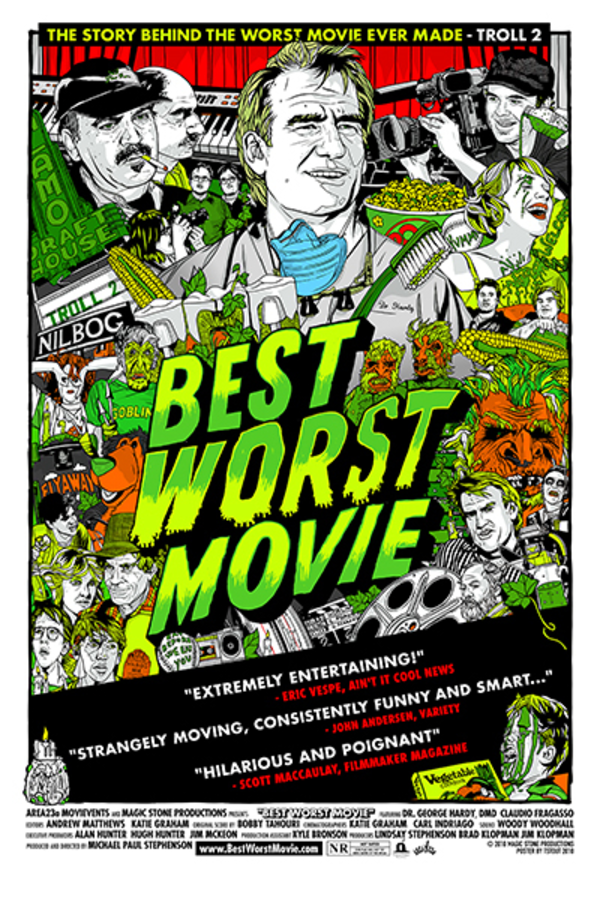 Best Worst Movie
Directed by Michael Stephenson
The 1989 low-budget horror film TROLL 2 tells the story of a boy whose family takes him to a town filled with goblins in disguise. Despite a scary premise, stinko performances and a lame script soon landed the film a cult following who called it "the best bad movie of all time." In this hilarious documentary perfect for superfans and newbies alike, director Michael Stephenson (aka the child star of TROLL 2) gives us all the inside goop on Nilbog from his co-stars and Italian director Claudio Fragasso, who still thinks his film is good! What's it like to be in the worst movie ever made? Watch and find out.
This doc tells the story of TROLL 2 and how it became "the best bad movie of all time."
Cast: George Hardy, Michael Stephenson, Darren Ewing, Jason Steadman
Member Reviews
I was in a band back in the '80's. We toured around the Southeastern United States a bit and made a record. We were never a big draw and by the early 90's we were done and we all went on to other things. Whenever I think "Man. I'd love to get the band back together and ride this wave of 80's nostalgia that's going on now", I think of this movie. It is really a bittersweet look at "looking backwards" and trying to recapture something that was a moment in time that happened and is past.
This movie is actually way better than Troll 2.
I loved this documentary from the surprising opening scenes through the music in the end credits. I have never seen "Troll 2" and I don't need to — I feel like I just lived it! Hilarious and heartbreaking and wonderful! Kudos!
good until about 35 minutes in, when that stupid director opens his mouth about how he was able to capture the american spirit better than anyone by going to utah.
wow that documentary tries to explain the phenomenon of the cult world and it became something more or less..........watch American Movie thats way better.