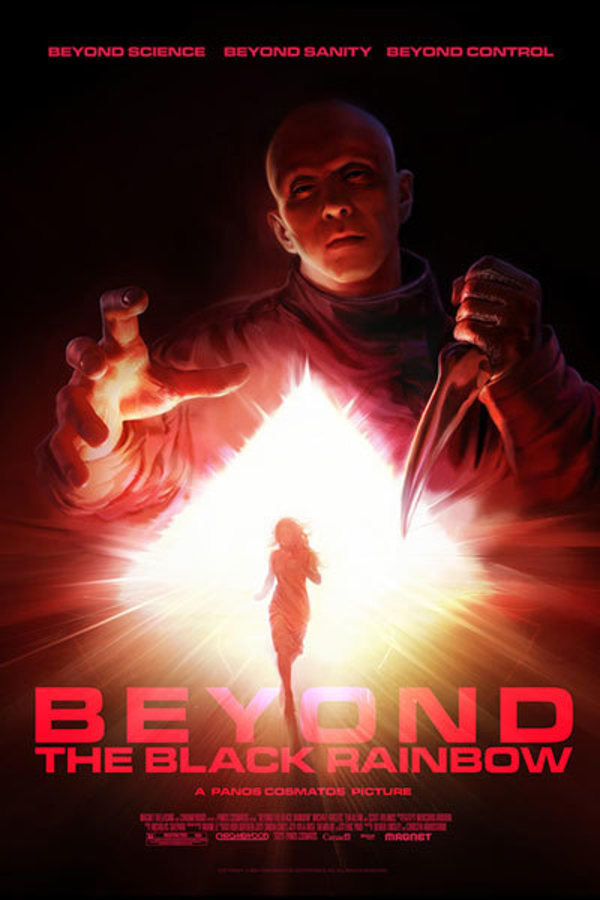 Beyond The Black Rainbow
Directed by Panos Cosmatos
A woman must break free from a strange institution run by a creepy self-help guru in this trippy mash-up of sci-fi, body horror, and midnight movie whatsit. Part of a recent trend of films like BERBERIAN SOUND STUDIO and AMER which take their inspiration from stylish '60s and '70s horror, BTBR owes a debt to David Cronenberg's STEREO, George Lucas' THX 1138 and Stanley Kubrick's 2001. But the film's got it's own unique style, veering from puzzling to petrifying in the blink of an eye. Love it or hate it - you're sure to have a strong opinion by the end.
A woman must break free from a strange institution run by a creepy self-help guru.
Cast: Michael Rogers, Eva Bourne, Scott Hylands
Member Reviews
Not a fan. It takes art house and trippiness far more seriously than the actual plot or story. This is much more a series of well-constructed images being played in order. If that's what you're looking for, a slideshow of 60's and 70's environs and psychedelic vibes then you should watch it. But as a movie with a plot and story I can't recommend it. It wants desperately be a Kubrick film but falls short of making scenes that draw you in. It's possible to have an artistic gorgeous movie with plot but this just isn't it.
Cool throwback to 80's sci-fi/ horror. I really like the style of this director. Mandy was awesome!
I didn't enjoy this, and I wasn't satisfied. The gorgeous cinematography wasn't enough to make up for the completely disappointing story, and the soundtrack couldn't make me enjoy the overly long shots that make up 90% of the movie. I liked parts for sure -- the Sationauts, the flashback -- but in general I felt like the filmmakers made every choice to obstruct the clear communication of story and buildup of emotion that I look for in a film. Not really for me. I'm gonna go read the wikipedia entry to make sure I didn't miss anything in the plot.
It's really very good, I was drawn in by the aesthetic. Truly a tribute to 70's or 80's midnight movies, though I can see how some may find it slow and/or a little too "artsy".