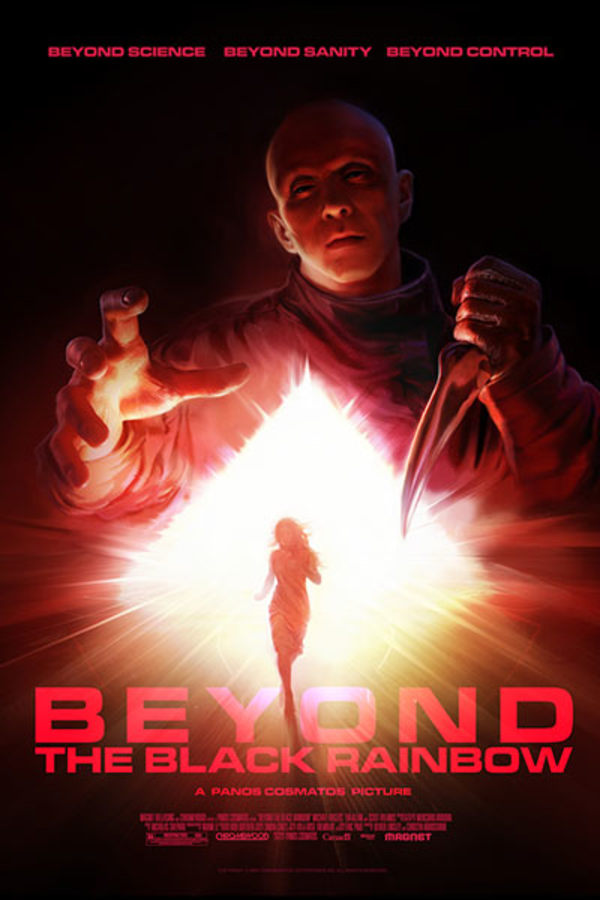 Beyond The Black Rainbow
Directed by Panos Cosmatos
A woman must break free from a strange institution run by a creepy self-help guru in this trippy mash-up of sci-fi, body horror, and midnight movie whatsit. Part of a recent trend of films like BERBERIAN SOUND STUDIO and AMER which take their inspiration from stylish '60s and '70s horror, BTBR owes a debt to David Cronenberg's STEREO, George Lucas' THX 1138 and Stanley Kubrick's 2001. But the film's got it's own unique style, veering from puzzling to petrifying in the blink of an eye. Love it or hate it - you're sure to have a strong opinion by the end.
A woman must break free from a strange institution run by a creepy self-help guru.
Cast: Michael Rogers, Eva Bourne, Scott Hylands
Member Reviews
Good movie. A good start for a promising director.
I love this movie more and more each time I watch it. Very unique and takes your brain somewhere new.
I can appreciate this type of abstract film but GOD do I wish I watched this on ACID
Compelling visuals. Cool sets. Great music and sound design. Decent acting and effects. Terrible pacing and the most stupid ending imaginable. What a waste.
Having seen Mandy and now this, I think I've finally pin pointed what I like and really dislike about this guys films. They both have great mood, beautiful lush camera work and art direction. What they do not have is story, and any kind of interaction between characters that is meaningful to the flow of things in any way. People do not "speak" to each other in this film, so much as there are simply drawn out monologues. Women barely talk (if they even get to) at all...they are symbols...gems...mcguffins...nothing more. This movie's trops reminded me of Scanners, and Hellraiser II, without the intrigue. It's all one long ass music video... and while it was cool to look at in the end all i can really do is shrug.