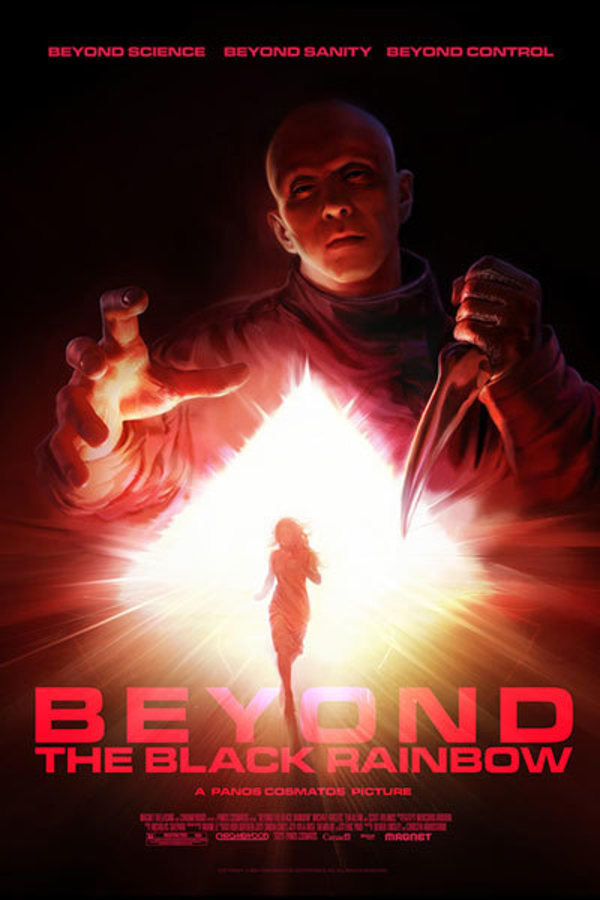 Beyond The Black Rainbow
Directed by Panos Cosmatos
A woman must break free from a strange institution run by a creepy self-help guru in this trippy mash-up of sci-fi, body horror, and midnight movie whatsit. Part of a recent trend of films like BERBERIAN SOUND STUDIO and AMER which take their inspiration from stylish '60s and '70s horror, BTBR owes a debt to David Cronenberg's STEREO, George Lucas' THX 1138 and Stanley Kubrick's 2001. But the film's got it's own unique style, veering from puzzling to petrifying in the blink of an eye. Love it or hate it - you're sure to have a strong opinion by the end.
A woman must break free from a strange institution run by a creepy self-help guru.
Cast: Michael Rogers, Eva Bourne, Scott Hylands
Member Reviews
My wife gets mad at me whenever its on..... which is a lot. It kills parties, it terrorizes children.... it expands consciousness. It is one of my favorite movies.
I absolutely love this movie and was surprised to find it on shudder since I wouldn't call this a horror movie. This movie is not a typical film with typical storytelling. It features little dialogue and heavily depends on its soundtrack and saturated red/orange color scheme.
People just love comparing everything to a Stanley Kubrick movie lol. Other than that, great film. Awesome visuals and music, although i do agree with some of the people complaining about the use of the same song being used too long & too often. You just cant do that..doesnt work that way, use a different track.
A few extremely memorable moments and some great music video like scenes just dont add up to a great movie. I wish someone would have reigned in the director with a tighter script and better story plotting because this could have been special. As it stands its a unique curiosity. I only gave it two skulls because it only has value as a "hey, you want to watch something weird" movie BUT in the niche category of those types of movies its at least pretty good.
When are you going to wake up? We miss you.