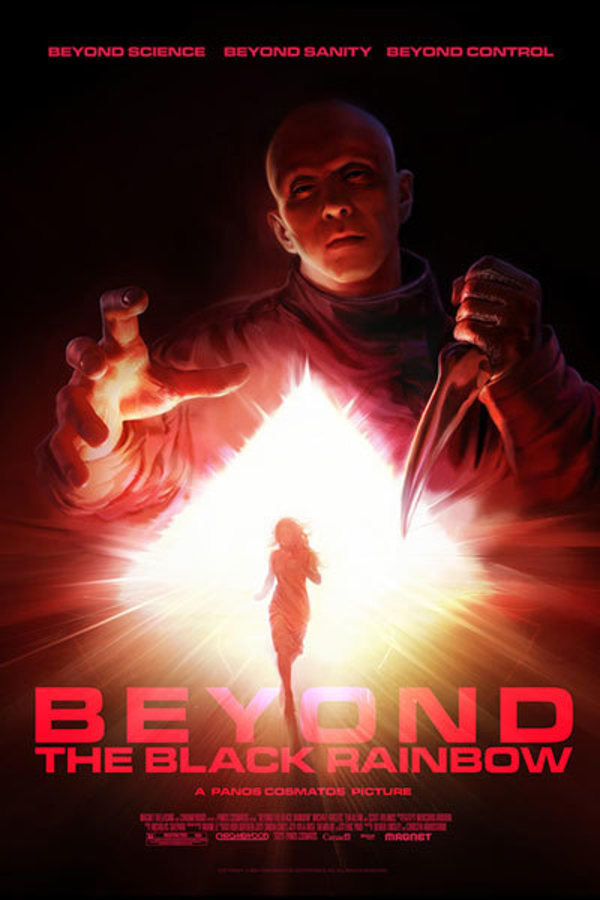 Beyond The Black Rainbow
Directed by Panos Cosmatos
A woman must break free from a strange institution run by a creepy self-help guru in this trippy mash-up of sci-fi, body horror, and midnight movie whatsit. Part of a recent trend of films like BERBERIAN SOUND STUDIO and AMER which take their inspiration from stylish '60s and '70s horror, BTBR owes a debt to David Cronenberg's STEREO, George Lucas' THX 1138 and Stanley Kubrick's 2001. But the film's got it's own unique style, veering from puzzling to petrifying in the blink of an eye. Love it or hate it - you're sure to have a strong opinion by the end.
A woman must break free from a strange institution run by a creepy self-help guru.
Cast: Michael Rogers, Eva Bourne, Scott Hylands
Member Reviews
As an audience member, I don't mind working some to get the story the filmmaker is trying to tell. As long as I feel that the filmmaker is trying to tell me a story even if it's not in a straightforward way. About an hour into this film, I decided that the creators of this one were more interested in their visuals than communicating a narrative.
Excruciatingly slow* the incessant droning soundtrack was almost enough to push me to commit murder without any experimental drugs* didn't take much "acting skills" for these characters The 2/5 was for the quote at the end *B. Benzi one of my favorites "Wherever you go there you are"...
Really amazing visuals, really incredible score. Other than that the film is almost entirely unbearable. Slow burn does not even describe how slow this movie is and there is hardly enough tension to make up for how slow it is. The kills are lame, the heroin is weak, the villain serves no purpose. Entirely convoluted and totally missable. It took me all day to watch, I kept starting and stopping finding better things to do. I shouldn't have even finished it. I tried it out because Mandy was one of the best movies I saw in 2018 and thought this might bring something similar to the genre. Unfortunately not.
my favorite dystopian sci-fi film. incredibly slow burn, amazing visuals and score, and a central character that is disturbing to say the least. i had to give this several viewings to try to fully understand what was happening and even after that had to read other peoples theories on reddit. if you dont understand the film i suggest you do the same. i didnt like the ending the first viewing but appreciate the simplicity of it now. not everything has to be so climatic to make it good.
One of the more interesting movies you can watch on this service. Love the blend of THX-1138 and Cosmotos' crazy sensibilities.