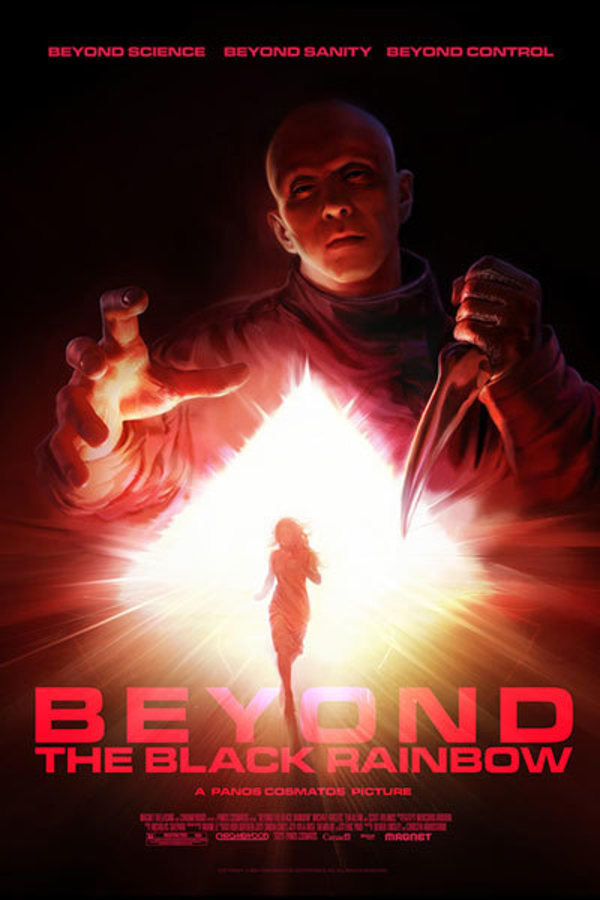 Beyond The Black Rainbow
Directed by Panos Cosmatos
A woman must break free from a strange institution run by a creepy self-help guru in this trippy mash-up of sci-fi, body horror, and midnight movie whatsit. Part of a recent trend of films like BERBERIAN SOUND STUDIO and AMER which take their inspiration from stylish '60s and '70s horror, BTBR owes a debt to David Cronenberg's STEREO, George Lucas' THX 1138 and Stanley Kubrick's 2001. But the film's got it's own unique style, veering from puzzling to petrifying in the blink of an eye. Love it or hate it - you're sure to have a strong opinion by the end.
A woman must break free from a strange institution run by a creepy self-help guru.
Cast: Michael Rogers, Eva Bourne, Scott Hylands
Member Reviews
Not for everyone. If Suspiria were directed by David Lynch at his wildest. The "story" is easy enough to follow, but secondary. Watch this one alone, sound up high to appreciate the incredible score, and make of it what you will. If nothing else, it's always refreshing to see something new, and I admire the risks taken. It paid off for me, because I enjoy this kind of film, but it is destined for cult status. Far from perfect, but a genuinely fascinating journey heralding a promising new voice in Cosmatos.
The visuals are creepy and neat, but this movie is so damn slow and dry, I could not have been any bit more bored. They could have cut this movie time in half if they would've greatly reduced all the unnecessarily slowed down and drawn out scenes... Seemed like it could've been a slow burn classic at first, but quickly amounted to a whole lot of nothing.
At first the visuals had me, but after a while, with that weird non-story, and the excessive number of extreme close-ups, even the whacky visuals and cool synth music couldn't hold my interest. A chore to watch.
Doesn't grab you half as hard as "Mandy" but it is still a trip ... and it was only his first movie ... you have to be into art films to halfway appreciate this ...
Style over substance perhaps, but I'm not mad. So hypnotic. I couldn't look away.