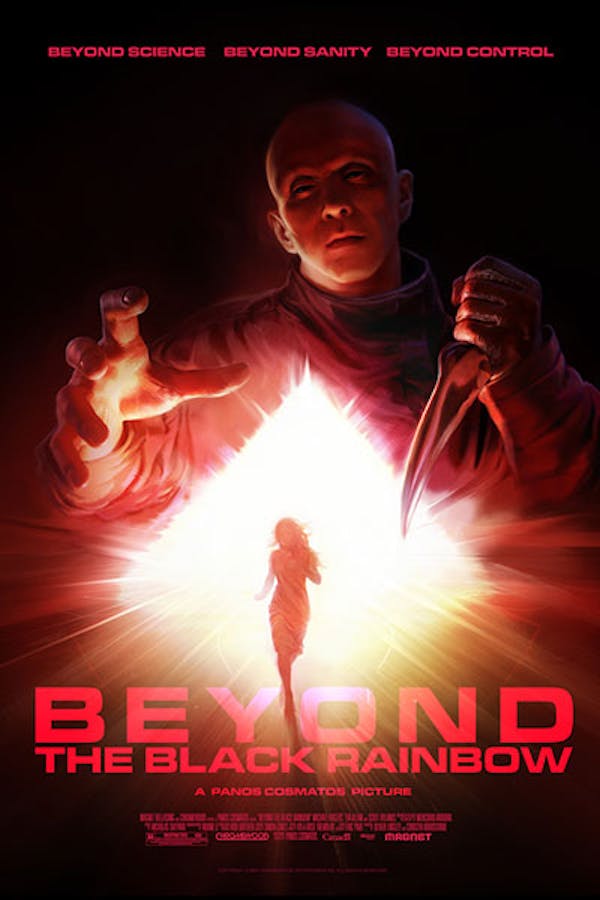 Beyond The Black Rainbow
Directed by Panos Cosmatos
A woman must break free from a strange institution run by a creepy self-help guru in this trippy mash-up of sci-fi, body horror, and midnight movie whatsit. Part of a recent trend of films like BERBERIAN SOUND STUDIO and AMER which take their inspiration from stylish '60s and '70s horror, BTBR owes a debt to David Cronenberg's STEREO, George Lucas' THX 1138 and Stanley Kubrick's 2001. But the film's got it's own unique style, veering from puzzling to petrifying in the blink of an eye. Love it or hate it - you're sure to have a strong opinion by the end.
A woman must break free from a strange institution run by a creepy self-help guru.
Cast: Michael Rogers, Eva Bourne, Scott Hylands
Member Reviews
Only made it 30 minutes in but it was super boring an no plot had really happened yet. Feels like this is probably for film students.
Good good. If you're here bc you loved Mandy's trippier scenes you'll be delighted with this one.
It's a beautiful film. If you are looking for something with a plot that holds your attention, then skip it. It's more akin to a piece of art that you would hang on your wall than a film that you watch, so this works very well as something that you leave on in the periphery.
Took various sittings to get threw it and a few more to fully understand. I'm split with this being a movie that should be watch on substances or not. Definitely was made under the influence of a few. It did keep drawing me back cause I wanted to know what was going on. I loved A the use of heavy color filters like red or black and white to enact great atmosphere, also its use of silence to evoke isolation. Heavily story driven and holds it horror uses it only when its needed. I only recommend this for horror aficionados cause its not your popcorn Saturday flick, its something you gotta sit down focus, analyze and deconstruct in order to enjoy.