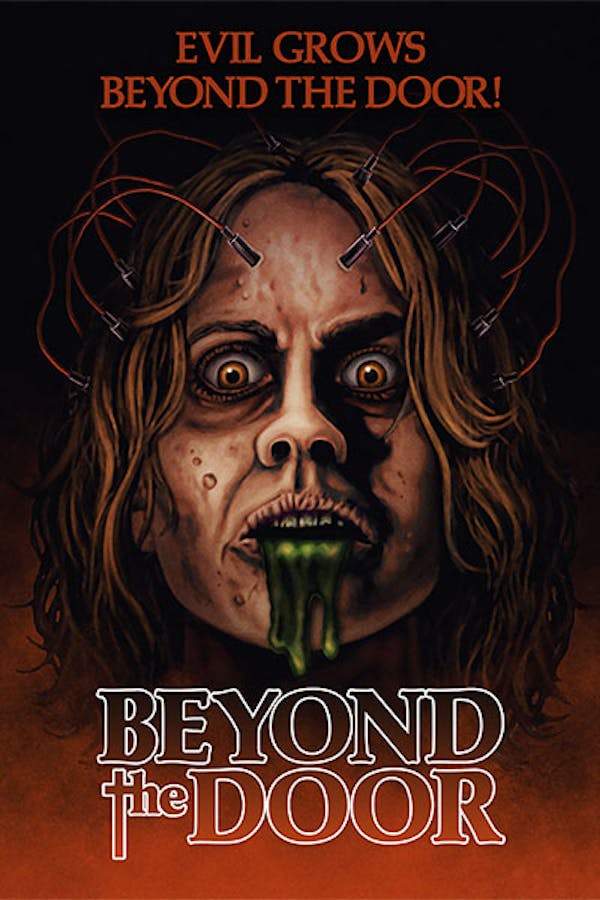 Beyond the Door
Directed by Oliver Hellman
Set against the backdrop of San Francisco, Beyond the Door stars Juliet Mills as Jessica Barrett, a young mother who starts to develop strange behaviors whilst pregnant with her third child. Before you can say "split pea soup", Jessica is displaying signs of full-blown demonic possession – complete with projectile vomiting and fully-rotating head! Could it be that she's carrying the child of the Antichrist himself? Legendary Italian filmmaker Ovidio G. Assontis helms a gloriously and notoriously bonkers riff on The Exorcist.
A pregnant woman's devil child can move furniture, open doors and make its mother's head spin.
Cast: Juliet Mills, Richard Johnson, David Colin Jr., Elizabeth Turner
Member Reviews
Fun Exorcist rip-off. Disorienting and bizarre. A full nose flute song. Nuff said.
THE F#@&ING ADR IS KILLING ME. But these practical effects do knock it out the park every once in a while. Still the movie is cheeks. Thus the 2 skulls.
"Beyond The Door" is biting, spooky, silly fun all rolled into one jackpot of a 70's B horror movie. I remember when BTD came out when I was a boy, just the television commercial alone was enough to make me jump to my feet and dart from the room. Is the film great? No. Is it worth watching? Absolutely. It's definitely a mixed bag of hits and misses. When it falls short of the target, it misses whomp-um-big-one. But when it hits, it can really pack a punch. Three Skulls out of Five...
It definitely has its moments of greatness. Especially when it flowers a
yeah this movie is ass. I totally agree with Doogles, the most accurate statement to be made about this is that it's a chore to watch. painfully boring and unfunny. poor performances, bad direction and script, just bad in every way. the people citing the Giallo "influences" as a good thing are wrong, it's dumb and has no underlying tension or anything interesting at all going on, contrary to actual Giallo, where the best of it has stylistically unique scenes that actually deliver something or further the story, where here it was annoying and useless. don't waste your time, the only reason to ever watch this is completion factor.