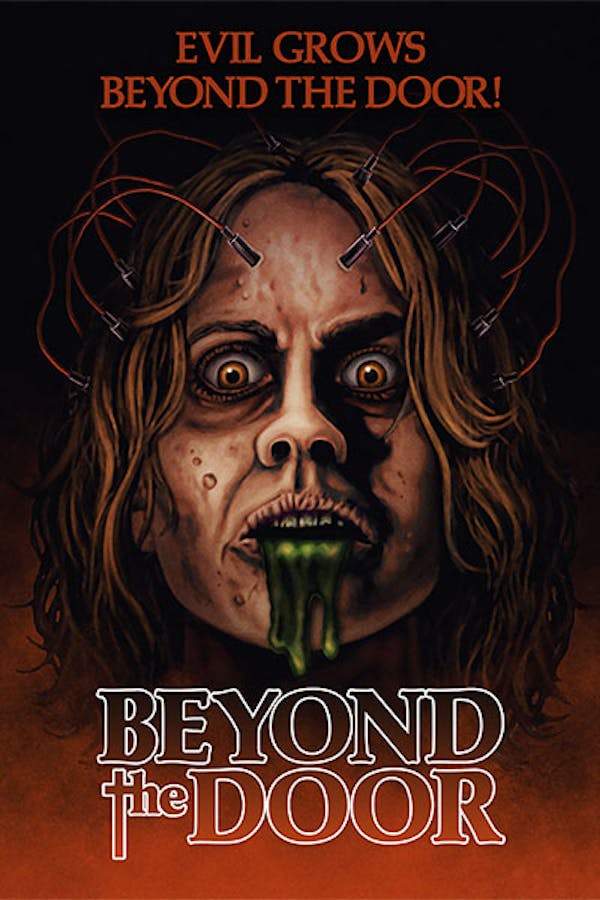 Beyond the Door
Directed by Oliver Hellman
Set against the backdrop of San Francisco, Beyond the Door stars Juliet Mills as Jessica Barrett, a young mother who starts to develop strange behaviors whilst pregnant with her third child. Before you can say "split pea soup", Jessica is displaying signs of full-blown demonic possession – complete with projectile vomiting and fully-rotating head! Could it be that she's carrying the child of the Antichrist himself? Legendary Italian filmmaker Ovidio G. Assontis helms a gloriously and notoriously bonkers riff on The Exorcist.
A pregnant woman's devil child can move furniture, open doors and make its mother's head spin.
Cast: Juliet Mills, Richard Johnson, David Colin Jr., Elizabeth Turner
Member Reviews
I'm delighted to see Beyond the Door added to the Shudder line-up. I'm also a little dismayed to see so many mediocre reviews for the film. Beyond the Door is a total schlock fest. If you like schlock films, you'll like Beyond the Door. And incidentally, Mario Bava's film "Shock" was originally titled Beyond the Door 2 when the film was released in the United States.
Well. That was a movie alright. It is an interesting watch for those of us who appreciate earlier genre films or unique pieces like this. But it offers up poor editing, terrible dubbing/voiceovers with the children and lack of plot clarification. The only horror Juliet Mills ever made (related to Hayley Mills), so that is worth the watch alone. Side note: I'm totally over split pea soap for awhile.
This was okay. It's an obvious rip on the Exorcist and Rosemary's Baby. The kid's voices were dubbed with voice actors which was bizarre and quite distracting, but also entertaining because it was so awkward. Would I recommend it, no.
Not a horrible movie but it helped to pass the time. It was ok.
omg was this bad - so many random scene cuts, so many clear (and bad) rip offs from other movies - idk what they were on in the 70's when they made this but...egh...anything above a 1 skull idk what your talking about?!