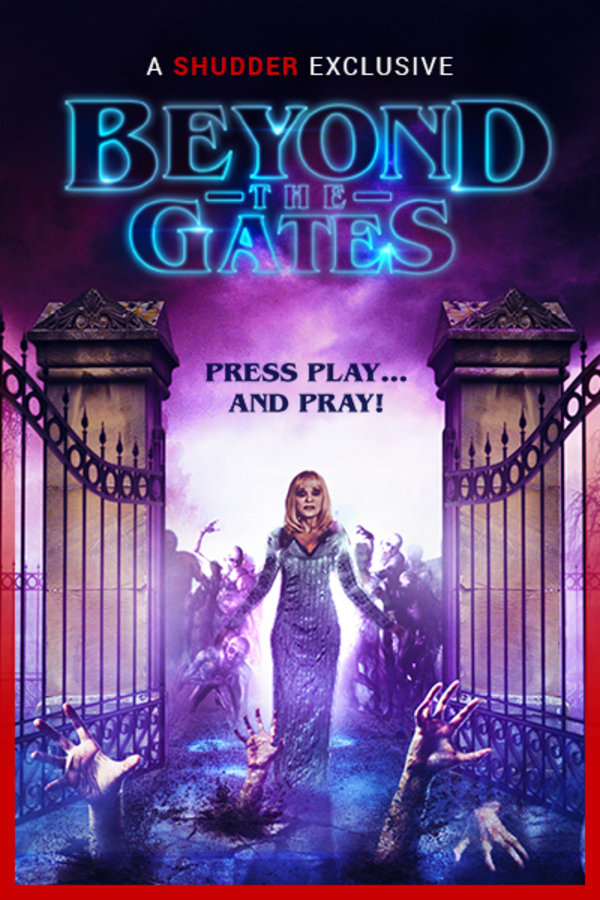 Beyond the Gates
Directed by Jackson Stewart
'80s VHS nostalgia becomes deadly in this clever chiller about two brothers who reunite when their father vanishes. While cleaning out pop's video store, Gordon and John find a VHS game featuring a creepy hostess (cult icon Barbara Crampton) who reveals that dad is trapped inside. The siblings' disbelief turns to horror when they learn that in order to free dad, they'll have to sacrifice some of their loved ones. Tailor made for fans of Stuart Gordon and Brian Yuzna's films, Jackson Stewart's ghoulish gem is well on its way to becoming a cult classic itself. A sequel is already in the works... Contains strong language, sexual scenes, violence and gore.
Two brothers find a mysterious VHS board game that leads them into a demonic realm.
Cast: Barbara Crampton. Graham Skipper, Chase Williamson, Brea Grant
Member Reviews
Watchable, but the acting is dogshit.
'80s nostalgia has been done much better elsewhere in horror this decade (Beyond the Black Rainbow, The Void etc.), but this is still a solid and enjoyable film.
Seriously dull. Absolutely no atmosphere, obviously trying to cash in on the recent nostalgia for the 80s, but fails to muster up any actual feelings of nostalgia. Nothing actually happens in this film. The one skull is for the gore effects, which are decent, but few and far between.
It's true that it's difficult to make Jumanji without the budget, but it's also true that if you have 80 minutes of a film you need to do something else than have characters look at each other gravely, during endless seconds, and have some dialogue that fits the theme, not dialogue from three people that look like the most boring people in the world (seriously, why the reservation of making a geeky film with geeky characters?). This one does not work because it is focused on them, because the opportunities are so wasted in lack of imagination (Fulci would have done wonders with this material) and, simply, because it is bad. Though it looks pretty fine, I admit.
I like 80s VHS nostalgia a VHS game featuring a creepy hostess with lots of violence and gore.Beyond the Gates was your average Gorey Movie from the 80s it worth the watch.