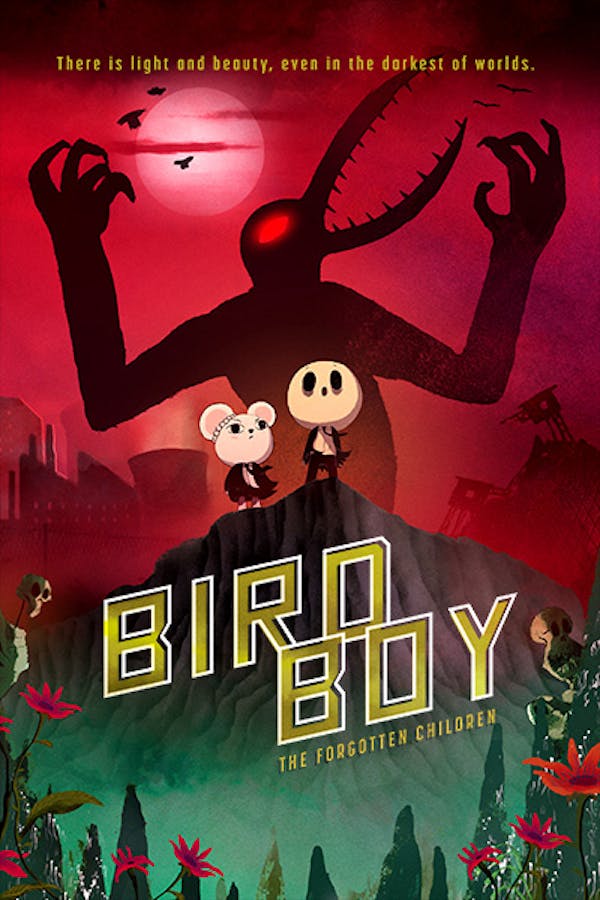 Birdboy: The Forgotten Children
Directed by Alberto Vázquez, Pedro Rivero
There is light and beauty, even in the darkest of worlds. Stranded on an island in a post-apocalyptic world, teenager Dinky and her friends hatch a dangerous plan to escape in the hope of finding a better life. Meanwhile, her old friend Birdboy has shut himself off from the world, pursued by the police and haunted by demon tormentors. But unbeknownst to anyone, he contains a secret inside him that could change the world forever.
Seeking refuge in a post apocalyptic world, teenager Dinky and her friends run away from home. All the while her friend Birdboy, hunted by police and haunted by demons, carries a world altering secret within himself.
Cast: Pedro Rivero, Andrea Alzuri, Eba Ojanguren, Josu Cubero
Member Reviews
I watched this movie at a friend's place on DVD, and I have to say that this was an amazing movie. Super happy to see it here so I can leave a review. I don't know how much I would qualify it as a horror movie; it's certainly got some terrifying themes going on in it, and it deals with some dark themes such as abuse, familial favoritism, and generally surviving in a post-apocalyptic world all from the perspective of children, but I don't know if I would count it as "horror". It definitely is a darker animation that I would highly recommend for people craving for some more serious animation with more mature themes.
gothic. slightly disturbing. grim. cute. need I say more? Awesome+
Never feels the ease against!
Beautifully grim piece of adult animation. With its relatively short runtime it flows together quite well, and its very much clear that the entire film was a passion project. Not really a horror movie, but one that is still memorable and deserves more of a cult status. Also though it is grim and still touches upon adult themes, it never feels overtly edgy or dark, if that makes any sense. Well worth giving this Spanish film a look.
Absolutely gorgeous film. The kind that makes you feel things.