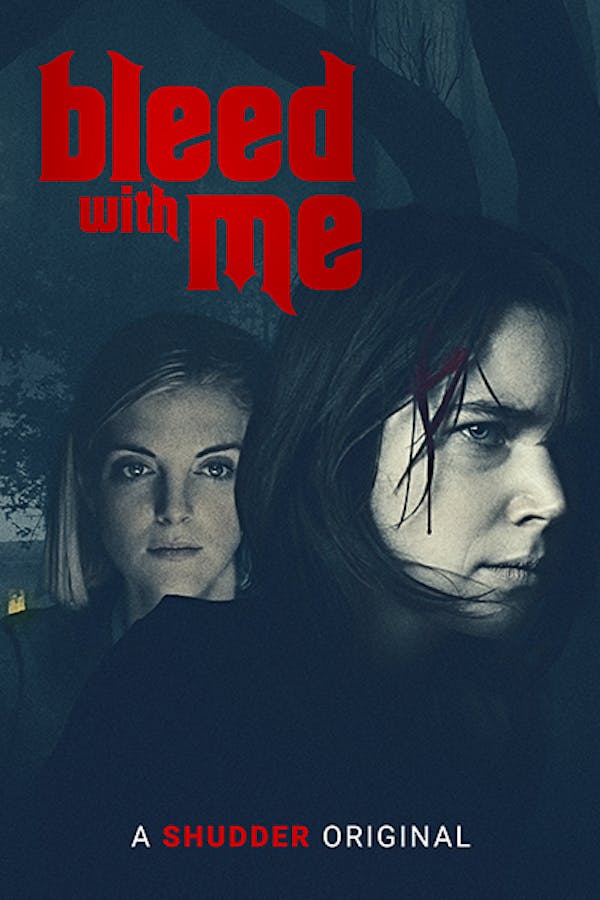 Bleed With Me
Directed by Amelia Moses
Bleed With Me is a psychological horror that explores the intersections of admiration, compulsion, and obsession. Rowan, a vulnerable outsider, is thrilled when the seemingly perfect Emily invites her on a winter getaway to an isolated cabin in the woods. Trust soon turns to paranoia when Rowan wakes up with mysterious incisions on her arm. Haunted by dream-like visions, Rowan starts to suspect that her friend is drugging her and stealing her blood. She's paralzyed by the fear of losing Emily, but she must fight back before she loses her mind. Bleed With Me juxtaposes tenderness and violence in an investigation of female intimacy and dangerous codependency. A SHUDDER ORIGINAL.
During a winter getaway at an isolated cabin, a self-destructive young woman becomes convinced that her best friend is stealing her blood.
Cast: Lee Marshall, Lauren Beatty, Aris Tyros
Member Reviews
Interesting but ultimately unsatisfying. I could not understand how anyone could be obsessed with Emily. She was supposed to be the object of both Brendan and Rowan's affections, but she was completely off-putting and cold. Rowan can say Emily is happy and "put together" all she wants, but that doesn't make it true. No one's motivations made sense here, and the resolution was not satisfying at all.
I really wanted to like this more, but it was lacking in story telling as far as the characters motivations. A beautiful film visually, the cabin, scenery, and actors.. all quite haunting.
Sapphic slow burn horror with a touch of Gothic. Loved it.
*Minor possible spoilers ahead* What an extremely frustrating movie. The two women in this movie are both insane in their respective ways. Brendan is really the only sane one and of course once the two women are left alone, they both go crazier. It's hard to care for either Rowan or Emily because they are both extremely socially awkward, almost feeling like fake characters, but I suspect this is how they were told to act. Neither of them act like a somewhat sane person, which leads to pretty much all of the issues they face. Emily and Rowan seems like those people I've met in certain fandoms who act like they have never stepped foot outside of their home or interacted with another human being until that very moment, and it's hard to believe that either of them held a job with the way they conduct themselves. Now, I of course am fine with LGBTQIA+ and embrace it, however, at many times it felt like Rowan and Emily were a couple rather than Emily and Brendan. I get it, women can act strangely intimate with one another and "not be gay", but I'm sorry, at points I just thought they were going to make out with how strangely intimate they were. If this was literally just a movie about a lesbian couple dealing with their demons, it would make more sense, but it's not and makes it seem all the more off-putting. Emily also treats Rowan like a child, (which somewhat gets explained near the end of the movie, but is still awkward af) and you never truly learn what was the reality of the situation based on how it ended. The ending left more questions than answers, and again, summed up how bizarre both of these people were. 2 skulls because Brendan really got the shaft in more ways than one between these crazy women.