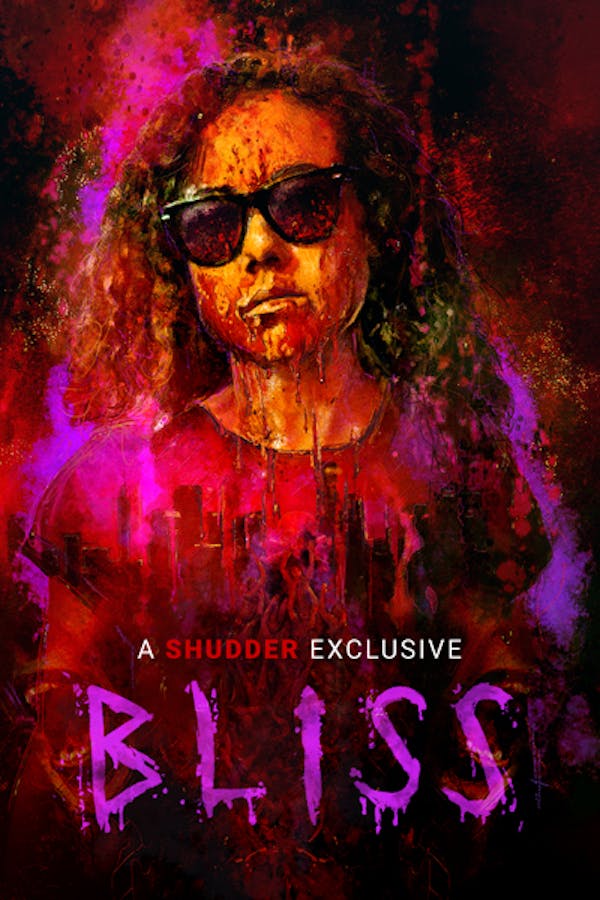 Bliss
Directed by Joe Begos
Struggling through a creative rut, hard-partying artist Dezzy Donahue can't stop the bad streak. In an effort to combat her tough luck, Dezzy throws caution to the wind, indulges in heavy drugs and rages her nights away. Gradually, though, the party starts to end, and in its place, Dezzy finds herself thirsting for blood and suffering from terrifying visions. A SHUDDER EXCLUSIVE.
A struggling artist finds herself thirsting for blood and suffering from terrifying visions.
Cast: Dora Madison, Jeremy Gardner, Tru Collins, Rhys Wakefield, Graham Skipper
Member Reviews
Great flick! It didn't have me convinced right away but the more I watched the more it drew me in. The dialogue is a bit horrendous in the beginning but once the action starts the movie swirls and jerks you around through gore, psychedelia and tons of neon. The visuals rule, the violence is intense and the soundtrack is great! By the end I was hooked, big time
Loved. Loved. Loved it! From the soundtrack, visual choices, and style this film was it for me! At first, I found the clunky dialogue a bit off-putting but oh my god it didn't disappoint. There is something so raw and feral about the actress's performance that made the ending a 10/10, the special effects department did wonders for the gore scenes.
Sexy, bloody, and chaotic. The film has a very grimey summertime Los Angeles look to it that is only enhanced by Dora Madison's sweaty sexuality that plays into the plot while covered in blood. Plenty of awesome kills and gore keep this flick moving. If you can get past the amateurish dialogue that would make Rob Zombie blush (F-bombs used as every other word in every sentence), I think this one is worth checking out.
It's artsy, vampiric, bisexual, and vapid fun. Story and dialogue is at times annoying, but the artistic nature of the director lets me be nice.
why did they melt into ice cream?