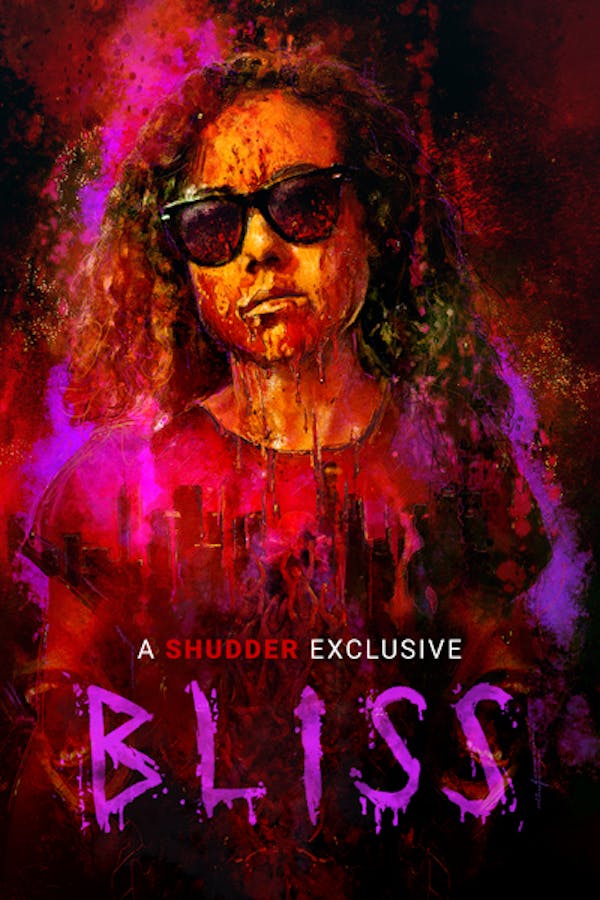 Bliss
Directed by Joe Begos
Struggling through a creative rut, hard-partying artist Dezzy Donahue can't stop the bad streak. In an effort to combat her tough luck, Dezzy throws caution to the wind, indulges in heavy drugs and rages her nights away. Gradually, though, the party starts to end, and in its place, Dezzy finds herself thirsting for blood and suffering from terrifying visions. A SHUDDER EXCLUSIVE.
A struggling artist finds herself thirsting for blood and suffering from terrifying visions.
Cast: Dora Madison, Jeremy Gardner, Tru Collins, Rhys Wakefield, Graham Skipper
Member Reviews
Bliss is a psychedelic horror film fueled by vivid color, a punk-rock soundtrack, and escalating unease as its protagonist spirals out of control. The characterization is pretty one-note and the themes are a bit opaque, but the dazzling visuals and style make this a hypnotic spectacle.
Someone on here already mentioned on here that this is very Gregg Araki-esq which is so a thing, but not done in even as well a manner as Gregg's films. Gregg has a way of writting for Jaded LA hipsters that just works & fails horribly here. It's like some one watched Nowhere and then Enter the Void by Gaspar Noe back to back and was like "I could do that, but also it's about Vampires?". Also it's also slightly hilarious that a pretentious art film's main character is a pretentious artist! it's visually neat at times, but this movies a mess.
The main character is so annoying.
The answer to "What if The Hunger meets Gregg Araki but not very good?" is this movie. Two stars rather than just one, as some of the practical effects were decently goopy and gross.