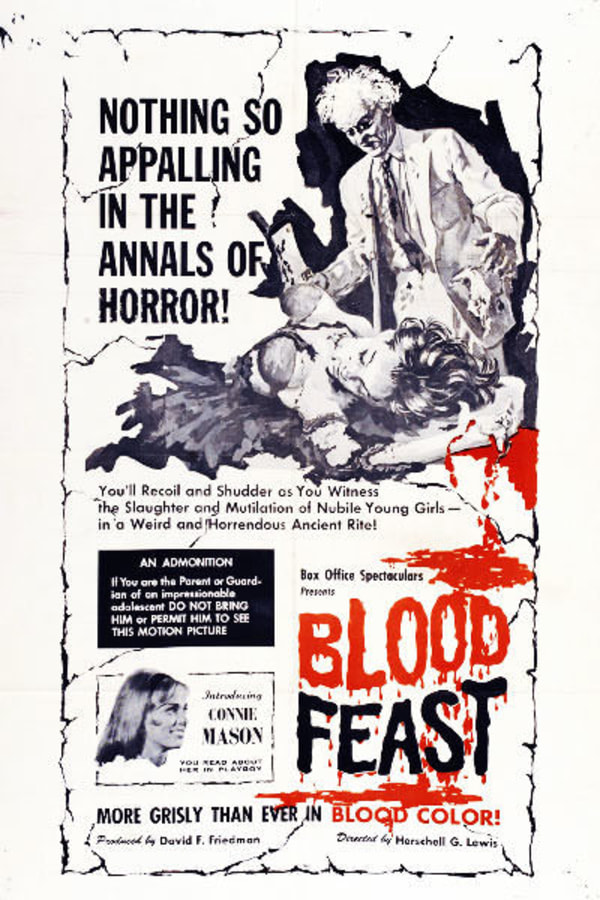 Blood Feast
Directed by Herschell Gordon Lewis
Herschell Gordon Lewis' shocking cult classic is considered the first gore movie. When a society woman decides to plan a soirase, she hires psychotic caterer Ramses, who decides to prepare a "blood feast" using human body parts. As Ramses gathers ingredients, the police try to stop his evil deeds before it's too late. Though wonderfully campy by today's standards, nothing so graphic as BLOOD FEAST had been seen in 1963. Screenings sold out all over the US, and once Hollywood saw that violence and gore could make a buck, horror movies were never the same again. Contains violence and gore.
Herschell Gordon Lewis' shocking cult classic is considered the first gore movie.
Cast: William Kerwin, Mal Arnold, Connie Mason
Member Reviews
What can one say about Fuad Ramsey's Egyptian feast. Even though Two Thousand Maniacs is my favourite HGL flick (because it was the first one I saw at the Royal in Toronto in the late 90s), I've got a special place in my heart for this one. It's a schlocky surreal splatter fest that changed the world forever. While dated I think it still holds up like an old episode of Star Trek or The Munsters.
Somewhat related, I think this site really needs to get Blood Feast 2. Its hilarious in a Troma kind of way and John Waters does a cameo.
One of the first "Gore" flicks and added to the "Video Nasties" list (a list of 72 videos that were deemed likely to deprave and corrupt the minds of those who viewed them) in the early 1980's in the U.K., Blood Feast may be quite gory, but extremely cheesey and inoffensive, even in the 1980's when it was banned (even though the film itself was made in the 60's). it's hard for me to recommend this one, unless you enjoy your films with bad special effects and terrible over-the-top acting. Still, I can see its significance, as it inspired a whole new generation of films.
Come on, really? I understand it's a 1963 (53 years ago) production... but damn, imagine if all horror pictures were like this... YIKES! It was so bad..,