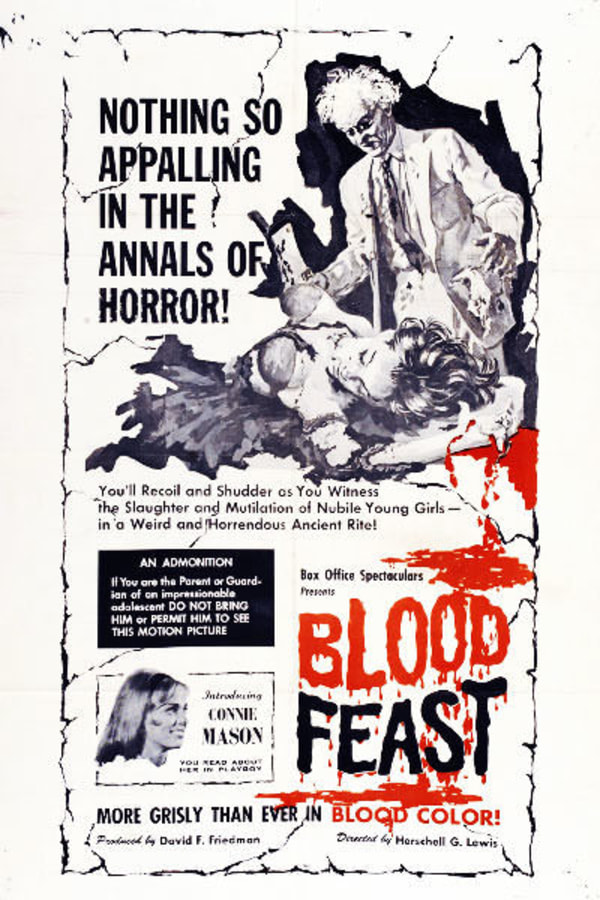 Blood Feast
Directed by Herschell Gordon Lewis
Herschell Gordon Lewis' shocking cult classic is considered the first gore movie. When a society woman decides to plan a soirase, she hires psychotic caterer Ramses, who decides to prepare a "blood feast" using human body parts. As Ramses gathers ingredients, the police try to stop his evil deeds before it's too late. Though wonderfully campy by today's standards, nothing so graphic as BLOOD FEAST had been seen in 1963. Screenings sold out all over the US, and once Hollywood saw that violence and gore could make a buck, horror movies were never the same again. Contains violence and gore.
Herschell Gordon Lewis' shocking cult classic is considered the first gore movie.
Cast: William Kerwin, Mal Arnold, Connie Mason
Member Reviews
Awesome 60's gore! The plot was actually pretty cool too.
Ohhhh, my. Decided the other night to do some browsing. This one popped up, and it seemed like a good idea to go back and re-view a flick that I watched on a grainy VHS tape that I rented God knows how many years ago. What a surprise! The copy on Shudder is amazing… although, I have to say, the movie itself is just as wildly idiotic as it was the first time I watched it. Which is not to say I didn't like it. I did. But wow, couldn't Herschell Gordeon Lewis have found ONE actor or actress who knew how to speak a line without sounding like they were reading off of a script with fuzzy vision? Still, this early entry into what became known as the "splatter" era of movies is in a weird way a lot of fun. I was all of seven years when Blood Feast was released on July 6, 1963. I can only imagine how much fun it was to go to the drive-in back then and try to convince your date you weren't a sicko. But I would have tried.
Fairly enjoyable romp in early sixties gore. Who knew Egyptian good was so exotic!
Eh, wouldn't watch again but glad I did at least once. It is miserably slow with terrible red paint gore but that's what makes it sort of charming.
I understand that this film was one of the first "gore" films at least in the usa. But man it was hard to watch, maybe worth a watch just to say you saw it. Not a fan..