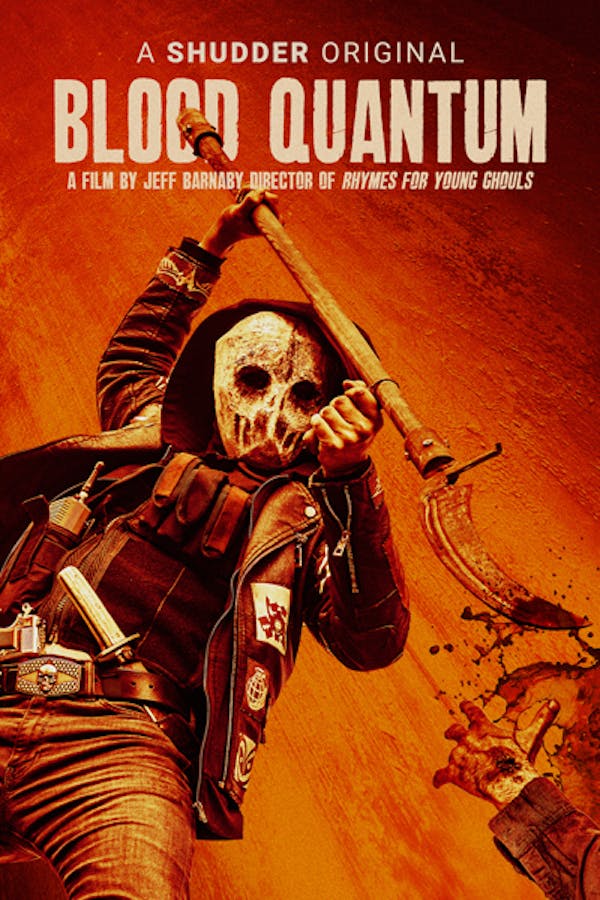 Blood Quantum
Directed by Jeff Barnaby
The dead are coming back to life outside. But in the isolated Mi'gmaq reserve of Red Crow, the indigenous inhabitants are immune to the zombie plague. Traylor, the tribal sheriff, must protect his son's pregnant girlfriend, apocalyptic refugees and reserve riffraff from the hordes of walking white corpses. A SHUDDER ORIGINAL. R16 Horror, graphic violence and offensive language.
Immune to a zombie plague, the indigenous inhabitants of Red Crow reserve must survive hordes of walking white corpses.
Cast: Michael Greyeyes, Elle-Máijá Tailfeathers, Forrest Goodluck
Member Reviews
My god was this a terrible movie. Piss poor character development and wooden acting from all main actors. Absolutely stupid character arcs and motives. The brother's motive to infect the commune was petty and literally nothing came of it. Why is the family immune to this disease? How were they able to build this commune? The movie magically leaves out a huge chunk of time from outbreak to building the barricaded community. AND the music was hokey as hell. Hated and do not recommend to anyone.
Definitely not an action packed zombie movie but it was decent and SPOILER ALERT but I'm glad for once there was decent vengeance. That girl kept bringing people and someone got bit behind it so it's only fair she suffered as well.
Beautiful settings and surroundings and indigenous story. Special effects were awesome too!
I love indigenous cinema. There's A LOT of good stuff in this movie about colonization and what it feels like if the tables were turned. It's full of very different perspectives from within the indigenous communities. There's anger, pain, wisdom, courage, pain, horror, and more suffering. It's pretty grim and very well done. You could call it "slow" but I think it's better than that in this one. it's more like, idk, deliberate pacing. I do recommend :)