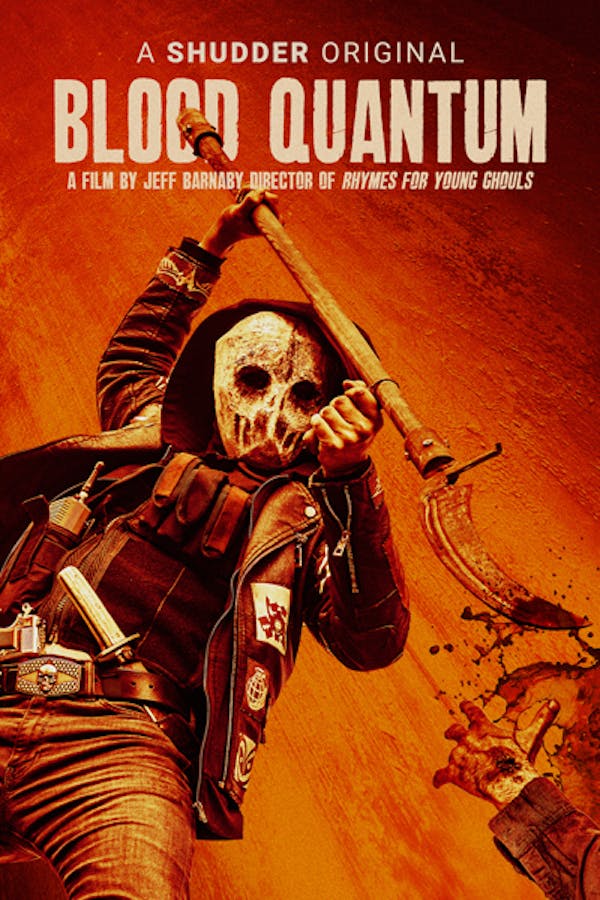 Blood Quantum
Directed by Jeff Barnaby
The dead are coming back to life outside. But in the isolated Mi'gmaq reserve of Red Crow, the indigenous inhabitants are immune to the zombie plague. Traylor, the tribal sheriff, must protect his son's pregnant girlfriend, apocalyptic refugees and reserve riffraff from the hordes of walking white corpses. A SHUDDER ORIGINAL.
Immune to a zombie plague, the indigenous inhabitants of Red Crow reserve must survive hordes of walking white corpses.
Cast: Michael Greyeyes, Elle-Máijá Tailfeathers, Forrest Goodluck
Member Reviews
A fresh telling of the zombie trope.
Decent, but misses the mark a bit. Great concept & well shot, but the unique zombie mythology gets short changed, as does the thought provoking themes the film raises. Would have been an excellent series IMO.
Found it a boring movie, couldn't get into it. not the bests acting either. Some gore to make it acceptable
Fantastic zombie horror film. Great cinematography, great use of drone shots, great low key lighting. Fantastic gore effects even at a low budget of 5.5 Million. Blood Quantum is the Indigenous Zombie Horror film I didn't know I needed and now know I desperately need more of its kind. Written, Directed, Edited, Produced, and Scored by Jeff Barnaby, an inspiration to DIY filmmakers. I loved every bit of this movie. The actors don't feel like actors, they feel like real people and we're catching them in the moment, and that's exactly what this film needed. This film is a brilliant allegory for colonialism and the pandemic it brought with it. I will visit this film again and again and tell everyone I know about it.
the white girl annoyed me