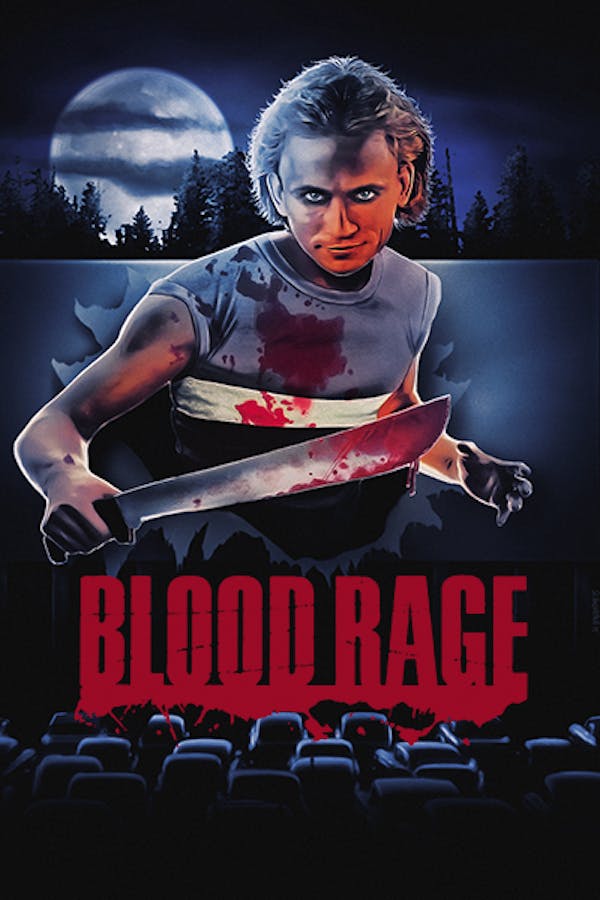 Blood Rage
Directed by Bruce Rubin
Twins Todd and Terry seem like sweet boys that is, until one of them takes an axe to face of a fellow patron at the local drive-in. Todd is blamed for the bloody crime and institutionalized, whilst twin brother Terry goes free. Ten years later and, as the family gathers around the table for a Thanksgiving meal, the news comes in that Todd has escaped. But has the real killer in fact been in their midst all along? One thing's for sure, there will be blood and rage! Contains violence and gore.
Twins Todd and Terry seem like sweet boys... that is, until one of them takes an axe to face of a fellow patron at the local drive-in.
Cast: Louise Lasser, Mark Soper, Julie Gordon
Member Reviews
It is important to compare this movie to two things: 1. Scalpel (1977) 2. 1980s horror movies I selected Scalpel (1977) as a point of comparison because it was John Grissmer's first film, 10 years before he did Blood Rage. The films are similar in one aspect: the use of twins, or people that look strikingly similar. Scalpel uses the gimmick to much greater effect, and is overall a superior film. I strongly recommend watching Scalpel to see how skilled this director really is. When compared to other 1980s horror films, it genuinely fits right in. I had somehow never watched this while growing up in the 1980s, but it brought me back to my childhood nonetheless. What I liked the most about this was the honesty: it proclaims that it is a slasher. That's it. You're not going to find much to think about it here; just revel in the retinal ripping scenes of grim gore. It also has a sense of humor, with numerous scenes that left me laughing. The killer was really enjoying the bloodbath and his total lack of concern for his victims provided for one conclusion: this guy was 100% psychopath.
Well......what can ya say other than it was a slasher flick? The soundtrack was eighties fabulous. The acting was mostly godawful, but in a "so bad it's good" kind of way. Slasher-riffic awkwardness. Give it a whirl.
I've seen better 80s horror but it wasn't bad. Slow burn but the kills were good. I stuck it out till the end but will I watch it again. Uh that would be a big no. It's good for a one time watch. That's probably about it. The mother got on my nerves big time. The ending was alright. 2 skulls.
Despite a cool poster, this late-80s teen slasher with an interesting twin premise lacks any depth or worthwhile narrative. One twin pinning the creative kills on the other, while this once peaceful woodland apartment complex becomes a slaughterhouse buffet. Aside from the almost Patrick Bateman-esque killer and condom-selling Ted Raimi, the acting is very stilted, there is no chemistry, a shocking lack of nudity, and no tension. Given the whole twin plot and mental ward, I really think they could have explored some more psychological aspects to this slasher. What Blood Rage does have, is a killer synth score (that reminds me of some Left 4 Dead Special Infected cues) and some very fun practical kills. I do think those two benefits make this worth a watch, but I'd encourage lowering you're expectations as you park the car at this bloody drive-in.