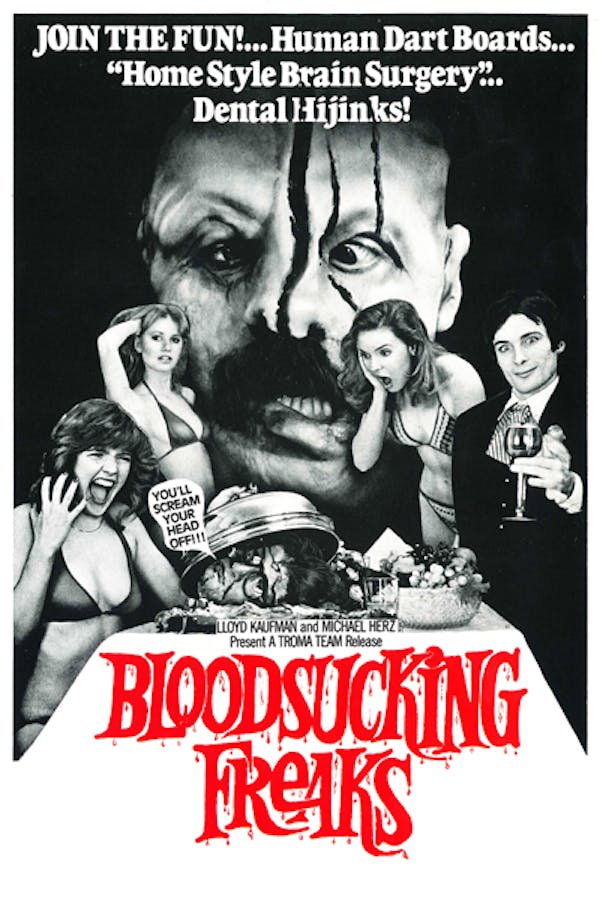 Bloodsucking Freaks
Directed by Joel M. Reed
Sardu, master of the Theatre of the Macabre, and his assistant Ralphus run a show in which, under the guise of 'magic', they torture and murder people in front of their audience. But what the spectators see as a trick is actually real.
Sardu and his assistant Ralphus, under the guise of 'magic', torture and murder people in front of an audience.
Cast: Seamus O'Brien, Viju Krem, Luis De Jesus
Member Reviews
The Doc sucking brain juice through a straw, then blowing bubbles like a kid would do with his chocolate milk. One of many sick and twisted scenes. Never laughed so hard.
So bad that it's outstanding!
Awful. Just awful. I watched half the movie and then skipped to the end just to get it over with and find out what happened with the story (or lack there of). This is just a porno with gore and not a real horror flick. I wish the description fit the movie better.
Good if you like bad. RiffTrax fodder.
Exciting name for a mostly unremarkable flick. Gore is par for the time made, and uncreative sexploitation had me by and large tuned out. Props to the doc for being the only true Bloodsucking Freak, I'm pretty sure!