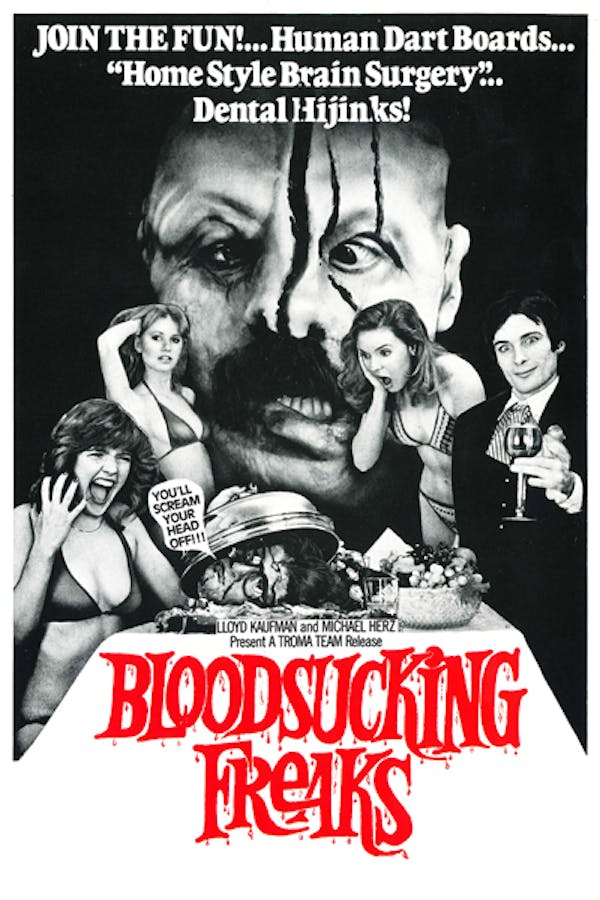 Bloodsucking Freaks
Directed by Joel M. Reed
Sardu, master of the Theatre of the Macabre, and his assistant Ralphus run a show in which, under the guise of 'magic', they torture and murder people in front of their audience. But what the spectators see as a trick is actually real.
Sardu and his assistant Ralphus, under the guise of 'magic', torture and murder people in front of an audience.
Cast: Seamus O'Brien, Viju Krem, Luis De Jesus
Member Reviews
this isn't even torture porn, it's porn porn with some fake blood thrown in
There are some movies that are just awful. this movie was bad, bad acting, bad plot, and extreme moments, but like a train wreck, I couldn't look away. Watch it.
though I am a die hard fan of Troma films this one just lacks that charm. I respect that this was really provocative and controversial for the 70s but "shock over substance" doesn't really age well. Each scene seems to pretty much scream the writers thought process which is "hey whats something really fucked up we can put in this scene". There isn't much rhyme or reason for it, it's all just draped over a paper thin plot. Some positives are that I did enjoy some of the performances and found some of the ideas to be clever in a twisted fucked up kind of way.