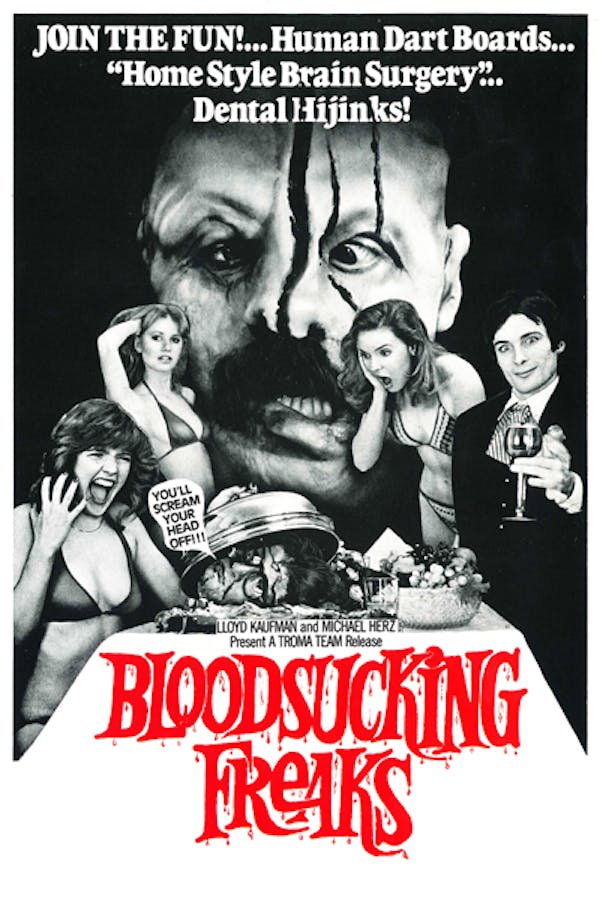 Bloodsucking Freaks
Directed by Joel M. Reed
Sardu, master of the Theatre of the Macabre, and his assistant Ralphus run a show in which, under the guise of 'magic', they torture and murder people in front of their audience. But what the spectators see as a trick is actually real.
Sardu and his assistant Ralphus, under the guise of 'magic', torture and murder people in front of an audience.
Cast: Seamus O'Brien, Viju Krem, Luis De Jesus
Member Reviews
Good if you like bad. RiffTrax fodder.
Exciting name for a mostly unremarkable flick. Gore is par for the time made, and uncreative sexploitation had me by and large tuned out. Props to the doc for being the only true Bloodsucking Freak, I'm pretty sure!
The real horror in this movie is the acting. Even as a Showgirls fan, this movie here has a bit too much sexploitation to my taste. The music is kind of so bad it's good, but that's about it... Interesting time capsule of NYC in the 70s, with all the decrepitude and free for all. But it's mainly quite boring, if you want torture porn, watch an Eli Roth movie instead.
Like the original Wizard of Gore a reknown gore feast. Lots of nudity which I appreciate but this film sucked ass.