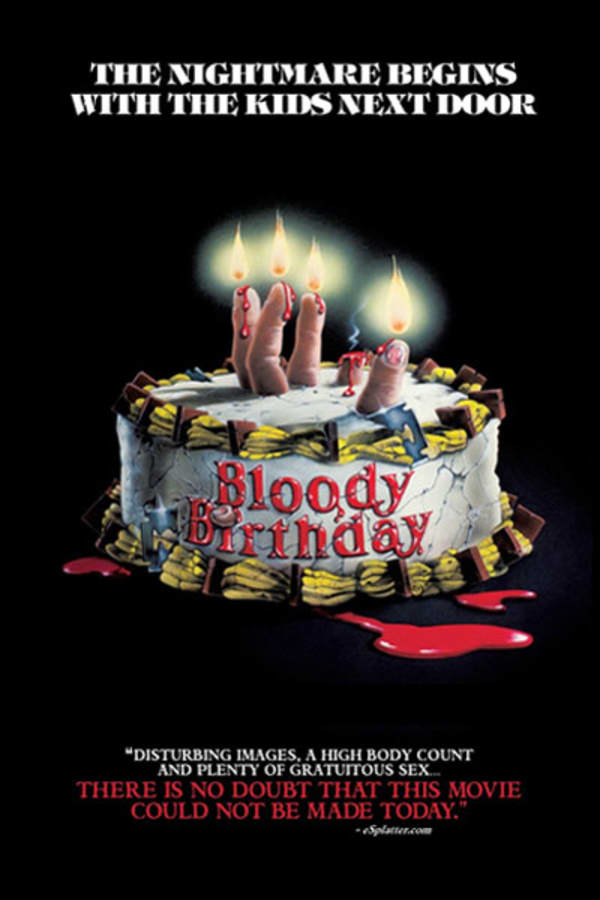 Bloody Birthday
Directed by Ed Hunt
Three evil children embark on a killing spree to celebrate their tenth birthdays in this rarely seen '80s slasher that just may be the most disturbing "killer kids" movie of all time. As in VILLAGE OF THE DAMNED, these kids don't like sugar and spice and everything nice. They like strangling, shooting, stabbing and much, much worse. Starring Susan Strasberg, Jose Ferrer and comedy vixen Julie Brown' whose nude dance scene remains a landmark of celebrity skin' this still-controversial shocker should be kept away from your little ones as long as possible. Contains violence and gore.
Three evil children embark on a killing spree to celebrate their tenth birthdays.
Cast: Julie Brown, Lori Lethin, Billy Jayne, Elizabeth Hoy
Member Reviews
Yes! My scene is 10:03. That was a fun shoot. I was 11 yo when we filmed and had a crush on K.C. Martel (the innocent child star). We filmed at this old dilapidated building where the second floor was off limits. Broken windows, peeling paint, just horribly treacherous conditions. I, of course, wanted to explore for ghosts when not filming. It was a perfect building for the creepy eye popping sounds that most can't explain. A few of us kids ran through the halls and did the best we could to explore without getting caught. I only wish we had iPhones back in 1980. Great memories.
I love B slasher films from the 80's!
Classic!! I love this film. OK acting, OK story, nothing special in the cinematography or fx department either, but still awesome. It's hard to point out anything of particularly good quality with this flick, but it's super nostalgic for me, and that's enough. I would love to see a sequel where the boys are released and somehow track down "angel face", for some gruesome revenge on their home town. Same cast would be critical and phenomenal. Highly recommended for Old-school B-horror hounds, nothing more.
Honestly, this entire movie should be condensed into 20 minutes of a much larger movie. There is so much story missing... and what there is, is so repetitive. I didn't enjoy it. But it had potential.
I saw this originally when it first came out and it chilled me to the bone. It's rather light now compared to some that has came out since.