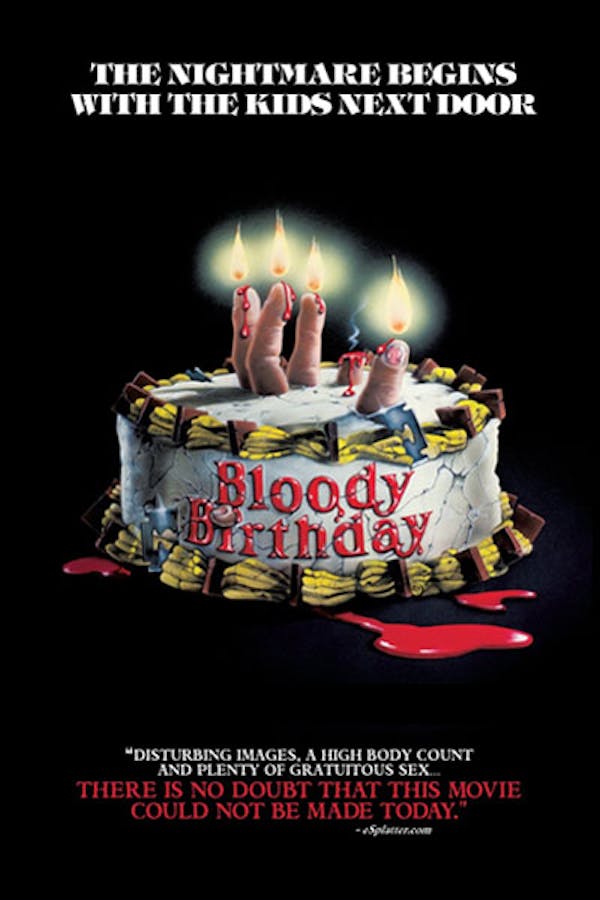 Bloody Birthday
Directed by Ed Hunt
Three evil children embark on a killing spree to celebrate their tenth birthdays in this rarely seen '80s slasher that just may be the most disturbing "killer kids" movie of all time. As in VILLAGE OF THE DAMNED, these kids don't like sugar and spice and everything nice. They like strangling, shooting, stabbing and much, much worse. Starring Susan Strasberg, Jose Ferrer and comedy vixen Julie Brown' whose nude dance scene remains a landmark of celebrity skin' this still-controversial shocker should be kept away from your little ones as long as possible. Contains violence and gore.
Three evil children embark on a killing spree to celebrate their tenth birthdays.
Cast: Julie Brown, Lori Lethin, Billy Jayne, Elizabeth Hoy
Member Reviews
Three little shits cause havac and carnage in a middle class suburbanite community. Curtis likes handguns, debbie's weapons of choice are ropes and the bow and arrow, and steven favors knives. Together they terrorize neighbors and their community without prejudice. I really enjoyed this movie and thought that the kid actors did a great job of being ruthless and believable. Im surpised I had never heard of this title. Its definitely an underated film and worthy of a cult following in my opinion. If you like 80s era horror / thrillers then give this one a chance.
I enjoyed this more than I thought I would. It's cheesy and use of astrology is a bit much. However, the kills are great and killer kids are always a fun trope.
Yes! My scene is 10:03. That was a fun shoot. I was 11 yo when we filmed and had a crush on K.C. Martel (the innocent child star). We filmed at this old dilapidated building where the second floor was off limits. Broken windows, peeling paint, just horribly treacherous conditions. I, of course, wanted to explore for ghosts when not filming. It was a perfect building for the creepy eye popping sounds that most can't explain. A few of us kids ran through the halls and did the best we could to explore without getting caught. I only wish we had iPhones back in 1980. Great memories.
I love B slasher films from the 80's!