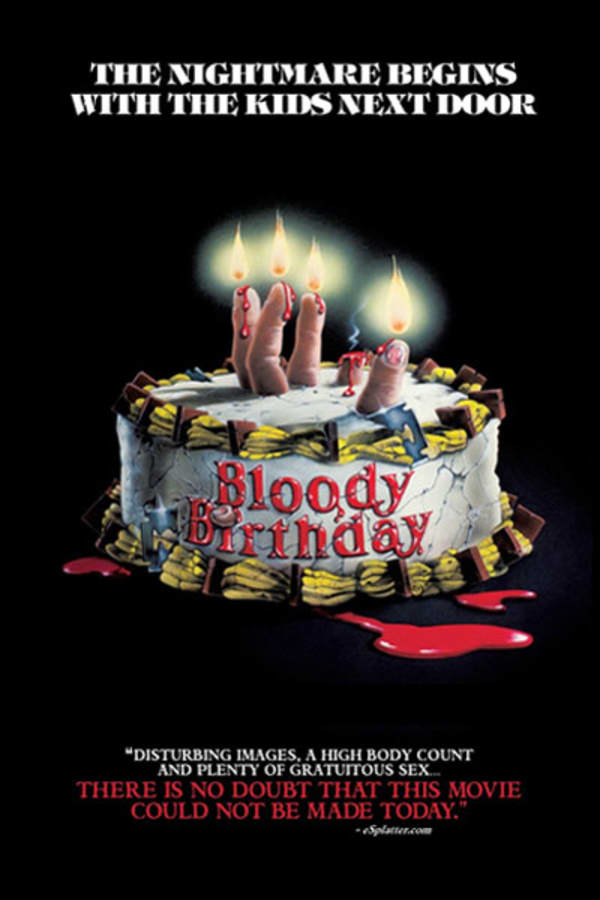 Bloody Birthday
Directed by Ed Hunt
Three evil children embark on a killing spree to celebrate their tenth birthdays in this rarely seen '80s slasher that just may be the most disturbing "killer kids" movie of all time. As in VILLAGE OF THE DAMNED, these kids don't like sugar and spice and everything nice. They like strangling, shooting, stabbing and much, much worse. Starring Susan Strasberg, Jose Ferrer and comedy vixen Julie Brown' whose nude dance scene remains a landmark of celebrity skin' this still-controversial shocker should be kept away from your little ones as long as possible. Contains violence and gore.
Three evil children embark on a killing spree to celebrate their tenth birthdays.
Cast: Julie Brown, Lori Lethin, Billy Jayne, Elizabeth Hoy
Member Reviews
Classic!! I love this film. OK acting, OK story, nothing special in the cinematography or fx department either, but still awesome. It's hard to point out anything of particularly good quality with this flick, but it's super nostalgic for me, and that's enough. I would love to see a sequel where the boys are released and somehow track down "angel face", for some gruesome revenge on their home town. Same cast would be critical and phenomenal. Highly recommended for Old-school B-horror hounds, nothing more.
Honestly, this entire movie should be condensed into 20 minutes of a much larger movie. There is so much story missing... and what there is, is so repetitive. I didn't enjoy it. But it had potential.
I saw this originally when it first came out and it chilled me to the bone. It's rather light now compared to some that has came out since.
I thought it was a cool concept for having killer kids be in a slasher film. You don't really see that in this genre. (The only other movie I can think of a child killer in a slasher film is Michael Myers but that one technically doesn't count. He did the majority of his killing when he was older.) The movie does a good job of showing both the child's dark side and their innocence. I really liked the scene with Curt holding the rat poison near the cake and Joyce sees him (brilliant scene). Also, the movie did have the slasher elements like the killer's pov, body count, and nudity. However, I didn't like the reason why the kids started to kill. I mean astrology really? They did it because it was on their birthday? Not a good reason in my book. The ending of the movie was great too. The way the movie ends it hints of a possible sequel. However, they never did one. Overall, I think the movie is very interesting and entertaining to watch.
Very good thriller slasher, the kids were all surprisingly good and the story kept you guessing.