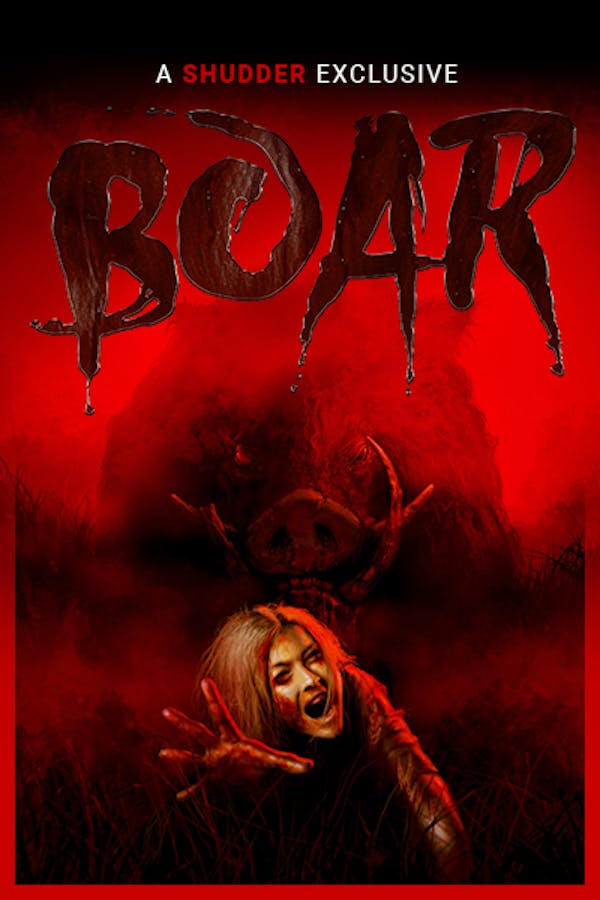 Boar
Directed by Chris Sun
Having outgrown a minivan, a stray boar roams the boundary line of an outback town and massacres several backpackers, before venturing in to hunt the locals. Bernie and his visiting relatives, the Monroe's, swiftly come face to face with the feral beast and uncover that some monsters are better left in stories. A SHUDDER EXCLUSIVE.
A monster-sized boar terrorizes the outskirts of a rural Australian town.
Cast: John Jarratt, Simone Buchanan, Bill Moseley, Melissa Tkautz, Nathan Jones
Member Reviews
I just love Nature Gone Wild Creature Features
Look. I love a ridiculous creature feature. But they kill off most of the interesting characters and focus on the usual bland family nonsense. The boar itself is just a bit meh, and I got bored and did the dishes instead.
I give this a full rating of stars. Great practical effects you just don't see anymore. Great cast of characters that they could have turned this into a mini series instead, get to know them better before the slaughter starts. The wrestler who plays the hero , Bernie, is awesome. I've watched a lot of wrestlers trying to act and this guy is up there with Dwayne Johnson, he knows how to act. . Over all good gory thriller
Solid practical effects, not so good CGI. Pretty formulaic plot wise, but not terrible! It doesn't try to be anything other than what it is: a creature feature with a killer boar.
Kinda dumb but entertaining nonetheless.