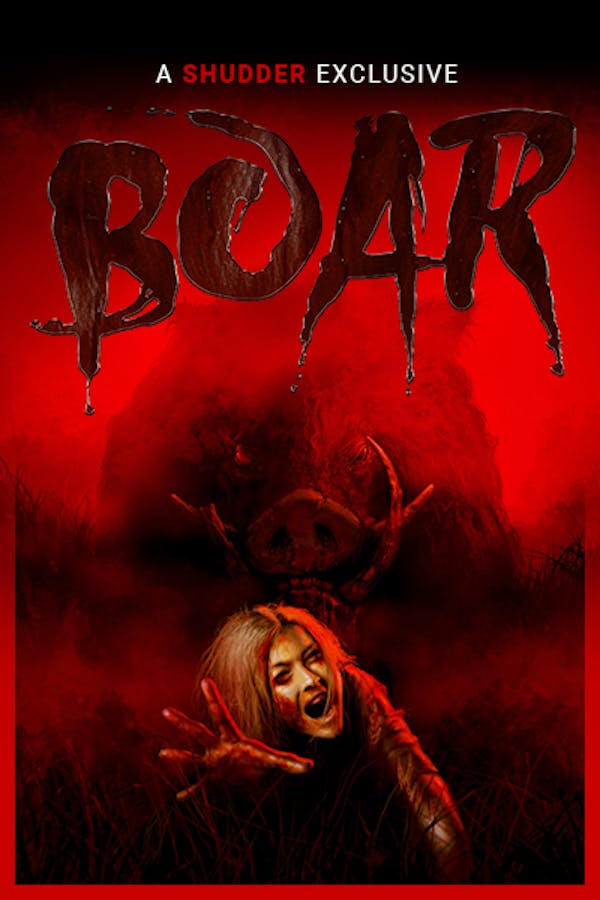 Boar
Directed by Chris Sun
Having outgrown a minivan, a stray boar roams the boundary line of an outback town and massacres several backpackers, before venturing in to hunt the locals. Bernie and his visiting relatives, the Monroe's, swiftly come face to face with the feral beast and uncover that some monsters are better left in stories. A SHUDDER EXCLUSIVE.
A monster-sized boar terrorizes the outskirts of a rural Australian town.
Cast: John Jarratt, Simone Buchanan, Bill Moseley, Melissa Tkautz, Nathan Jones
Member Reviews
Raunchy and funny. However, I could not overlook the lack of natural behaviors in the boar.
Very fun B slasher. Characters are entertaining and fun enough to carry scenes that aren't gory, but not so deep and intense that the film becomes sad when deaths occur. I feel like that's a hard balance to capture. The boar itself is made up of cgi and what looks like an animatronic puppet of some kind. Honestly the cgi is very cheap, not great at all, but I didn't mind, it didn't really take me out of it. The puppet looks pretty good as well, and even in the moments where it doesn't look super realistic, it's still rather impressive as an animatronic.
It isn't original, but the flesh-eating pig/hog genre sort of thing is pretty underrated but isn't scary only a scary thought. The pig looks great and some of the humor is funny. It is a pretty good film to watch when you are bored and is almost to the chase to keep you in your seat.
The pig looks great and that's all.