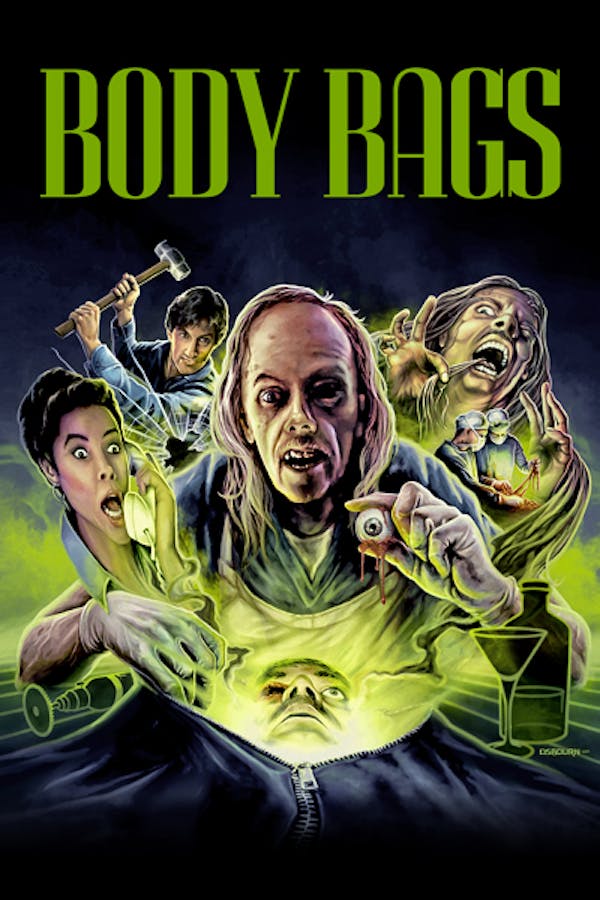 Body Bags
Directed by John Carpenter, Tobe Hooper, Larry Sulkis
Masters John Carpenter and Tobe Hooper team for three short tales of terror in this anthology hosted by Carpenter himsellf. Alex Datcher stars as a woman working the late shift at "The Gas Station" while a killer is on the loose. Then, Stacy Keach (ROAD GAMES) can't stand the thought of losing his "Hair"... and he'll do anything to keep it. And finally, Mark Hamill (STAR WARS) portrays a baseball player that submits to an "Eye" transplant after he loses an eye in a car accident.
Masters John Carpenter and Tobe Hooper team three short tales of terror.
Cast: John Carpenter, Stacy Keach, Mark Hamill, Tom Arnold, Wes Craven, Sam Raimi, Roger Corman
Member Reviews
The gas station story is great, keeps you on the edge of your seat the whole time. The baseball one has good moments, but I don't love the casting. The hair one is really great up until a disappointing ending. The John Carpenter scenes are very enjoyable. All in all, nothing special, but worth a watch.
passed by this gem too many times. absolutely loved it.
With all anthology films, some stories are stronger than others, but overall this is entertaining. I think the wrap around story with a corpse coroner played by John Carpenter is absolutely amazing and is my favorite part of the film. There is some good gore in here as well.
Loved it! Brings back so many memories from my childhood