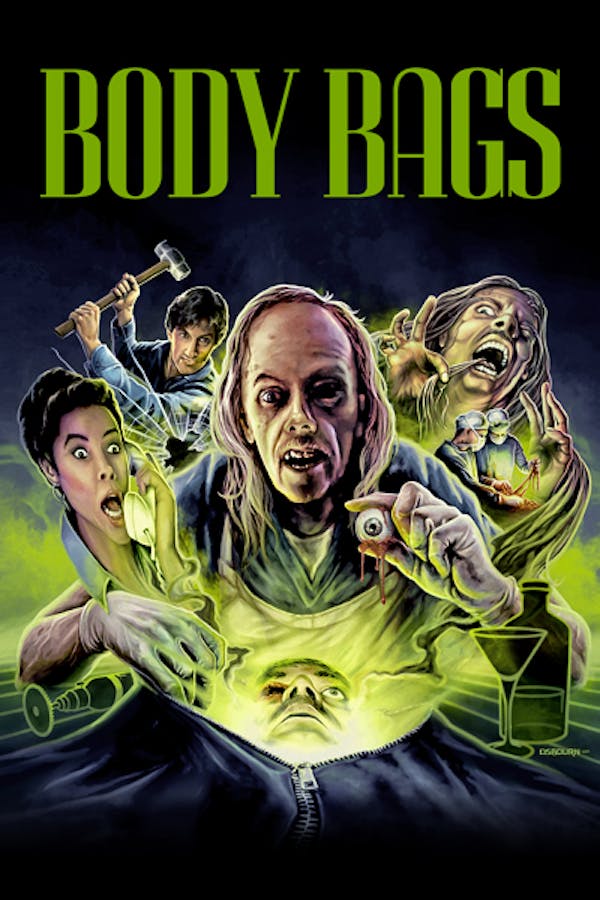 Body Bags
Directed by John Carpenter, Tobe Hooper, Larry Sulkis
Masters John Carpenter and Tobe Hooper team for three short tales of terror in this anthology hosted by Carpenter himsellf. Alex Datcher stars as a woman working the late shift at "The Gas Station" while a killer is on the loose. Then, Stacy Keach (ROAD GAMES) can't stand the thought of losing his "Hair"... and he'll do anything to keep it. And finally, Mark Hamill (STAR WARS) portrays a baseball player that submits to an "Eye" transplant after he loses an eye in a car accident.
Masters John Carpenter and Tobe Hooper team three short tales of terror.
Cast: John Carpenter, Stacy Keach, Mark Hamill, Tom Arnold, Wes Craven, Sam Raimi, Roger Corman
Member Reviews
Absolutely love this movie. Great mix between comedy and screams
Movies may have a higher budget nowadays, but at least they were interesting in the 80's and 90's. The first and last stories were great, and while the 2nd was kind of dumb, it did make me laugh. Recommended.
How have I not seen this before!?! So rad, full of great cameos!
Although I love both these directors, this anthology was just serviceable. The first tale was the best, second was cringy, and the third dragged on too much. Watch it for the cameos.
Great anthology film. Tobe Hooper and Wes Craven, gone but not forgotten.