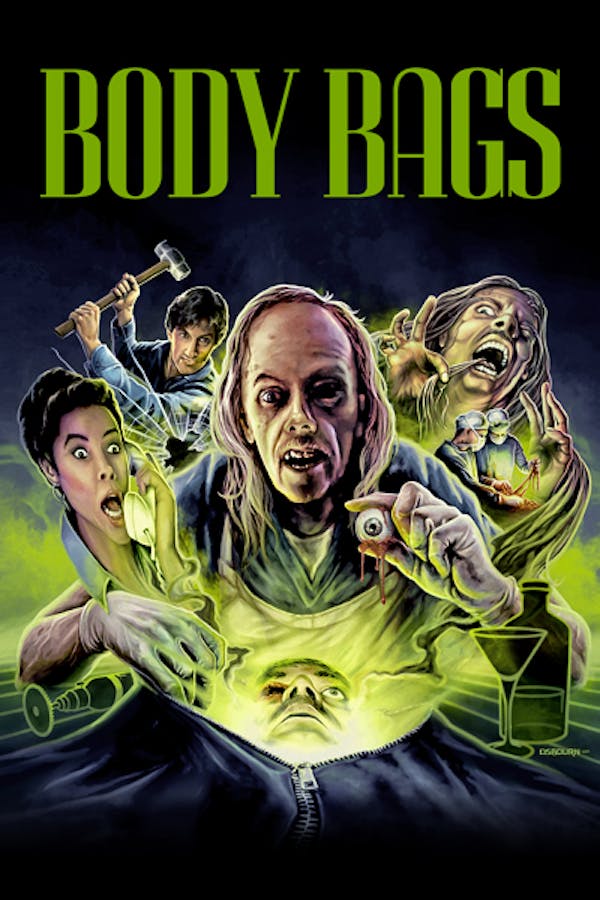 Body Bags
Directed by John Carpenter, Tobe Hooper, Larry Sulkis
Masters John Carpenter and Tobe Hooper team for three short tales of terror in this anthology hosted by Carpenter himsellf. Alex Datcher stars as a woman working the late shift at "The Gas Station" while a killer is on the loose. Then, Stacy Keach (ROAD GAMES) can't stand the thought of losing his "Hair"... and he'll do anything to keep it. And finally, Mark Hamill (STAR WARS) portrays a baseball player that submits to an "Eye" transplant after he loses an eye in a car accident.
Masters John Carpenter and Tobe Hooper team three short tales of terror.
Cast: John Carpenter, Stacy Keach, Mark Hamill, Tom Arnold, Wes Craven, Sam Raimi, Roger Corman
Member Reviews
John Carpenter played an undead coroner; Wes Craven was a drunken hobo, and Lizzies McGuire's dad was a machete wielding serial killer? You bet your ass, I'm in.
Not bad. Predictable but still a fun watch.
Just the type of classic 90s campy horror I love so much! Overall this was a great anthology series. The first story sucks and is quite boring but the second and third stories were right on point! For me, true horror comes from things that I believe can actually happen in real life (sorry zombie and monster fans). The second story was so relatable as a guy who has some thinning hair myself, I was terrified. The third sorry is more SciFi and the writing and acting is EXCELLENT! This one gets 4 skulls, would have been 5 if it were not for that first story.
a very entertaining very witty film John Carpenter himself acts as the film's narrator proceeding with a dry funny wit reminiscent of the Crypt Keeper highly enjoyable and worth the time