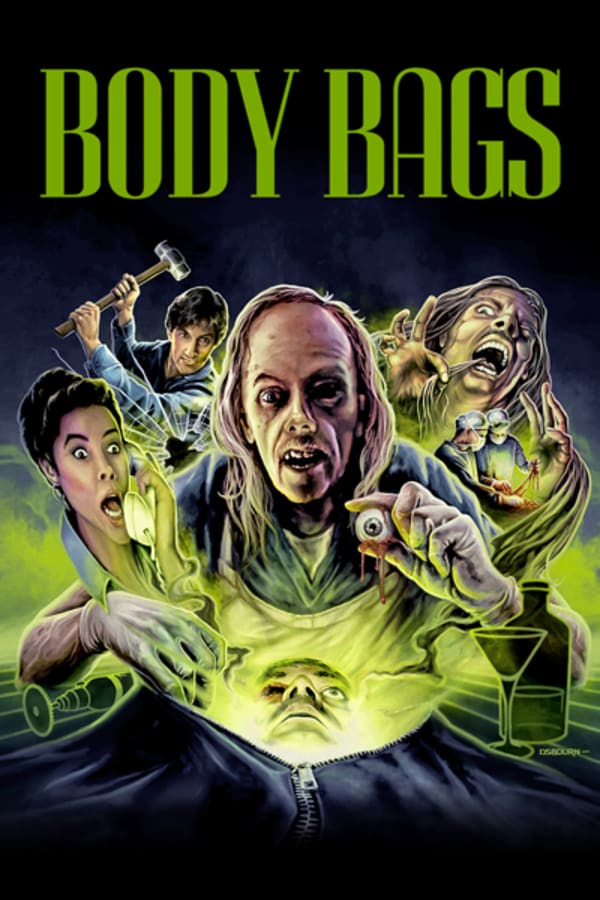 Body Bags
Directed by John Carpenter, Tobe Hooper, Larry Sulkis
Masters John Carpenter and Tobe Hooper team for three short tales of terror in this anthology hosted by Carpenter himsellf. Alex Datcher stars as a woman working the late shift at "The Gas Station" while a killer is on the loose. Then, Stacy Keach (ROAD GAMES) can't stand the thought of losing his "Hair"... and he'll do anything to keep it. And finally, Mark Hamill (STAR WARS) portrays a baseball player that submits to an "Eye" transplant after he loses an eye in a car accident.
Masters John Carpenter and Tobe Hooper team three short tales of terror.
Cast: John Carpenter, Stacy Keach, Mark Hamill, Tom Arnold, Wes Craven, Sam Raimi, Roger Corman
Member Reviews
Absolutely fantastic. wasn't the greatest anthology I've ever seen, but my God did i enjoy it. if you like anthology horror from the 80s and 90s definitely watch this!
I remember watching this as a teenager when it was new, but at the time I didn't recognize any of the cameo's. It holds up after all this time, but it won't blow your mind. Just fun campy horror in the vein of Tales from the Crypt. I remember thinking as a kid that it might be the first in a series like that, and I wonder if they intended to do more of them. All in all, I'd recommend, but the first episode starts a little slow, so hang on through that one and you'll enjoy the rest.
I loved watching every minute of this great anthology horror. Everyone plays their parts beautifully, especially Mark Hamill. A must watch for Carpenter and Hooper fans.
I can't believe that I'd never heard of this movie until it came to Shudder! What a fun little gem! I just loved all the cameos and John Carpenter himself as the Crypt-Keeper like morgue dude was just hilarious!
THIS MOVIE WAS OKAY, BUT IS IT JUST ME, OR DID I SEE INTERCOURSE IN THIS MOVIE!