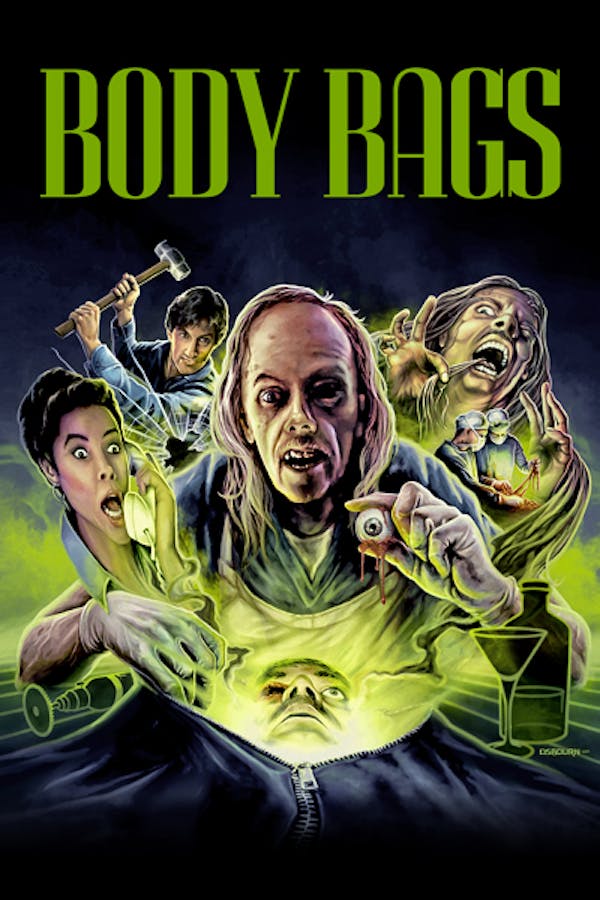 Body Bags
Directed by John Carpenter, Tobe Hooper, Larry Sulkis
Masters John Carpenter and Tobe Hooper team for three short tales of terror in this anthology hosted by Carpenter himsellf. Alex Datcher stars as a woman working the late shift at "The Gas Station" while a killer is on the loose. Then, Stacy Keach (ROAD GAMES) can't stand the thought of losing his "Hair"... and he'll do anything to keep it. And finally, Mark Hamill (STAR WARS) portrays a baseball player that submits to an "Eye" transplant after he loses an eye in a car accident.
Masters John Carpenter and Tobe Hooper team three short tales of terror.
Cast: John Carpenter, Stacy Keach, Mark Hamill, Tom Arnold, Wes Craven, Sam Raimi, Roger Corman
Member Reviews
Surprisingly really good! Nice mix of creepy and funny, and the narrator is great. It's not too long either. Also the baseball guy is hot as!
Definitely worth the watch. The 2nd sketch is hilarious in all the best ways
Just the way I like my horror anthologies, a fun mix of creepy, gore, and humor, and doesn't take itself too seriously.
I adore this well done anthology film. My personal favorite was "The Gas Station". It exemplified Carpenter's minimalistic skill at creating tension and suspense that made his Halloween such a great slasher. I love it's self-awareness that it's a slasher film existing in a world with another slasher film. Alex Datcher was great as the gas station attendant. I adored the cameos from Wes Craven and Sam Raimi. It was a tight economical mini-slasher with a great Chekhov's gun payoff.