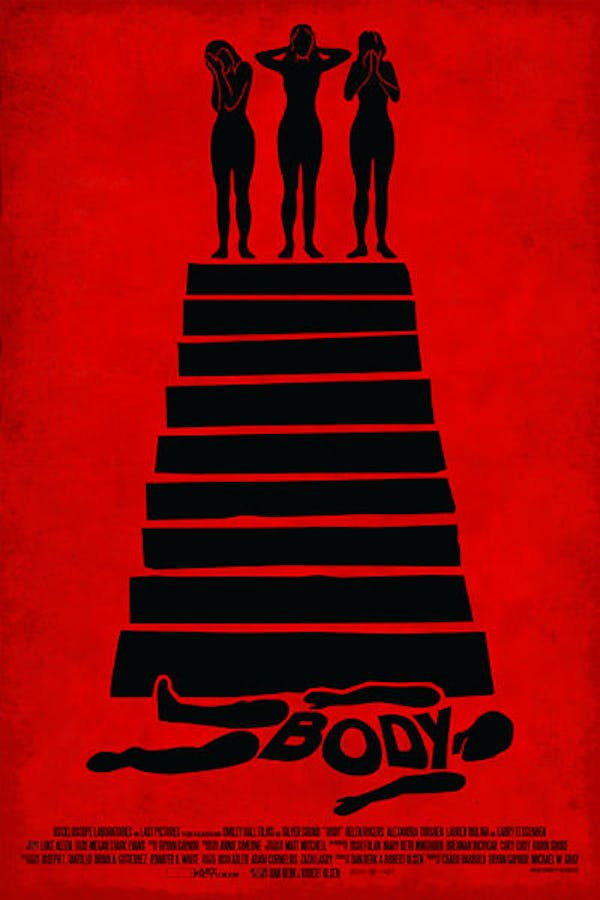 Body
Directed by Dan Berk, Robert Olsen
A darkly funny and twisted journey taking place entirely on one unforgettable Christmas Eve, Body revolves around a trio of college co-eds whose dalliance with breaking-and-entering goes horribly awry. Sneaking off to a secluded mansion to party, the young girls are faced with dire choices after they unexpectedly encounter the property's groundskeeper. Following a freak accident, the girls find themselves entangled in a Hitchcockian nightmare steeped in tension, suspicion, double-crossing, and murder, where no one is to be trusted and a new twist lies around every corner.
A trio of college co-eds break into a secluded house on Christmas Eve and find themselves entangled in a murder.
Cast: Helen Rogers, Alexandra Turshen, Lauren Molina, Larry Fessenden
Member Reviews
The psychology behind it all was very good but not Hitchcockian by any stretch
Loved the story, characters and actresses.
I'm every friend group: irrational one, somewhat responsible one, and one who just follows.
I gave the movie two skulls, but I'm bumping it more into the 2.5 range. The movie is a trope triad with good chemistry and what I would call a solid beginning for the coming plot. However there are three pointless characters that don't add anything to the story- literally they do not- and I am boggled as to why they were given any screen time. After that the movie just loses you past the halfway mark. The tropes tire you out. The acting tapers. The dialogue doesn't keep up (though the music does so that's good). All in all the plot is in and of itself weak, and not for a true crime enthusiast since everything is so easily unraveled and just makes you want to roll your eyes. There isn't enough suspense or twists to call this "hitchcockian" in the slightest. My lengthy review is basically saying don't bother unless watching with someone easily scared or amused. Ha.