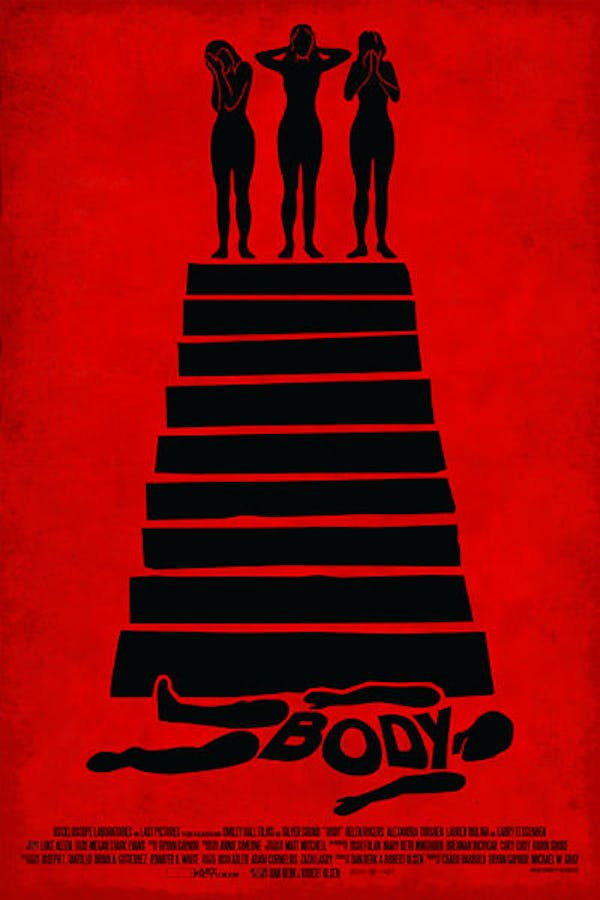 Body
Directed by Dan Berk, Robert Olsen
A darkly funny and twisted journey taking place entirely on one unforgettable Christmas Eve, Body revolves around a trio of college co-eds whose dalliance with breaking-and-entering goes horribly awry. Sneaking off to a secluded mansion to party, the young girls are faced with dire choices after they unexpectedly encounter the property's groundskeeper. Following a freak accident, the girls find themselves entangled in a Hitchcockian nightmare steeped in tension, suspicion, double-crossing, and murder, where no one is to be trusted and a new twist lies around every corner.
A trio of college co-eds break into a secluded house on Christmas Eve and find themselves entangled in a murder.
Cast: Helen Rogers, Alexandra Turshen, Lauren Molina, Larry Fessenden
Member Reviews
Terrible. If a thriller is going to be this bad atleast show nudity
Quick moving, entertaining, cover up story
I'm giving 3 stars because I had to stop mid way through.. so frustrating ! I can't help but feel so bad for the man they could have done the right fucking thing
I find it unfair to true Alfred Hitchcock fans like myself to call this Hitchcockian. If you want to watch films that have that Hitchcock flair, check out some films by David Fincher, Brian DePalma or Dario Argento. There is a movie that is better than this one involving a dead body which is "Shallow Grave". Much better suspense and characters. There is one character in this movie that is annoying as hell and I'm glad that they got their just due and if anyone sees this movie, then they will know what character I'm talking about. I almost didn't finish watching the film, stopped for a few days, then returned to finish and I'm glad I did for that one character's "Final Act". I can't give this film more than 2 stars because you want a film to hold your attention and be at least memorable and for someone who enjoys horror and suspense, well this one misses its mark.
I was drawn in by the promise of Hitchcockian suspense, but I didn't vibe with this one, personally. From the very start the premise felt phoned in, gratuitous, and the characters' logic made no sense whatsoever. Not scary -- Just pure social cringe with a side of light body horror.