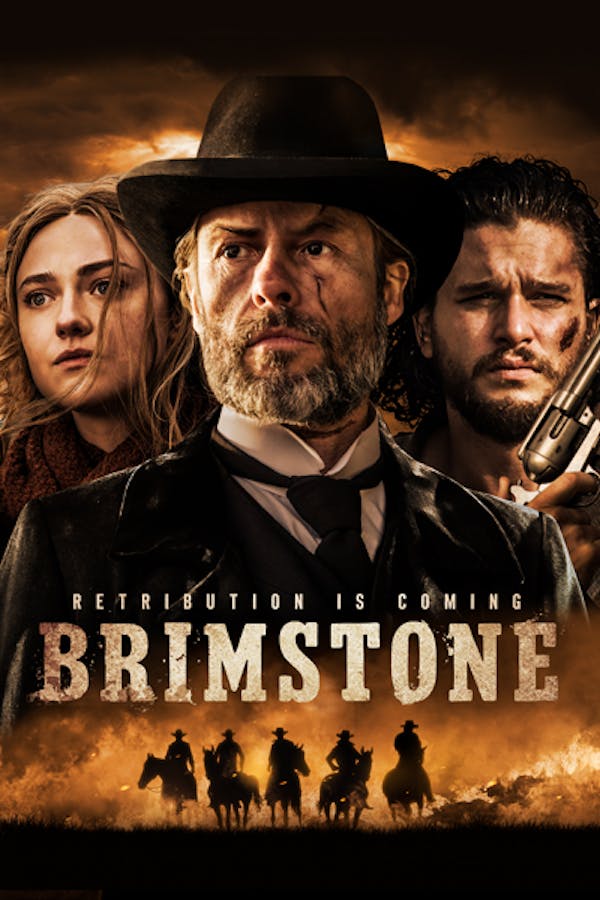 Brimstone
Directed by Martin Koolhoven
A triumphant thriller set in the menacing inferno of the old American West, BRIMSTONE tells the story of Liz, a genuine survivor who is hunted by a vengeful Preacher for a crime she didn't commit.
A survivor is hunted by a vengeful Preacher for a crime she didn't commit.
Cast: Guy Pearce, Dakota Fanning, Emilia Jones, Carice van Houten, Kit Harington
Member Reviews
Wow. What a hidden gem. Best movie I've seen in years.
It's not a horror in the supernatural sense, but a horror in the heinous things that people are capable of doing to each other.
Wow! What can I say. Brutal movie. An emotional mind f#*k. It felt a little long and then I realized it was over 2 hrs long (at the end) It was good and bad but bad in a good way. If you can understand that, then you will like the movie!
I enjoyed the movie and how it was laid out. Defiantly some touchy topics though, viewer be warned... I was pretty disappointed with Kit's character and expected more of it. Dakota Fanning was incredible. The movie only felt slow and cold, because that's what it was really like back then. Overall, pretty great movie I'd say.
Great acting, great directing, overall well done film. The script however, does not make for a necessarily fun movie, and it gets a bit drawn out at times. I was constantly waiting for something more to happen but essentially the whole movie is about the wrong done against the main character. I wouldn't consider this a "revenge" type film, and I felt little closure by the end.